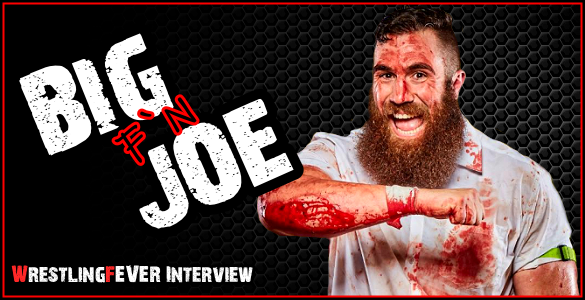 WF: Joe, thanks for taking the time, we hope you are fine?
J: yeah I'm great , a little cut up but that's part of the game I guess .
WF: How did you get into wrestling, in your case I can imagine that you followed CZW and similar leagues rather than the standard promotions like WWE; or did the love for hardcore / deathmatch wrestling come later?
J: my first memories are wrestling , more specifically WCW . I was a massive fan of surfer sting ….. but I quickly absorbed every piece of wrestling I could find . There used to be a magazine in the UK called POWERSLAM and it would always feature crazy photos from FMW / ECW . It was from there I fell into tape trading and falling down that rabbit hole of deathmatches etc . I just always felt they where more visual . I also remember getting that issue of WWF RAW magazine that had the spread of FOLEY covered in blood . Which of course led to me hunting that tape down and bunking school the day it came .
Thank good the postman was early that day .
WF: Are there such things as role models or idols for you (who, why)?
J: idols is a strong word , but people I enjoyed watching growing up varied from the likes of sting / ultimate warrior when I was younger . Then it matured into the likes of shawn Michaels / bret hart , then when I got into my tape trading days it went to the likes of nick mondo / the wifebeater ……
WF: We had "Thumbtack Jack" which also made it to the CZW "Tournament of Death" and was very successful there. What is "Deathmatch Wrestling" for you, have you found your niche?
J: first of all , thumbtack jack was the man !!! I'm not sure if it's my niche but I really enjoy participating in deathmatch wrestling. But for me the allure of deathmatch wrestling is how visually cool it looks . I also enjoy the chaos of it . It's like the most punk rock form of pro wrestling .
WF: How did you like it at CZW and will they see you there again?
J: I loved my trip to CZW , it was always a teenage dream to be in TOD . So it was kinda cool for it to all come full circle . I randomly used to watch CZW tapes with my gran when she was in her mid 60s . So I'll always have a place in my heart for CZW . They get a lot of flack online at the moment but any time I get a chance to do something with them again , I'll be there ….. I've got to tick that CAGE of DEATH off the list 🤞
WF: Injuries are not uncommon, especially in your case. What have you had to suffer so far?
J: I've been fairly lucky , nothing too bad , the usual stuff like broken noses but no bad injury's during a match . Obviously in doing a deathmatch you get some nasty cuts from time to time . I recently cut my knee pretty badly and nearly passed out backstage . That night I cut it in Liverpool for TNT extreme wrestling and had to drive two hours in my gear still bleeding to another deathmatch in derby for KUMITE . It was after that show I nearly passed out 😂
WF: Do you have favorite matches, also from other colleagues, that you would recommend as a fan?
J: Favourite matches of mine would have to be , me vs ICEMAN . He was a pioneer of deathmatches in Europe , so that was a cool moment for me . My favourite matches normally evolve around the memories around them . Like I had a 3 way deathmatch with Casanova valentine and Markus crane in a dive bar in Las Vegas …… need I say more . Stuff I'd recommend at the moment would be Matt Cardona in GCW , the whole thing has been done really well . I'd definitely check out him vs Nick gage , it worked on so many levels .
WF: You were already part of this tournament. What makes it so special and is a blood test (HIV, hepatitis etc.) required or otherwise tested? How do you protect yourself?
J: yeah it's super easy to get blood tests , especially here in the UK . I make sure I'm tested regularly and so do the other participants.
WF: Do you think you can endure more pain than others, or how would you describe your passion for it?
J: I honestly wouldn't say I can endure more pain than others , I just accept the fact that it's going to hurt . It's a necessary evil and I kind of find the abstract experience of it interesting.
WF: Will you ever wear knee pads? Your knees always look very worn out. Can we support you for this? 😉
J: yeah they're pretty beat up right now . To be honest I will try avoid them as-long as possible . Most guys in deathmatch wrestling wear too many clothes and I think that can take away from it sometimes . Plus it makes me stand out , what's more punk than a guy beating people up in a pair or pants " y-fronts " ?
WF: I recently spoke to someone who said to me "Joe will definitely not come to Germany for a normal match", would you agree with this statement or would a "normal" match be okay with you? Of course the fans expect hardcore action and blood if you are booked BUT if you are not yet known to newer promotions / countries ?!
J: erm ….. I'm down for whatever . Most of my shows in the UK are just normal wrestling matches . Most of the shows are family friendly over here so if I did do any hardcore stuff it would be what we call pots n pans . So basically WWE hardcore type stuff .Obviously I'm more known for doing deathmatches and it would be cool to bleed in as many country's as possible . Saying that I love to wrestle and if I get to travel then I'm always down .
WF: Bulk & Big Dave (UK Pitbulls) trained you. We also have a "Big Dave" (Davies) here. Who would you like to step into the ring against here in Germany?
J: I got to wrestle crimson the butcher in relentless in belgium and would love to do that again . He's a mad bastard . I also know your big Dave and he's really got in fantastic shape , I've seen him wrestle for WAW here in the UK and think we could do some cool stuff . Also you've got that ANGRY butcher over there who I know is down to fight …. like I said I'm down for whatever . I just wanna see Germany , every German person I've met has been a lot of fun . They can normally handle their beer which is always good too .
WF: The "NHW" is an up-and-coming new hardcore promotion here in Germany. How did the contacts come about here?
J: it was through Instagram I believe . The deathmatch / hardcore scene is pretty small and everyone is super supportive and tends to watch / is aware of what's going on .
WF: The deathmatch scene also has its legends, do you still have opponents here, possibly people like Nick Cage?
J: obviously Nick Gage is the one , he's literally the face of deathmatch wrestling . So he's at the top of the list . Also if he comes back , Matt Tremont is someone I need a match with . Sadly we where due to have a match in ICW no holds barred but COVID killed that one off .
WF: Here in Germany it is often difficult to organize matches with blood, especially deathmatch shows, because we (in certain federal states) have strict requirements. How is it with you in England?
o J: I'd always say ask for forgiveness , rather than permission. That way you always get your own way . The UK isn't so strict ……yet . It just varies from venue to venue . Most wouldn't be thrilled with DEATHMATCH wrestling . I recently done one at a POPWORLD night club for KUMITE. They're basically a night club that plays cheesy 80/90s pop music . There's no way we will be allowed back . The manager was furious . But luckily for us it was given the go ahead by the assistant manager who was a wrestling fan . Someone got in trouble that night . I find the venues that tend to welcome it are the more punk type music venues . That or venues where the people that work there are wrestling fans . If there's a will there's a way Germany 😉
WF: The chances are good to finally see you in Germany after the pandemic. What can the fans look forward to?
J : I try to bring some chaos to every show I'm apart of . If I make it across to Germany fans can look forward to being apart of that chaos . Either way they won't forget it . That's always my aim .
WF: Thanks Joe! Stay healthy"
J: thanks again for supporting independent/ deathmatch wrestling . Hopefully I'll be running towns in Germany sooner rather than later .
"Lebe Dein bestes Leben ` stirb Deinen besten Tod"
"Live your best life ' die your best death "