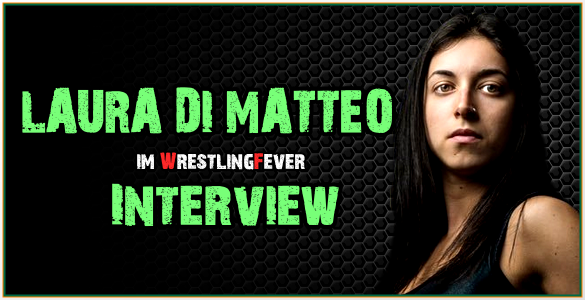 WF: Hello Laura! First let me thank you for taking the time to have this little interview. How are you?
LdM: Hello! No problem at all. I'm doing very well, thank you.
WF: Before we start talking about recent events, let us know about your beginnings. … When and how did you start your active career? Many people in this business started out as fans of WWF/WWE, what made you decide to step in the ring?
LdM: I got into wrestling because of my brother. He used to watch it all the time at home and I happened to fall in love with it. I've always been quite athletic and tried many different sports when I was younger but I always knew that wrestling was the one for me. I looked up a few wrestling school in Italy but coming to Englad seemed a much better choice, so as soon as I finished my studies I decided to move over to the UK to start training.
WF: Do you remember your first training session? What was the first excercise? Who was in charge? How did you feel 'the day after'? Who trained you so far? Did you attend seminars, with whom?
LdM: Looking back now I'm so glad I chose the PROGRESS wrestling school to start my training. It was a Saturday morning on December 2013. The head trainer at that time was Jimmy Havoc and as you would expect it's been a very hard 3 hour session. We did basic stuff like learning how to run the ropes, how to bump safely, we did arm drags, the International spot.. But when you're doing it or the first time it's all very very hard.
The day after I couldn't move, my whole body was in pain and I had bruises everywhere. But I loved it! My other main trainers at the ProJo have been Darrell Allen and James Davis. I did attend quite a lot of seminars, including Prince Devitt, Kyle O'Reilly, Drew McIntyre, Rockstar Spud, Chris Hero.
WF: Who taught you and what, from basics to signature moves and storytelling?
LdM: Everyone I met in my journey so far has helped in different ways, but I give most of the credit to Jimmy Havoc. He's taught me all the basics and how to do things properly. When he wasn't happy with something, whether it was a move or storyline wise, he'd make you do it again and again until you got it right. He was very harsh sometimes and that really helped me get better.
WF: Did you ever have serious injuries?
LdM: Thankfully I haven't had any serious injuries. I take care of my body as much as I can to try reduce the risk of injury.
WF: What did your family and friends say about your decision to become a wrestler? Were there doubts or support?
LdM: They've all been very supportive, even though most of them are not into wrestling and, especially my mum, they worry I get hurt. My family is all in Italy but my mum came to watch me at a Progress show once and she loved it!
WF: When was your debut match, who was it against and what are your thoughts about it?
LdM: My debut match was a tag match at PROGRESS ENDVR:9 on March 1st 2015. Me & Jinny vs Pollyanna & Mischa East. I really really enjoyed it and I had great feedbacks from everyone. Then I wrestled Toni Storm at ENDVR:10, which was another great experience. I genuinely couldn't have asked for a better opponent for my first singles match.
WF: The wrestling scene in Great Britain seems to offer a lot of possibilities for female wrestlers and many fans and experts say it is THE place to be for women. What's your opinion? What is it like in Italy now? Back then there was a wrestling boom happening.
LdM: The wrestling scene in Britain is probably the best at the moment. I feel lucky to be here to witness and even be part of it. A few years ago PROGRESS had their first women's match on the main show and that was a game changer. Now there's a women's match at every Chapter show. And other promotions as well are giving more and more space and attention to women, which is amazing. Unfortutnately I'm not very familiar with the wrestling scene in Italy, I haven't really had the chance to keep up with it since moving to the UK. I wrestled in Milan once and it's been incredible, people are very passionate.
WF: How popular are female wrestlers at home, do they get the respect they deserve?
LdM: I believe so. Times are changing and people are acknowledging women's wrestling a lot more.
WF: In Germany we were already able to see you twice. Both times you defeated a *big girl*, Queen Maya and Alpha Female, do you like to fight larger opponents?
LdM: I'm often referred to as the underdog so yeah I kinda got used to being in that position. It's a good feeling when no one believes you can win and then you prove them wrong.
WF: During your stays in Germany did you have the chance to take some time off to experience country and people?
LdM: No unfortuntely haven't had the chance to see much. I've been to the CentrO in Oberhausen, that was pretty cool.
WF: In your opinion, what are the differences between German and British fans?
LdM: Hmm I don't know, I think wrestling fans in general are very passionate, some louder than others. Every time I wrestle in Germany you guys make me feel welcome and I'm always very excited to come back.
WF: How do you travel? Alone or with a partner/group?
LdM: Well it depends. If the show is in London I normally travel by myself. If it's outside London, or abroad, we travel in groups.
WF: Can you tell us an interesting funny or thrilling road story?
LdM: Nothing extremely interesting ever happened. All I can think of is after the wXw Femmes Fatales show last year we were absolutely exhausted from the travel and couldn't wait to go to bed. When we finally got to the hotel at about 2am for some reason we couldn't get in so we had to wait in the car for about an hour until it all got sorted.
It was me, Pollyanna, Dahlia and, unfortunately, Jinny. At the end we managed to get a few hours sleep before flying back.
WF: Lately you were a participant in the big finals for the Progress Women´s Title and on your way to it you eliminated some well known women. Please describe how it felt being part of something as great as this?
LdM: I don't think I can ever find the words to describe it. It was by far the biggest match, biggest moment of my career. So so grateful that PROGRESS allowed us to make history. After the match, when I realized what we just did, I couldn't stop crying.
WF: Your feud with Jinny … is genius in every way, makeup AND execution! Interested fans should also watch the Inside Progress documentary. The German supporters with Progress on demand know what I'm talking about and can´t wait until July 1st.
Jinny treated you more than just bad in your position as her personal assistant but one day you fought back – big time! What was the last drop to make you bring an end to the humiliation? How did it feel to pin her the first time? What are your thoughts about your rivalry with the Fashionista?
LdM: That documentary explains everything that happened between me and Jinny, from the very beginning. She's put me through so much and fighting back for me was only a matter of time. The support I had from the fans has been incredible and then we finally had our first one-on-one match and I pinned her, that moment was very special for so many reasons.
WF: What are your wrestling goals? Should we have Toni polish the belt for you already ??
LdM: Oh yeah, my focus will be on that belt until I get it.
WF: How do you see female wrestling in Europe and worldwide? How are you girls treated by male colleagues in the locker room?
LdM: As I said earlier, times are changing and women's wrestling is getting a lot more attention, not only in the UK but worldwide. The guys in locker room are always great and always open to advice/feedbacks.
WF: What do you think about intergender matches?
LdM: I had a few intergender matches and I've always enjoyed them, I think they're fun and interesting to watch as well. The one with me & Mark Haskins vs Jinny & Marty Scurll at PROGRESS is obviously my favourite I had so far, having the chance to work alongside two of the best wrestlers in the world was incredible.
WF: What would you prefer NXT or main roster?
LdM: Main roster is the ultimate dream.
WF: Do you have idols, maybe people who have influenced your in-ring style?
LdM: I don't want to sound boring but I'm going to say Trish and Lita. I used to idolise these two so much when I younger, but I wouldn't say they influenced my in-ring style. British wrestling has been the biggest inspiration so far, just watching all the amazing wrestlers we have here is a big influence for my in-ring style.
WF: Who was your favorite opponent so far (may I guess ??)? Who do you definitely have to fight one day?
LdM: I hate doing this but I have to say Jinny. I really really want to have a match with Kay Lee Ray, I think she's amazing.
WF: Why the change in name from Elisabeth to Laura di Matteo?
LdM: Well Elizabeth was the name given to me by Jinny, because she thought 'Laura' wasn't posh enough to be associated with her. Then when I finally decided I had enough I started using my real name.
WF: How can interested bookers contact you?
LdM: My DM's on Twitter (@Laura_DiMatteo1) are open. Or on my Facebook page.
WF: You were part of the wXw Femmes Fatales non tournament action. How do you like tournaments of this kind?
LdM: I really enjoy tournaments in general, especially the ones where it all takes place on the same day/weekend, like Femmes Fatale or PROGRESS' SSS16.
WF: They just announced Femmes Fatales 2. Will you participate in this one?
LdM: Even though it was a non-tournament match I very much enjoyed wrestling for wXw last year and I'd love to go back!
WF: Interaction with fans … Which way do you prefer: live events or social media?
LdM: Both! I love interacting with fans and, on social media, I always try to be as active as possible and respond to everyone. We get to do what we love because of the fans and every bit of support is very much appreciated.
WF: Is there merchandise of yours available or planned?
LdM: No merchandise just yet!
WF: Let us give you the chance to tell the world something you always wanted to say. To or about promotions, opponents, fans or whatever. Sky's the limit, just shoot ?
LdM: I don't talk a lot, I do the work and let the results talk for themselves. I'm very very grateful for the people who believed in me so far and those who are still doubting me I will prove them wrong very soon.
WF: Thank you so much for this amazing interview. We wish you all the best, especially health! We hope to see you in Germany again soon (no later than July 1st ?).
LdM: Thank you!