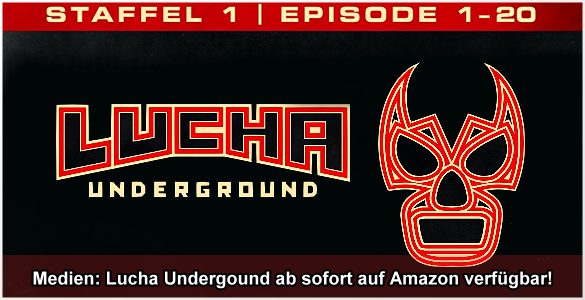 Hart, härter, "Lucha Underground"! Eine ganz neue Art des Wrestlings.
Schauplatz der spektakulären Matches ist eine Arena in Boyle Heights, Los Angeles: der Tempel. Die Location versprüht, wie der Name prophezeit, Underground-Flair. Statt in großen Sporthallen, findet diese Liga in einem umgebauten Warenhaus statt. Das macht die Stimmung intimer, die Optik dreckiger, die Action rauer. Die dort im mexikanischen Lucha-Libre Stil ausgetragenen Kämpfe bestechen durch actionreiche Stunts und die bunten Lucha-Masken. Wer Indie-Wrestling und High-Flying-Action mag, wird voll auf seine Kosten kommen. Viele der Kämpfer, die sogenannten "Luchadores", entstammen der Liga AAA, der größten Promotion Mexikos, und versprechen eine gewaltige Show. Doch es geht nicht nur um schnelle, harte Kämpfe, sondern auch um die Vorherrschaft über den Tempel, der von dem bösen Promoter Dario Cueto kontrolliert wird. Er führt die Liga mit strenger Hand und setzt die Fights an. Zusätzliche Filmsequenzen verschaffen dem Zuschauer exklusive Einblicke hinter die Kulissen und in die Einzelschicksale der Luchadores.
"Lucha Underground" ist die von Kult-Regisseur Robert Rodriguez produzierte Alternative zum Hochglanz-Wrestling von WWE. Neben spektakulären Kämpfen sorgt das Storytelling für ein ganz besonderes Wrestling-Erlebnis, das es so noch nie gab. "Lucha" ist neu, es ist anders, es ist besser. Ihr könnt Staffel 1.1 HIER bestellen!
1. Willkommen im Tempel (Welcome To The Temple)
2. Tausend Tode (Los Demonios)
3. Grenzverkehr (Crossing The Border)
4. Jagdfieber (Thrill Of The Hunt)
5. In den Straßen von Boyle Heights (Boyle Heights Street Fight)
6. Der Schlüssel (The Key)
7. Bis ganz nach oben (The Top Of The Ladder)
8. Eine einmalige Gelegenheit (A Unique Opportunity)
9. Krieg der Azteken (Aztec Warfare)
10. Gesetz des Dschungels (Law Of The Jungle)
11. Last Luchador Standing (Last Luchador Standing)
12. Hier kommt Cage (They Call Him Cage)
13. Mundo vs. The Machine (Johnny Mundo Vs The Machine (aka Unexpected Guests))
14. Auf ein Wort (Open Mic Night)
15. Auge um Auge (Eye For An Eye)
16. Gefangen im Käfig (Caged Animals)
17. Es begann in Mexiko (A War Started In Mexico …)
18. Kein Entkommen (No Escape)
19. Mit einem Bein im Grab (Grave Consequences)
20. Die Kunst des Krieges (The Art Of War)
Die Sensations-Serie von El Rey-Network aus Boyle Heights, Los Angeles. Produziert von Kultregisseur Robert Rodriguez ("From Dusk Till Dawn", "Sin City", "Machete") mit den WWE-Stars Johnny Mundo (John Morrison), Chavo Guerrero und Big Ryck (Ezekiel Jackson) und dem früheren WCW-Wrestler Vampiro und den ehemaligen WWE-Superstar Matt Striker als Kommentatoren.
Ihr könnt Staffel 1.1 HIER bestellen! Erscheinen werden die Folgen 1-20 am 03.11.2017 auf DVD & Blu-Ray. Kommentiert werden alle Folgen von den beliebten Kommentatoren Mike Ritter & Günter Zapf!
_____________________________
Feel free to LIKE & Support us on FACEBOOK & TWITTER – Thank You 🙂