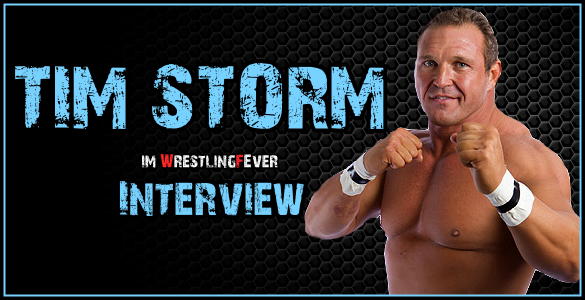 WF: Tim, thank you for your spontaneous commitment!
T: Thank you for taking the time to get to know me and hopefully the NWA again. It's an exciting time to be a part of the oldest promotion in the history of this great business.
WF: I have to honestly admit that until a short while ago I hadn´t head about you at all. Which makes me even happier to introduce you to the German-speaking fans.
First things first:
When did you discover pro wrestling for yourself? After all you 'just' started your career in the 2000's.
T: You're not alone in that. One of my favorite quotes I've seen is that it only took me 20 years to become an overnight success. I'm not sure about the over night success part but there's some truth to that. I grew up watching wrestling and fell in love with it at an early age.
WF: What was wrestling like when you started? How good were the schools available? In the 2000's wrestling in Germany was at its infancy.
T: I think my first year was in 1996 or 97. I contacted WCW Power Plant and talked with them. But at the time I was working as A Vice President at a company, had a house payment, 2 car payments and already had 2 kids. I could't stop life and change directions completly so I found a wrestling School a few hours away in Paris Ark. I trained there for about 8 months before working in my first match.
WF: Whith whom did you train back then? Was it one or more trainers? How often did you train and how different was it compared to today?
T: Bill Ash was the owner of the school and head trainer. Todays generation probably aren't familiar with Bill but those wrestlers from the 80's and 90's knew him well. It was as old school as you could get. More grappling and rolling on the mat than "learning moves". We were taught to shoot but protect your opponent. The ceiling was so low that you couldnt stand on the top rope or take a back drop, so high spots were unheard of. Everything was extremly physical and real. I drove there about 2 ½ hours each way twice a week.
WF: You were PCW heavyweight champion and several times tag team champion. Statisticly you had the longest title-reigns. This promotion doesn´t exist anymore – do you know what happend?
T: PCW was a great promotion that I learned from and benifited from greatly. Doing local TV helped give me a basis for camera angles, production and promos. The locker room and talent were fantastic. Even 10 plus years later in locker rooms in the Southwest U.S. the guys from that roster are still top guys in many cases. But I think the financial burden of weekly TV and production for the owners became too great. They went back to training MMA and boxing and promoting those events.
WF: Looking back on your almost 20-year career, whatchanged most in this business- aside the cruiserweights and their highspots?
T: I think there have always been some amount of cruiserweights and high spots…. Obviously that has become more prevelant in the last 10 years, and along with that increase the fans expectations and preferences change. I have heard the analogy that wrestling is like ice cream. There are many flavors and each person may have their personal favorite. That doesnt mean that one person is right and another is wrong. It just means they like different flavors. Same thing with wrestling. Some people like the high flyers and prefer that style. Others may prefer the bigger more physical style, like mine. There are some who prefer comedy ( not my favorite) I feel very strongly that what I do works and is right for me. That doesnt mean I'm everyones favorite flavor, and thats ok. The other big change at least in the U.S. is that there seems to have been less empahsis on the quality of talent at many shows and more emphasis placed on the amount of money a promoter is willing to spend. The trickle down effect is that the show quality suffers, fans get an inferior product and lose interest or stop coming. That effects us all. Again, I'm speaking generally because there are many promoters who work hard and bring in great talent for the fans.
WF: Is there something you don´t like about this industry? What are your thoughts on the world wide web and social media?
T: I think that both have had an effect on the wrestling business. Both positively and negativley. The plus side is that you can usually find matches from all over the world on line and usually on any wrestler. I love watching wrestling but prefer some of the classic Stan Hansen, Bruiser Brody, Terry Gordy, Dr. Death stuff, but I can find almost anything. The negative side is the business isn't as protected as it was, for someone like me there was an adjustment that had to be made.
WF: While doing my research on you I stumbled upon your participation in the "Inaugural GWT/Germanfest Wringenmeisterschaft Tournament". Do you know how it came to that name? In the end you succeeded and won the tournament.
T: The Germanfest is a yearly celebration held in North Texas, The GWT tournament was the brain child of Cowboy Johnny Mantel where ideally the best Independent talent in the nation and potentially the world could enter. Every match had 3 judges that graded both competitors and the scores tabulated with the highest scorer in the match advancing in a single elimination tournament. It was highly competitive and demanding. I think the final day I wrestled 7 times. Obviously you and your readers can translate better that I but I belive it translated to Germanfest wrestling Champion, to honor the event at which it took place. There were times that there were thousands surrounding the ring at the out door event. Winning this event became the next launch point of my wrestling career.
WF: How does is sound for you to be the oldest man to ever win the "NWA World Heavyweight Championship"? For me it sounds like an honor and a way to say 'thank you'. To hold such a big title at the age of 51 and with it carry the promotion on your shoulders sounds amazing for me. Can you tell us what the title victory meant for you?
T: I was not aware until months after winning about the age thing. I've never thought about age. Feeling that my conditioning and ring work would speak for itself. I was told later that some people felt this was a win to kind of honor my hard work and resect for the business. But truthfully for me it was achieving something that went beyond any goal that i had set or dared to dream. I knew that night that my name was now on a list with some of the most prestigous names in the wrestling business, and that regardless of how long I held the title my name would never come off that list. It was beyond my dreams and was very emotional for me.
WF: Tim, as a former NWA Heavyweight Champion, you performed for a famous and traditional promotion like NWA a few times. The NWA is also well known around here just not seen. Recently you lost your title to Nick Aldis (Magnus). Will there be a rematch and what do you think about Nick (as talent and person)?
T: I grew up loving everything about the NWA. Over the last 6 – 8 years the NWA has been my primary promtion and focus. The ultimate goal for me was to do everything I could to help restore it to the prominence it once held. Winning the NWA North American title twice was a great honor. A rematch for the NWA World Heavyweight title is completly to the discretion of the NWA. I am taking this time to heal up and make a decision about my future in wrestling, whatever that is. Nick Aldis is an amazing competitor, an incredible technical wrestler and I was most suprised by his size and strength. I never wanted to lose the 10 pounds of Gold to anyone. But Nick Aldis is a worthy champion, and deserves all the accolades I can give.
WF: Before that match you successfully defended against Jerry Lawler. Please tell us about this match. How was working with Jerry – before the match, during and after?
T: Growing up in Arkansas Jerry Lawler was a star well before he showed up in the WWE and was inducted into it's hall of fame. He is big part of wrestling history and i was honered to share a ring with him. You've pointed out that I am the oldest man to hold the NWA World title, which is the longest recognized world title going back to 1948. so there was a lot of wrestling history in the ring. Working with Jerry Lawler was fun and I think the match was very entertaining for the huge crowd in attendence. He was professional in every sense of the word before during and after the match.
WF: The absolute number 1 in the wrestling business still is WWE for which you stepped into the ring to fight the late "Big Daddy V" who passed away way too early. Would you like to tell us how it came to that match, your memories of it, the oponent and the feedback?
T: I've looked at every match over the last 20 plus years as an opportunity to get better. At that point in my career I was already in my 40's and was looking for a chance. I had worked matches with him 3 or 4 different times in the past and i knew were he was in his push wit ha new character and what my role was. The feed back from Vince McMahon, Barry Windham who was the agent and most important to me Dusty Rhodes was all extremly positive..
WF: Was that a tryout or a one time booking, were there discussions or interest in you (if so why did it fail)?
T: I had several opportunities throughout my career to do more but it really is all about timing. There were several discussions over a period of 6 month before and after. Many times wrestling opportunities are not decided based on talent as much as time and place. Whats needed at that time for what role. But ultimitly for me I had other commitments that superceded.
WF: Did you ever have a match in a German-speaking region, do you know German wrestlers or promotions?
T: I haven't. One of the goals that I haven't achieved was wrestling in Germany. I grew up reading and hearing about the tent shows and tours. One of my traveling partners worked a few and spoke extremly well of his time there.
WF: You surely had some career highlights. Are there favorite matches of yours or feuds/storylines?
T: There have been so many it would be unfair to picth one or two, plus I'd probably feel like I was dropping names just to get myself over. Lol. Thousands of matches all over the U.S. Japan and Africa it's hard to choose one particular opponent or feud.
WF: Fans love funny road stories and it would be great if you had one to share 🙂
T: Let's see if this qualifies. Funny? Sad? But true. Early in my career, maybe under 10 matches I travelled to a show with a manager, and an annoucer. About a three hour drive. I had the third match of the night against the Mad Chef (go figure). At Intermission they made a change bc one of the main event competitors wasnt going to make it and I happily took that match too. And to make up for the no show they were adding an over the top battle royal at the end to keep the fans happy. Attendence was …. poor at best. We all got the speech after the show that because of the low house attendence the promoter would only be able to cover gas cost. Soooo, I won the third match, I won the the main event by DQ and I won the battle royal. We were given $10.00 gas money to split among the 3 of us. $1.33 per match. Welcome to professional wrestling kid.
WF: When you are not inside a wrestling ring, you are a teacher. Do the students and colleagues know what you do on weekends – what´s their feedback and are there fans among them?
T: I am a teacher, I tell my students at the beggining of the year what I do and then I tell them that we won't be discussing it during class time. I take teaching and more importantly their learning very seriosly. Besides, I definitly work heel as a teacher.
WF: Is there a specific goal you still need to achieve? (With all due respect) you are already 50 and somethings surely aren´t as easy as they were 20 years ago?
T: I'm evaluating my future now. I think I can do anything and everything in the ring I could 20 years ago, just as well. Those things that arent good now probably werent that good 20 years ago. I do some things 1000 % better than I did even 5 years ago. Same speed, same strength, better timing as I hopefully keep improving. But my injuries last longer or don't seem to heal. The pain doesnt go away, sometimes ever. I think all of us in this amazing sport accept that as just part of what we do. I don't regret any damage I've done to my body. I never want to be the guy that stayed around too long and can't perform up to my level of expectation. I hope and think that I will know that and won't need someone else to point it out. The problem is I've been wrestling for so long and its been such a big part of my life that can't imagine not doing what I love so much to do. I'll evaluate and make a deision in the next few months as my body recovers and heals from the demands that being World Champion for 400 plus days gave me. But not only would I do it all again, I wish it was still going on.
WF: We thank you very much for your time and wish you all the best!
T: Thank you very much for your time and interst. I want to encourage all wrestling fans to check out the NWA, the future is exciting and bright. If you havent seen the 10 Pounds of Gold series on the NWA channel go check that out too. I hope your passion and love for proffessional wrestling is rewarded as much as mine has been over the last 20 years.
Feel free to LIKE & Support us on FACEBOOK & TWITTER – Thank You 🙂