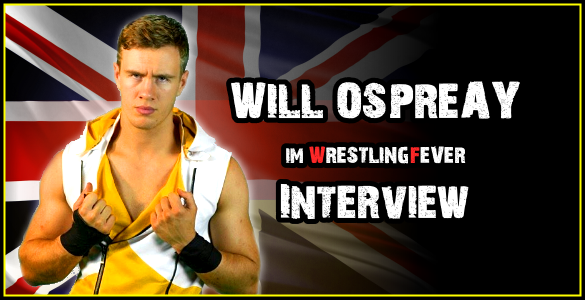 Will Ospreay war eine der Überraschungen beim letzten GWP Event "Focus on Optimum" im Mai 2014 in Roth. Viele Fans waren sich einig: Er stahl mit Petey Williams die Show und lieferte DAS Match des Abends. WrestlingFever.de konnte den 21. jährigen für ein exklusives Interview gewinnen.
————
WF: Thank you for your time and Belated Best Wishes to your 21st Birthday! How are you at the moment?
WO: I'm hurting a lot man, just won the Lucha Britannia title, and last week won the RCWA E1 title & FPW Tag titles. But never the less I'm Fine and that you for the birthday wish
WF: Recently you have been in Germany for the first time, where you worked for GWP. You impressed the crowd with your appearance. How did you like GWP?
WO: I was so nervous from a point that you had all your hometown names and imports and then me, lol. But honestly the crowd was insane, showed real appreciation for our hard work and not only was the crowd awesome but the guys backstage were so lovely and welcome. Cannot thank GWP enough for bringing me in and hopefully will see you all very soon
WF: According to rumors, German women are more beautiful than British women… ?
WO: cheeky all very lovely, but I have a wonderful British girl at home who is just my angel
WF: You had a match against Petey Williams. What are your thoughts of the match and how was it to work with Petey?
WO: it was a dream come true to face the Canadian Destroyer. I couldn't have asked for a better match was so cool being able to share this moment with GWP
WF: You are a highflyer, a worker with fast moves that loves to fly through the air. What are your thoughts on the classic matwrestling, british school?
WO: I personally love mat wrestling. I can't give much of an opinion on it as I'm a very new school boy but I've done my time of mat wrestling and I loved it
WF: Which wrestlers did impress you so much, that you wanted to step in the ring by yourself?
WO: A. Andy was cool guy that I could do some good stuff with. But what I'd really love to do if we are lucky enough to return to Germany is myself and mark team up against Germany's finest team
WF: Who trained you – how long did it take, that it was clear for you to do the highflying style?
WO: I was trained at the LSLL by Garry Vanderhorne & Greg burridge. 2 years of solid training. Sounds strange but there wasn't a point where I didn't wanna be a flyer.
WF: Are there still active workers or legends that inspire you?
WO: AJ Styles & Ricochet are my idols and I've been blessed to face Ochet twice still waiting for the day I share the ring with AJ
WF: Do you also watch wrestling on TV? If yes, which promotions do you try to follow most?
WO: WWE as it's where I wanna go, dragon gate & NJPW
WF: William Regal and Dave Taylor are two of the most popular wrestlers from the UK. Did you ever hat the opportunity to meet them both, or to work/train with them?
WO: never had the opportunity to just say gimmie your wisdom
WF: You had the opportunity to work with great talent as Devitt, Lethal or Sonjay Dutt. These are all big and popular names. Would TNA be an option for you or do you prefer to work independent?
WO: hmmm I'd have to heavily consider it
WF: Until the middle of March you held the RPW Tag-Team-Championship as "Swords of Essex" with Paul Robinson. Who had the idea to team up you guys and who had the idea to the name of the team?
WO: a promoter with FPW Steve Evans, had the idea but wanted us to be called the "Flying Aces" which (sorry Steve) sucked said nothing about who we are. We are very proud to be Essex boys so why not call ourselves after our great county
WF: The fans love roadstories, do you have a short roadstory for us?
WO: I hate these as I can never remember one. If anyone ever watched the TNA show where a security guard block G. bishoff when he was meant to be wrestling thus blowing 2 minutes of LIVE TV. Which is worth thousands and was told by someone who had a headset on to block him and he will beat you up (completely not meant to happen)….I know him lol
WF: Thank you very much for your time!
WO: no thank you I hope to see you all very soon
Feel free to share & like this Interview and support WrestlingFever.de – Thank You!