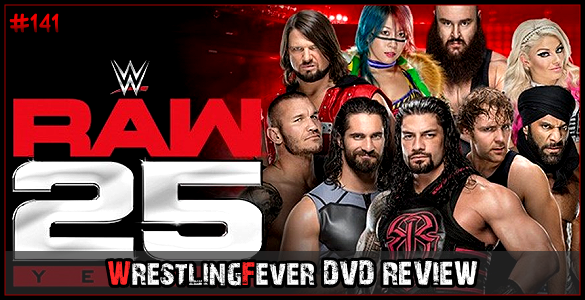 KURZBESCHREIBUNG:
25 Jahre trifft sich das WWE Universum nun schon jeden Montag Abend und wird Zeuge, der unvergesslichen und einzigartigen Action der längsten TV Show der Geschichte, RAW!
Wenn die Superstars aller WWE WWE Generationen zusammentreffen, um diesen erstaunlichen Meilenstein zu feiern, wird das simultan ausgestrahlt. Beispielsweise aus der Original Location der ersten RAW Ausgabe – aus dem Barclays`s Center in Brooklyn. Erlebt die langerwartete Rückkehr von Stone Cold Steve Austin, der Degeneration X, dem Undertaker, Trish Stratus, und anderen WWE Legenden. Und nicht zu vergessen Roman Reigns, The Miz, John Cena, Asuka, Sasha Banks und viele andere.
Trailer:

DVD HIER BESTELLEN!
DVD 1:
RAW 25TH ANNIVERSARY SHOW
(Brooklyn, NY und New York City, NY • 22. Januar 2018)
Where It All Began
The McMahon Family is Confronted by The Rattlesnake
8-Woman Tag Team Match
Asuka, Sasha Banks, Bayley, & Mickie James vs. Nia Jax, Sonya Deville, Mandy Rose, & Alicia Fox
Kurt Angle Gets Some Unlikely Visitors
The Undertaker Returns to Sacred Ground
High Stakes with APA
Honoring General Managers
Intercontinental Championship Match
Roman Reigns vs. The Miz
Ballin' with APA
The Peep Show with Seth Rollins & Jason Jordan
Dueling Women's Champions
Losing Money with APA
Bray Wyatt vs. Matt Hardy
Honoring Female Superstars
Elias Makes The List!
John Cena Walks with Elias
No Cheaters Allowed with APA
Mark Henry Catches Up with The Godfather
Titus O'Neil & Apollo Crews vs. Heath Slater & Rhyno
Gene Okerlund Interviews AJ Styles
A Super-Sized D-X Reunion!
Luke Gallows & Karl Anderson vs. The Revival
Braun Strowman, Brock Lesnar, & Kane Collide!
Extras
– Don't Patronize The Miz
– Legends Take Manhattan
DVD 2:
RAW 25 PRE-SHOW
Live from New York, it's RAW 25!
The APA is Back
Stone Cold Steve Austin Returns
Eric Bischoff Joins the Panel
The New Day is at RAW 25
Favorite RAW Moments
A Beast, Machine, and Monster Among Men
TOP 25 MOMENTS IN RAW HISTORY
#25 – Mae Young's Great Ride
#24 – The Greatest Upset Ever
#23 – Hell Freezes Over
#22 – Here Comes the Money
#21 – Baddest Man on the Planet
#20 – This is Your Life, Rock!
#19 – Wedding Crasher
#18 – Festival of Friendship
#17 – Goodbye Edge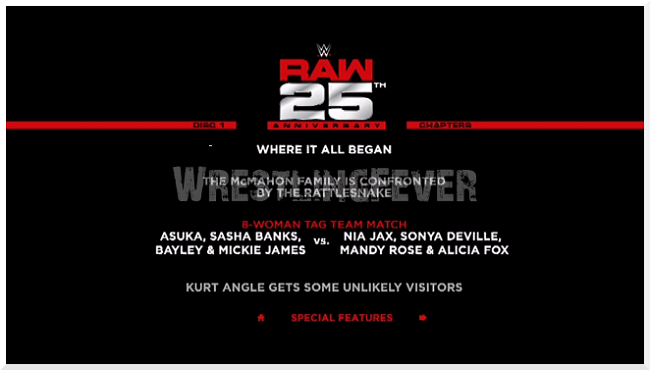 DISC 3:
TOP 25 MOMENTS IN RAW HISTORY
#16 – Silence is Deafening
#15 – Bedpan McMahon
#14 – The Prodigal Son Returns
#13 – Swan Tron
#12 – DX Invasion
#11 – The Beast is Back
#10 – #1 Draft Pick
#9 – Mankind Did It!
#8 – Women's Evolution Begins
#7 – Betrayal of Brotherhood
#6 – Big Dog's Yard
#5 – Austin Stuns McMahon
#4 – Break The Walls Down
#3 – Occupy RAW
#2 – Punk Bomb
#1 – Stone Cold Beer Truck
Technische Daten:
Releasedatum: 06. April 2018
Regional Code: 2 & 5
Laufzeit: 8 Stunden
Discs: 3 (DVD)
Kommentar: Englisch
FSK: 16
Label: FreeMantle Media
Fazit:
In diesem DVD-Set geht es um das 25 Jährige Jubiläum von Monday Night RAW. Die erste RAW Ausgabe fand am 11. Januar 1993 im Manhattan Center in New York statt. Zu der "RAW 25th Anniversary" Show, die am 22. Januar 2018 stattfand, kehrte man auch in das Manhattan Center zurück.
Die Show fand zeitgleich im Manhattan Center, als auch im Barclays Center in Brooklyn, New York statt. Die komplette RAW 25 Ausgabe ist auf diesem DVD-Set enthalten. Es war eine spektakuläre Show, mit unzähligen Comebacks und Auftritten von WWE Legenden und natürlich den aktuellen Superstars.
Auf den DVDs 2 und 3 gibt es ein Countdown der 25 besten RAW Momente der Geschichte. Die jeweiligen Segmente sind vollständig auf der DVD enthalten, sie wurden also glücklicherweise nicht zu Highlight-Clips zusammen geschnitten.
Zusammenfassend kann man sagen, dass dieses DVD Set mit der kompletten RAW 25th Anniversary Show und den 25 besten RAW Momenten der Geschichte eine tolle Möglichkeit ist, auf die Geschichte von Monday Night RAW zurückzuschauen. Dieses DVD Set ist für Fans und Sammler absolut Empfehlenswert.
____________________
*****/*****
Diesen Artikel kannst Du bei Amazon als DVD-Set bestellen.
_____________________________
Like & Support us on FACEBOOK & TWITTER – THX 🙂