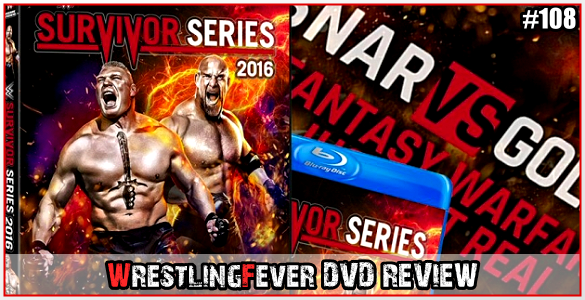 Kurzbeschreibung:
Nach seiner 12-jährigen Pause vom Sport-Entertainment, bringt Goldberg endlich wieder Verwüstung in den WWE-Ring. Im Rahmen des 30. Jubiläums der Survivor Series, "FANTASY WARFARE JUST GOT REAL!", tritt Goldberg die lang erwartete Revanche gegen "Die Bestie in Menschengestalt", Brock Lesnar, an. Zum ersten Mal seit der "brand extension" kollidieren die Superstars von RAW und von Smackdown LIVE in den traditionellen 5 vs. 5 Survivor Series Matches und sind bereit, einander in Grund und Boden zu stampfen. In diesem epischen Kampf treten Kevin Owens, Chris Jericho, Braun Strowman, Roman Reigns und Seth Rollins für das RAW Team gegen AJ STYLES, Dean Ambrose, Randy Orton, Bray Wyatt, und Shane McMahon aus dem Smackdown LIVE Team an. In der Schlacht der Womens Revolution, treffen RAWs Sasha Banks, Charlotte Flair, Bayley, Nia Jax und Alicia Fox auf das siegessichere Smackdown LIVE Team, bestehend aus Nikki Bella, Becky Lynch, Alexa Bliss, Naomi, and Carmella.
"SURVIVOR SERIES 2016" ist ein MUSS für alle WWE-Fans!
Trailer
Disc 1
5-on-5 Traditional Elimination Match
Team RAW (WWE United States Champion Roman Reigns, WWE Universal Champion Kevin Owens, Chris Jericho, Braun Strowman, Seth Rollins) vs. Team SmackDown (Randy Orton, Shane McMahon, Bray Wyatt, Dean Ambrose, WWE World Champion AJ Styles)
5-on-5 Traditional Elimination Match
Team RAW (RAW Women's Champion Charlotte, Bayley, Nia Jax, Alicia Fox, Sasha Banks) vs. Team SmackDown with Coach Natalya (Nikki Bella, Naomi, SmackDown Women's Champion Becky Lynch, Carmella, Alexa Bliss)
5-on-5 Traditional Elimination Tag Team Match
Team RAW (RAW Tag Team Champions The New Day, Sheamus & Cesaro, Enzo Amore & Big Cass, Luke Gallows & Karl Anderson, Primo & Epico) vs. Team SmackDown (SmackDown Tag Team Champions Heath Slater & Rhyno, Zack Ryder & Mojo Rawley, Chad Gable & Jason Jordan, Jimmy Uso & Jey Uso, Tyler Breeze & Fandango)
WWE Intercontinental Title Match
Sami Zayn vs. The Miz
WWE Cruiserweight Title Match
Kalisto vs. The Brian Kendrick
If Kalisto wins, the division comes to SmackDown
Brock Lesnar vs. Goldberg
Technische Daten:
Releasedatum: 03.02.17
Regional Code: 2
Laufzeit: 3 Std. 17 Minuten
Discs: 1 (DVD)
Sprache: Deutsch, Englisch
FSK: 16
Label: Edel Germany

Fazit:
Die Survivor Series 2016 stand ganz unter dem Zeichen "Fantasy Warfare – just got real". Damit gemeint sind aufeinander treffen, die nur bei der Survivor Series möglich sind, also die drei SmackDown vs. RAW Elimination Tag Team Matches und das große aufeinander treffen von Brock Lesnar und Bill Goldberg, über zwölf Jahre nach ihrem ersten Match bei WrestleMania 20, was bis hierhin auch Goldbergs letztes Wrestling Match war.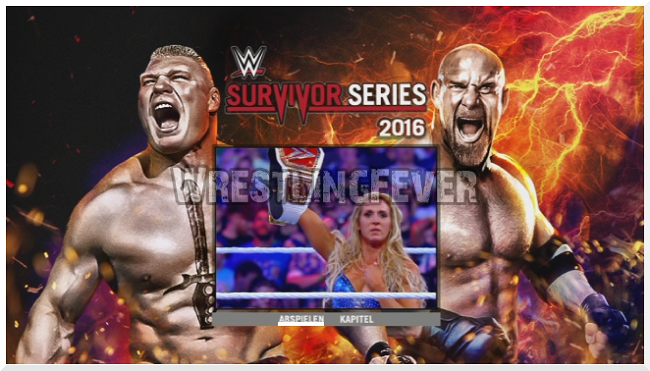 Nachdem die Survivor Series in den vergangen Jahren leider immer mehr an Bedeutung Verlor, wurde die Survivor Series 2016 endlich wieder wie ein Big 4 PPV präsentiert und aufgebaut. Mit dem Main Event Brock Lesnar vs. Goldberg bot man auf dem Papier ein WrestleMania Main Event würdiges Match. Ohne groß Spoilern zu wollen, kann man sagen, dass über das Finish des Main Events noch monatelang gesprochen wurde. Die Traditionellen Survivor Series Elimination Tag Team Matches, die dieses Jahr ganz im Zeichen von SmackDown vs. RAW standen, konnten ebenfalls überzeugen, vor allem das Match der männliches Superstars.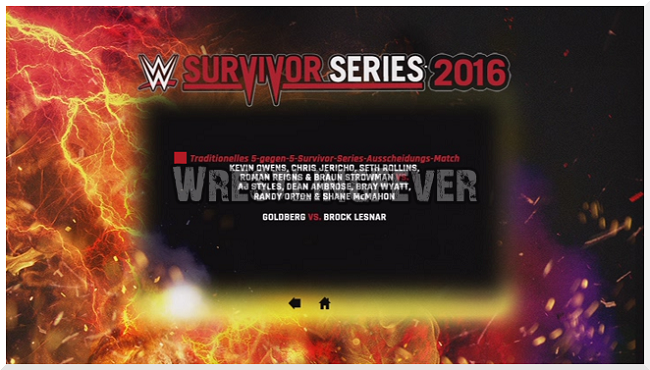 Die Bild & Ton Qualität bei diesem Set entspricht dem von WWE gewohnten hohen Standard. Auf Extras muss man bei dieser DVD leider verzichten. Neben dem US-Original Kommentar kann mann sich auch für die deutsche Tonspur mit dem Kommentar von Carsten Schaefer und Sebastian Hackl entscheiden. Abschließend kann man sagen das die Survivor Series 2016 ein gelungener Big 4 PPV war, der in keiner DVD Sammlung fehlen sollte.
____________________
****/*****
Wir präsentieren Euch diese DVD Review in Kooperation mit EDEL! Diesen Artikel erhälst Du als DVD– und Blu-Ray bei Amazon.