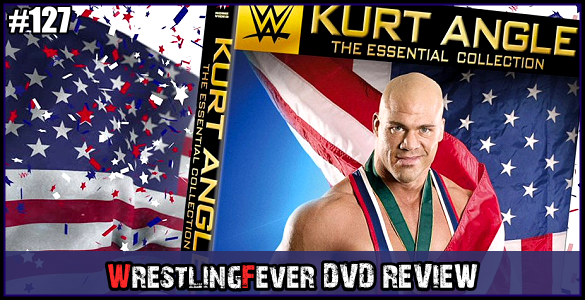 Kurzbeschreibung:
Kurt Angle hat unglaubliche Kämpfe in der Geschichte der WWE bestritten. Zum ersten Mal überhaupt, gibt es die besten Momente mit Kurt Angle auf 3 DVDs in der Kurt Angle Essential Collection.
Der Gold-Medaillen Gewinner besiegte Champions wie: Steve Austin, The Rock, John Cena, Edge, Shawn Michaels, Triple H und viele mehr! Kurt Angle kämpfte sich zu einem der größten Superstars aller Zeiten und zählt damit zu den besten Wrestling Superstars der Welt.
Sowohl von der Technik im Ring, wie auch von der authentischen Ausstrahlung – eine absolute Koryphäe.
Mit diesem Release wird ihm ein gebührendes Denkmal gesetzt, das in keiner Sammlung eines echten Wrestling Fans fehlen darf.
TRAILER:

HIER BEI AMAZON BESTELLEN
Inhalt:
DISC 1
Angle's Accolades
Understanding Sports Entertainment
WWE Debut Match
Kurt Angle vs. Shawn Stasiak
Survivor Series • 14. November 1999
Making People Sick
European Championship Match
Kurt Angle vs. Val Venis
SmackDown • 8. Februar 2000
Turning the Corner
Intercontinental Championship Match
Kurt Angle vs. Chris Jericho
No Way Out • 27. Februar 2000
Becoming a Great Leader
Finals of the King of the Ring Tournament
Kurt Angle vs. Rikishi
King of the Ring • 25. Juni 2000
Main Eventing
#1 Contender Triple Threat Match
Kurt Angle vs. Triple H vs. Chris Jericho
RAW • August 7, 2000
The Most Electrifying Man
No Disqualification Match for the WWE Championship
Kurt Angle vs. The Rock
No Mercy • 22. Oktober 2000
Vince Was Right
WWE Championship Match
Kurt Angle vs. The Undertaker
Survivor Series • 19. November 2000
Aspire to Be The Game
WWE Championship Match
Kurt Angle vs. Triple H
Royal Rumble • 21. Januar 2001
Tough as Hell
No Disqualification Match
Kurt Angle vs. Shane McMahon
King of the Ring • 24. Juni 2001
________________
DISC 2
Stone Cold Intimidation
WWE Championship Match
Kurt Angle vs. Stone Cold Steve Austin
Unforgiven • 23. September 2001
Fierce Competition
Kurt Angle vs. Edge
Backlash • 21. April 2002
The Ultimate Prank
Steel Cage Match
Kurt Angle vs. Edge
SmackDown • 30. Mai 2002
Transformation
Kurt Angle vs. Hulk Hogan
King of the Ring • 23. Juni 2002
Ruthless Aggression
Kurt Angle Open Challenge
Kurt Angle vs. John Cena
SmackDown • 27. Juni 2002
Outside the Box
Triple Threat Match for the WWE Championship
Kurt Angle vs. The Rock vs. The Undertaker
Vengeance • 21. Juli 2002
A New Style
Kurt Angle vs. Rey Mysterio
SummerSlam • 25. August 2002
Looking in the Mirror
WWE Championship Match
Kurt Angle vs. Brock Lesnar
SummerSlam • 24. August 2003
________________
DISC 3
Bittersweet Battle Rap
Kurt Angle vs. John Cena
No Mercy • 19. Oktober 2003
A Connection Like No Other
Kurt Angle vs. Eddie Guerrero
SummerSlam • 15. August 2004
Proud & Honored
SmackDown in Iraq
Kurt Angle & Luther Reigns vs. Rey Mysterio & Eddie Guerrero
SmackDown • 23. Dezember 2004
The Greatest Performer of All-Time
Kurt Angle vs. Shawn Michaels
WrestleMania 21 • 03. April 2005
Settling the Score
30-Minute Iron Man Match
Kurt Angle vs. Shawn Michaels
RAW • 03. Oktober 2005
Generational Attachment
Triple Threat Match for the WWE Championship
Kurt Angle vs. Shawn Michaels vs. John Cena
Taboo Tuesday • 01. November 2005
Fish Out of Water
ECW Championship Match
Kurt Angle vs. Rob Van Dam
ECW • 27. Juni 2006
Coming Home!
Technische Daten:
Releasedatum: 04. August 2017
Regional Code: 2 + 5
Laufzeit: 521 Minuten
Discs: 3 (DVD)
Kommentar: Englisch & Deutsch
FSK: 16
Label: EDEL Germany GmbH

Fazit:
Zuerst einmal finde ich es toll, das einem der wohl Besten Wrestler aller Zeiten endlich ein DVD-Release mit eigener Doku gewidmet wird. Die Inhaltsangabe auf der DVD-Hülle ist in deutscher Sprache, das war es neben dem FSK 16 Hinweis aber auch. Es gibt leider keinen deutschen Kommentar oder eine Untertitelfunktion, was ein Release wie diese absolut verdient hätte. Gerade die Wrestler spezifischen Veröffentlichungen sind sehr beliebt. Auch gibt es keine Blu-Ray Version sondern eine dicke DVD-Hülle im "VHS-Look" der 80er. Ein Wendecover gibt es nicht, das FSK Zeichen ist aufgedruckt, dafür aber ist eine komplette Inhaltsangabe (in englisch) im inneren des Covers vorhanden. Was mir auch fehlt ist eine Doku, wie man eine Kurzversion auf dem WWE Network finden kann – aber das ist sicherliche Geschmackssache.
Kurt Angle gehörte neben Steve Austin, Shawn Michaels, Triple H, Mankind, Edge und dem Undertaker klar zu DEN Stars in den späten 90ern / 2000ern. Der ehem. Olympiastar lehnte damals das erste WWE (Tryout) Angebot ab um sich später erneut zu bewerben. Der zweite Weg war nicht der leichtere, er musste sich nach oben arbeiten. Für viele Kollegen gilt er als der bester Wrestler aller Zeiten.
Sein WWE Debüt bestritt er gegen Shawn Stasiak bei einem der größten Veranstaltungen: Die Survivor Series 1999. Man etablierte ihn als Heel, um seinen Charakter zu formen, was sehr gut angenommen wurde. Kurt reflektiert zwischen den Matches immer seine Karriere, teilt Erinnerungen und lobt Kollegen wie Chris Jericho, Triple H oder The Rock. Er dankt auch den damaligen Kollegen, die ihn zu Beginn seiner Wrestling Karriere gut aussehen ließen. Alles ging sehr schnell und bis er sich versah, stand er im Main Event.
Der Streetfight mit Shane McMahon ist heute noch ein Thema. Shane ist bekanntlich kein Wrestler, was er und Kurt aber beim "KotR" 2001 ablieferten, wird heute noch oft angesprochen. Später kam auch seine humoristische Seite zum Vorschein, gegen welche er sich zu Beginn noch wehrte.
Die Geschichte wie Kurt seine Haare verlor, ist auch interessant. So wurde sein Haar immer Lichter und Vince selbst sagte, die müssten runter. Man machte ein "Hair vs. Hair" Match mit Edge daraus, welcher daraus eine lange Mähne trug. Generell erfährt man aus Kurts Erzählungen viele Details, die man so nicht kannte. John Cenas Debüt ist auch ein wichtiger Punkt, wie auch die Schattenseiten seines Lebens. Neben den tollen Matches gibt es auf diesem DVD-Set tolle Sequenzen seiner Karriere, Hintergrund Infos und vieles mehr. Schade das man nicht noch mehr Material anderer Promotions verwenden konnte, um die aktive Karriere abzurunden, auch wenn wir zur heutigen Zeit noch mit einem Match von Kurt rechnen können. Dennoch absoluter Pflichtkauf für jeden Wrestlingfan!
____________________
***/*****
Diesen Artikel kannst Du bei Amazon als DVD bestellen.
_____________________________
Feel free to LIKE & Support us on FACEBOOK & TWITTER – Thank You 🙂