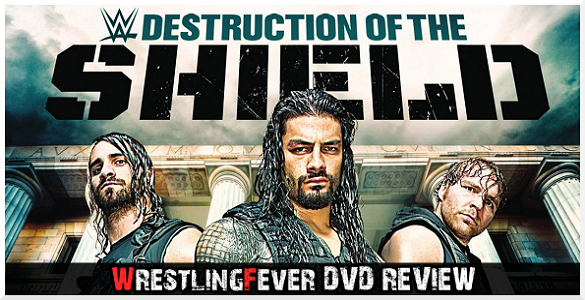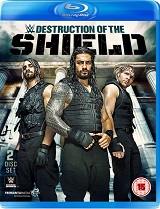 Releasedatum: 09.03.2015 (UK)
Regional Code: 2 (UK)
Laufzeit: 8 Std. 40 Minuten
Discs: 2 (Blu-Ray)
Sprache: Englisch
FSK: —
Label: Freemantle
Kurzbeschreibung:
For the first time ever, The Destruction of The Shield highlights The Lunatic Fringe Dean Ambrose, The Juggernaut Roman Reigns, and The Architect Seth Rollins as they join forces to lay down the law and dish out their own brand of personal justice in WWE.  From The Shield s days as rookies in NXT, to their shocking debut, to the eventual destruction of The Shield, this set covers the entire journey of the most dominant trio in recent memory.  With never before seen interviews and hard-hitting matchups from The Shield's illustrious run, you will bear witness to what happens when the Hounds of Justice are off their leash!
__________________
Disc 1
Documentary
Dean Ambrose on Seth Rollins FCW Rivalry
15-Minute Time Limit for the FCW 15 Championship
Dean Ambrose vs. Seth Rollins
FCW • August 14, 2011
Seth Rollins on Dean Ambrose FCW Rivalry
30-Minute Time Limit for the FCW 15 Championship
Dean Ambrose vs. Seth Rollins
FCW • September 18, 2011
Roman Reigns on FCW Triple Threat Match
Triple Threat Match
Dean Ambrose vs. Seth Rollins vs. Leakee
FCW • February 5, 2012
Dean Ambrose on William Regal FCW Rivalry
Dean Ambrose vs. William Regal
FCW • July 1, 2012
Seth Rollins on NXT Championship
Gold Rush Tournament Finals for the NXT Championship
Seth Rollins vs. Jinder Mahal
NXT • August 29, 2012
Roman Reigns on NXT Debut
Roman Reigns vs. CJ Parker
NXT • October 31, 2012
Seth Rollins on Shield In-Ring Debut
6-Man Tag Team TLC Match
The Shield vs. Ryback & Team Hell No
TLC • December 16, 2012
Dean Ambrose on United States Championship
United States Championship Match
Dean Ambrose vs. Kofi Kingston
Extreme Rules • May 19, 2013
Roman Reigns on WWE Tag Team Championship
Tornado Match for the WWE Tag Team Championship
Roman Reigns & Seth Rollins vs. Team Hell No
Extreme Rules • May 19, 2013
Roman Reigns on Facing the Usos
WWE Tag Team Championship Match
Seth Rollins & Roman Reigns vs. The Usos
Money In the Bank • July 14, 2013
Roman Reigns on Survivor Series 2013
Classic Survivor Series Elimination Match
The Shield & The Real Americans vs. The Usos, Rhodes Brothers & Rey Mysterio
Survivor Series • November 24, 2013
Disc 2
Dean Ambrose on Wyatt Family Rivalry
6-Man Tag Team Match
The Shield (Roman Reigns, Seth Rollins & Dean Ambrose) vs. The Wyatt Family (Bray Wyatt, Luke Harper & Erick Rowan)
Elimination Chamber • February 23, 2014
Seth Rollins on Evolution Rivalry
No Holds Barred 6-Man Elimination Tag Team Match
The Shield (Roman Reigns, Seth Rollins & Dean Ambrose) vs. Evolution (Triple H, Randy Orton & Batista)
Payback • June 1, 2014
Seth Rollins on Money in the Bank 2014
Money in the Bank Ladder Match
Seth Rollins vs. Dean Ambrose vs. Dolph Ziggler vs. Kofi Kingston vs. Rob Van Dam vs. Jack Swagger
Money in the Bank • June 29, 2014
Dean Ambrose on SummerSlam
Lumberjack Match
Dean Ambrose vs. Seth Rollins
SummerSlam • August 17, 2014
Roman Reigns on SummerSlam
Roman Reigns vs. Randy Orton
SummerSlam • August 17, 2014
Seth Rollins on Falls Count Anywhere Match with Dean Ambrose
Falls Count Anywhere Match
Dean Ambrose vs. Seth Rollins
RAW • August 18, 2014
Roman Reigns on Seth Rollins Rivalry
Roman Reigns vs. Seth Rollins
RAW • September 15, 2014
Fazit:
Dieses Blu-Ray Set enthält eine etwas längere Version der Dokumentation "Journey to SummerSlam", die im Sommer 2014 auf dem WWE Network gezeigt wurde. Die Dokumentation ist mit einer Länge von ca. 1 Stunde & 15 Minuten etwa 15 Minuten länger als die 1 Stündige Version auf dem WWE Network. Die Doku geht vor allem auf den Weg von Reigns, Rollins & Ambrose ins WWE Main Roster ein. Sogar die Independent Zeit von Rollins & Ambrose wird Thematisiert und es werden Szenen & Interviews von damals gezeigt. Danach wird auf die  zerstörerische Zeit von The Shield im Main Roster bis hin zu der "Zestörung" der Gruppierung durch Seth Rollins eingegangen.
Neben der Dokumentation gibt es noch über 7 Stunden an Matches der ehemaligen Shield Mitglieder zu sehen, unter anderem  Seth Rollins gegen  Dean Ambrose bei Florida Championship Wrestling (der damaligen Entwicklungsliga der WWE), das Debüt Match von The Shield bei TLC 2012 gegen Ryback & Team Hell No, das Elimination Match gegen die Evolution bei Payback 2014, bis hin zu Roman Reigns gegen Randy Orton und Seth Rollins gegen Dean Ambrose beim SummerSlam 2014.
Wer sich für die Blu-Ray Version entscheidet erhält zusätzlich noch 4 komplette Matches als exklusive Blu-Ray Features, unter anderem Dean Ambrose gegen den Undertaker bei SmackDown aus dem Jahre 2013 und das Royal Rumble Match 2014. Zusammengefasst lässt sich sagen, dass dieses Set eine absolute Kaufempfehlung ist. Es enthält eine Klasse Dokumentation und tolle Matches, die Bild- und Tonqualität entspricht den HD Richtlinien. Dieses Blu-Ray Set sollte bei keinem WWE Fan im Regal fehlen, leider wurde auch dieses Set nicht in Deutschland veröffentlicht.
____________________
****/*****
Diese Review präsentieren wir in Kooperation mit Much Media. Die DVD & Blu-Ray könnt ihr in Deutschland sogar versandkostenfrei erstehen. Weitere WWE (World Wrestling Entertainment) Artikel gibt es hier.