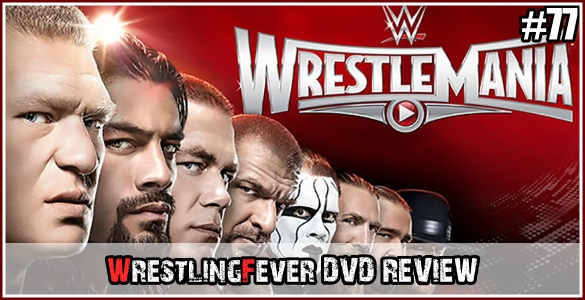 Kurzbeschreibung:
AUF DER BÜHNE DER UNSTERBLICHEN setzt "Die Bestie in Menschengestalt" Brock Lesnar ihren WWE-Welt-Schwergewichts-Champion-Titel gegen Roman Reigns, den Herausforderer #1, aufs Spiel.
Außerdem: Der United-States-Champion-Titel steht auf dem Spiel, wenn John Cena für Amerika und gegen den unbesiegten Champion Rusev kämpft! Der Undertaker kehrt zurück, um die Herausforderung des "Neuen Gesichts der Angst" Bray Wyatt anzunehmen. Und zum allerersten Mal tritt "The Vigilante" Sting in einem WWE-Ring gegen "The Game" Triple H an. Vermächtnisse werden definiert und Geschichte geschrieben – bei WRESTLEMANIA! .
Disc 1
WWE Intercontinental Championship Ladder Match
Bad News Barrett vs. R-Truth vs. Luke Harper vs. Daniel Bryan vs. Dolph Ziggler vs. Dean Ambrose vs. Stardust
Randy Orton vs. Seth Rollins
No Disqualification Match
Sting vs. Triple H
Tag Team Match
AJ Lee & Paige vs. Brie Bella & Nikki Bella
WWE United States Championship
Rusev vs. John Cena
The Undertaker vs. Bray Wyatt
WWE World Heavyweight Championship
Roman Reigns vs. Brock Lesnar
Special Features:
Fatal 4-Way Match um die WWE Tag Team Championship
John Cena bereitet sich auf Rusev vor
Seth Rollins ist die Zukunft
___________________________________________
Disk 2
Hall Of Fame 2015
Andre the Giant Memorial Battle Royal
Die Bestie ist gekommen um zu jagen
Daniel Bryan hat es auf den Intercontinental Championship abgesehen.
Technische Daten:
Releasedatum: 12.06.2015
Regional Code: 2 (UK)
Laufzeit: 525 Minuten
Discs: 2 (Blu-Ray)
Sprache: Deutsch, Englisch
FSK: Freigegeben ab 16 Jahren
Label: Freemantle / WVG Medien GmbH
Fazit:
Mit der Show des Jahres hat WWE wieder einige denkwürdige Momente geschaffen. Die DX, wie auch die nWo waren zu sehen, The Rock hat Rondy Rousey dabei und Sting bestreitet sein erstes Match in einem WWE Ring. WCW vs. WWE. Diese Blu Ray muss ein echter Fan einfach im Regal haben. Der Undertaker hatte es mit Bray Wyatt zu tun und war im Vergleich zum Vorjahr wirklich "fit". Das ganze Material liegt in HD vor, die HoF ist eine Schau, gerade die Reden von Nash und Alundra Blayze wissen zu überzeugen.Brock Lesnar gegen Reigns liest sich nicht nur auf dem Papier gut. Ein toller Event. #MUSTHAVE
____________________
****/*****
Diese Review präsentieren wir in Kooperation mit Much Media. Weitere WWE (World Wrestling Entertainment) Artikel gibt es hier.