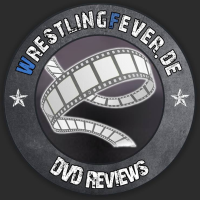 WWE: Survivor Series 2007
Veröffentlichung: 03.03.2008
Ausstrahlung: 18.11.2007
Regionalcode 2 – Silvervision
DVD 9 Format
Laufzeit: ca. 2 Stunden & 57 Minuten
FSK: 16
Wie gewohnt bietet auch diese DVD Sprachoptionen (Englisch, Deutsch, Französisch usw.) Wenn man eine Sprache markiert, färbt sie sich rötlich. Danach sieht man die üblichen Trailer und den "Don`t try this at home" Spot.
Das Menü bietet wie immer die Kapitel, Extras und Sprachoptionen. Unterlegt ist es mit dem Theme Song zum PPV von den Hives und "Tick Tick Boom"
Auch die Kapitel sind mit einem roten "Rollover" Effekt versehen. Auffallend auch hier (wieder einmal) die deutsche Übersetzung der Matcharten.
Wochenlang hielt man die Fans hin, bis man das Geheimnis der mysteriösen "SaveUS_222" Videos auflöste. Am 19.11.2007 feierte der Mann sein WWE Comeback. Als Extra ist dieser Auftritt in voller Länge zu sehen!
Zum Inhalt:
ECW Championship:
CM Punk (c) vs. The Miz vs. John Morrison
Punk darf seinen Titel verteidigen, nachdem er Miz den GTS (Go to Sleep) verpassen konnte.
Mickie James, Maria, Torrie Wilson, Michelle McCool, & Kelly Kelly besiegen Beth Phoenix, Jillian Hall, Melina, Victoria, & Layla
World Tag Team Championship:
Lance Cade & Trevor Murdoch (c) vs. Cody Rhodes & Hardcore Holly
Ein zusammengewürfeltes Tag Team gewinnt die Titel.
Traditional Survivor Series Match:
Triple H, Jeff Hardy, Rey Mysterio, & Kane besiegen Umaga, Finlay, Big Daddy V, MVP, & Kennedy
Hier arbeiteten Jeff Hardy und HHH sehr gut zusammen und die Heely verloren zu deutlich 🙁
Hornswoggle vs. The Great Khali
Wir hatten es ja eigentlich erwartet. Der kleine Hornswoggle hätte alleine wohl nie eine Chance gehabt. Somit musste ihm ein alter Freund zur Seite stehen, um den Publikumsliebling "heil" aus der Halle zu bringen! Dank Finlay wurde der Kleine aber disqualifiziert!
WWE Championship Match:
Randy Orton (c) vs. Shawn Michaels
Beide versprachen eigentlich ein gutes Match, dennoch war das Matchende voraus zu sehen. HBK durfte die "Sweet Chin Music" nicht verwenden und will bekanntlich auch nicht mehr soooo viel in den Ring steigen. Also, warum soll er dann Champion werden?
Hell in a Cell for the World Heavyweight Championship:
Batista (c) vs. The Undertaker
Edge ist zurück und verhilft Batista zum Sieg, indem er sich als Kameramann outete und den Taker mit dem Stuhl attackierte. Wer hier allerdings eine Kettensäge erwartet hat, die Edge nutzt, um in den Käfig zu kommen, der wurde entäuscht! Trotz allem wird auch dieses Match kein Klassiker, auch wenn man den Undertaker erneut in den Käfig steckte.
Fazit:
Die Series ist eine der letzten grossen 4 Veranstaltungen der WWE und sollte wohl den krönenden Abschluss für 2007 bilden. Mit einem "Hell in a Cell", Triple Threat und weiteren interessanten Matches hat man sich etwas einfallen lassen. Die Rückkehr von Edge war zu erwarten, dennoch lieferte man den Fans ein unerwartetes Main-Event Ende. Die Veranstaltung an sich war guter Durchschnitt.
***/*****