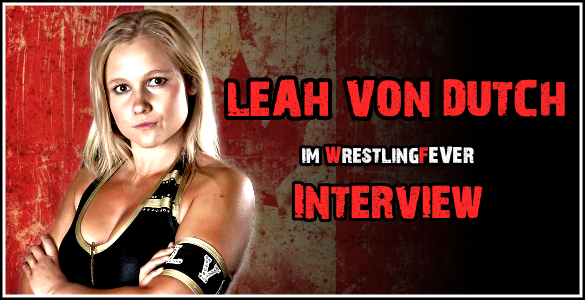 Hi Leah! First of all thank you for taking the time for this interview. I hope you are doing well.
LVD: Thank you for having me!
You were on a big European tour recently which led you, among the rest, once again to Germany. How have you liked it here, could you see a little bit of our country?
LVD: I love wrestling in Germany. The fans are fantastic and I find the wrestling companies put on a great show. However, I have not been able to explore the country…it has just been airport to show to hotel to airport. I hope to come back and explore!
Your name and your appearance indicate it more than clearly, but please tell us a secret. What relation do you really have to the Netherlands?
LVD: My Oma and Opa came to Canada in 1955…so I do have dutch heritage that I am very proud of…but I am Canadian (shh)!
How have you (or whoever) come to your (ring) name?
LVD: When I was born my mother wanted to name me Leah but it was my dad's turn to name a child so, my mom didn't get her way. I chose the name Leah for my mother…and I love the name! As for the Von Dutch part….I wanted to be named just Leah Dutch…but my trainer at the time said it needed something in front of the Dutch…so we picked Von Dutch…like the trucker hats. I think Van Dutch would have been more Dutch 😛
You were born in Ontario, what can you tell us about living in Canada? Is it true that every new born baby holds a hockey stick in his hands? 😉
LVD: If you live in Ontario you will experience 3 months summer…1 Month Fall….7 months winter and 2 months spring haha! Our winter is absolutely brutal…we have had an extreme cold weather alert for about a month straight now…our temperatures have been -35 celcius! And yes…us Canadians LOVE hockey…but I usually only watch during the playoffs….or if I go to a live event…I don't watch much TV except for WWE Raw.
When did you have your first touch with wrestling – how do you remember?
LVD: I dont know if this is my very first touch with wrestling…but it is the earliest I remember. I was 12 years old…and I remember seeing Trish Stratus debut…I was super excited because she was blonde and from Ontario (just like me!)
When did you decide on becoming a pro wrestler and how did you mastered the first step?
LVD: I wanted to become a pro wrestler when I was 18 years old or so….I went to a very reputable school and they told me I was too fat and would never make it in the business but I could give them my money anyways! I was devastated and put my plans on hold….then when I was…23 I entered an essay contest and ended up winning free training…the person who judged the essay was WWE HOFer Adam "Edge" Copeland….still feels surreal!!
Can you still remember your very first training session?
LVD: Oh ya!! It was brutal….the ring was made of plywood and carpet…very uneven….and my first bump took the wind right out of me…I thought I was going to die….then my trainer told me to get up and do it again…I thought he was insane!
How did your family react to your decision? Parents are often very skeptical and (maybe too) carefully…
LVD: My parents LOVE it…I seriously have the MOST supportive family and friends ever…my mom wants to be my manager and my dad thinks it hilarious….he laughs at all my wrestling videos….oh and my grandma always thinks Im drunk whenever I do a promo lol…I love my family!
How long did it last until you had your first match and which recollections you still have in it?
LVD: I was training for about 6 months maybe…then I had my first match…it was brutal…Cherry Bomb beat the crap out of me…I thought I had a concussion afterwards…and all my family and friends were there…it was the most exhilarating and terrifying thing I had ever done!
Could you imagine a different job – or can you live from wrestling?
LVD: I would love to eventually live from wrestling…but my back up career is an activity aide…I do activities with seniors in a nursing home….I love my old people and they really give me some great material for my Dino Hunter character….the things that come out of their mouth are hilarious!
Do you have a favorite opponent, a woman with whom you seem to have a special chemistry?
LVD: Yes!! I 100% have special chemistry with Nikki Storm….it seems like whenever we are in the ring together magic happens….she knows what I am thinking and I know what she is thinking…it super weird….hopefully I will get booked against her more!
How do you think about the WWE Divas and TNA Knockouts – what would appeal more to you?
LVD: I love that the TNA Knockouts have such great matches and get time for story telling…BUT…I've always dreamed of being a WWE diva…I would love to get an opportunity to work in NXT and be able to wrestle/train every single day.
Did you already have contacts or maybe even a tryout for one of THE both promotions?
LVD: I have been an extra in three countries for WWE (Canada, UK and USA) and also had a three day tryout camp at the Performance Centre…but that's all the info you need! 😉
Speaking about your spare time… Can you switch off there completely from wrestling?
LVD: It is very hard to switch off from wrestling…it seems like I am either talking about wrestling…watching wrestling…or promoting my Leah Von Dutch social media accounts…it is just a way of life
What do you think about these intergender matches?
LVD: hmm..I have been involved in a few before…I like being involved in them if there is a good story…but just throwing a female in an intergender match for no apparent reason seems a bit silly. I think they have to be planned out carefully…for example: if a guy punches me and I just turn around and slap him…that makes no sense because in reality I would be knocked out….but let's say he spanks me…so I slap him…that makes more sense…I would prefer to wrestle another girl because let's say I can do all these fancy moves on guys but not on girls…what good is that? If you go to WWE you won't be wrestling guys…so all those cool moves mean nothing now.
Do you still pursue other sports besides wrestling, how do you keep in shape?
LVD: I go to the gym about 4x week and I actually just got a membership to try out MMA!
How important is the contact with your fans, whether via social networks or at the live events?
LVD: It is the MOST important thing…100%…without fans…there would be no Leah Von Dutch…so follow me on Twitter: twitter.com/leahvondutch or check out my website www.leahvondutch.com
Thank you so much for your time Leah!
LVD: Thank you and I hope to be back in Germany sooner rather than later!