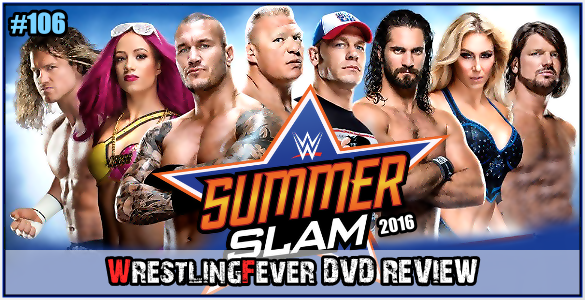 Kurzbeschreibung:
Zum allerersten Mal steht der gerade erst ins Leben gerufene WWE-Universal-Champion-Titel auf dem Spiel, wenn sich "Der Dämonenkönig" Finn Bálor mit der "Unumstrittenen Zukunft" Seth Rollins misst. In einer Schlacht zwischen Suplex City und Viperville bestreitet Brock Lesnar gegen Randy Orton ein Match, auf das wir 15 Jahre warten mussten. In einem Rückmatch wollen AJ Styles und John Cena die Messlatte noch höher legen, um zu ermitteln, wer der Bessere ist. Die Rivalität zwischen Dean Ambrose und Dolph Ziggler wird immer heißer, wenn sie um den WWE-World-Champion-Titel des "Durchgeknallten" kämpfen. Der WWE-Women's-Champion-Titel rückt ins Rampenlicht, wenn die Championesse Sasha Banks ihren Titel gegen Charlotte aufs Spiel setzt. Und es gibt noch sehr viel mehr! Die Superstars von Raw und SmackDown Live drehen beim WWE SummerSlam den Temperatur-Regler hoch.
Trailer:

Inhalt:
Tag Team Match
Chris Jericho & Kevin Owens vs. Big Cass & Enzo Amore
WWE Women's Title Match
Charlotte vs. Sasha Banks (c)
WWE Intercontinental Title Match
The Miz (w/Maryse) (c) vs. Apollo Crews
AJ Styles vs. John Cena
WWE Tag Team Title Match
The Club vs. The New Day (w/Jon Stewart) (c)
WWE World Title Match
Dean Ambrose (c) vs. Dolph Ziggler
Six Man Tag Team Match
A. Bliss, Natalya & N. Bella vs. B. Lynch, Carmella & Naomi
WWE Universal Title Match (vakant)
Finn Balor vs. Seth Rollins
Singles Match
Brock Lesnar (w/Paul Heyman) vs. Randy Orton
Extras (Blu Ray):
The Usos, American Alpha, & Hype Bros. vs. Breezango, The Ascension, & The Vaudevillains
(SummerSlam Kickoff Match)
Sami Zayn & Neville vs. The Dudley Boyz
(SummerSlam Kickoff Match)
First Match in Best of Seven Series
Cesaro vs. Sheamus
(SummerSlam Kickoff Match)
Technische Daten:
Releasedatum: 04.11.2016
Regional Code: PAL
Laufzeit: 4 Stunden 23 Minuten
Discs: 1 (Blu Ray)
Sprache: Deutsch, Englisch
FSK: 16
Label: Edel Germany GmbH

Fazit:
Das sich Ladies Wrestling bei WWE nicht verstecken muss sieht man am "Six (Wo)Men Tag Match. John Cena und AJ Styles haben hier für viele die Show gestohlen und mit Kevin Owens hat man einen absolut überzeugenden Heel. Enzo & Big Cass sind mehr als "over" und wenn man auf ein überraschendes Matchende steht, wird einem Das Ende von Brock Lesnar vs. Randy Orton gefallen.
Selten wurd nach Ende eines Match so darüber diskutiert, wie in diesem Fall. Ohne groß spoilern zu wollen aber der Hinweis, das der SummerSlam (ob er nun gefallen hat oder nicht) zu den großen 4 WWE PPVs gehört und somit Teil einer jeder Sammlung sein sollte. Die Meinungen gingen nach diesem Event grob auseinander. Kommentiert wurde dieser Event von Carsten Schaefer & Sebastian Hackl. Das Blu-Ray Cover spoilert den Event und ist KEIN Wendecover. Auch gibt es innen KEINE Inhaltsangabe bzw. Matchliste.
____________________
****/*****
Wir präsentieren Euch diese DVD Review in Kooperation mit EDEL! Diesen Artikel erhälst Du als DVD– & Blu-Ray bei Amazon.