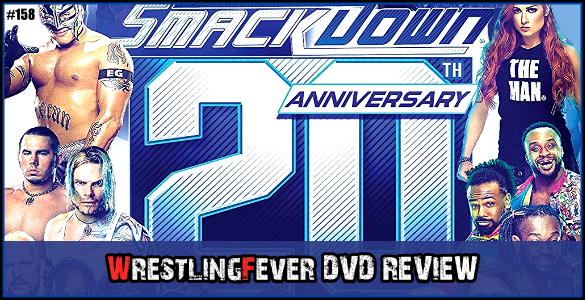 KURZBESCHREIBUNG:
Angefangen hat alles als ein legendäres Schlagwort und wurde zu einem TV Phänomen. SmackDown wurde die Heimat unvergesslicher TV Momente, mit bezaubernden Superstars und unglaublicher Action. Hier starteten Karrieren von The Rock, John Cena, Brock Lesnar, Becky Lynch, JBL, Rey Mysterio, Charlotte Flair, und vielen anderen. die "blaue" Marke machte nachhaltigen Eindruck auf die zahlreichen Fans im WWE Universum. Nun erweckt diese Kollektion die größten Matches und besten Momente der 20 jährigen Geschichte von SmackDown wieder zum Leben. Werdet Zeuge des Einflusses, den SmackDown auf die gesamte Geschichte der WWE hatte.
Trailer:

Hier Bestellen!
______________________
DVD 1:
So Many Memories
WWE Championship Match
Triple H vs. The Rock
Special Guest Referee: Shawn Michaels
SmackDown • 26. August 1999
Triple Threat Match for the WWE Hardcore Championship
Crash Holly vs. Mosh vs. Thrasher
SmackDown • 16. März 2000
WWE Hardcore Championship Match
Crash Holly vs. Gerald Brisco
SmackDown • 18. Mai 2000
Thanksgiving Food Fight
SmackDown • 23. November 2000
Chris Jericho vs. Rhyno
SmackDown • 09. August 2001
Come Get Your Medals
SmackDown • 30. August 2001
The World Comes Together
Vince McMahon's Post-9/11 Address
SmackDown • 13. September 2001
Price Check
SmackDown • 13. December 2001
You're Hired Stacy!
SmackDown • 11. April 2002
Kurt Angle vs. John Cena
SmackDown • 27. Juni 2002
WWE Tag Team Championship Match
Billy & Chuck vs. Edge & Hulk Hogan
SmackDown • 04. Juli 2002
Steel Cage Match
Chris Jericho vs. Edge
SmackDown • 25. Juli 2002
No Disqualification Match
Eddie Guerrero vs. Edge
SmackDown • 26. September 2002
WWE Cruiserweight Championship Match
Matt Hardy vs. Rey Mysterio
SmackDown • 05. Juni 2003
WWE Championship Match
Brock Lesnar vs. Big Show
SmackDown • 12. Juni 2003
Mr. McMahon Addresses The Troops
SmackDown • 25. December 2003
Lying, Cheating, Celebrating!
SmackDown • 19. February 2004
______________________
DVD 2:
How Fun is This?
Sexy Kurt
SmackDown • March 24, 2005
WWE Tag Team Championship Match
MNM vs. Batista & Rey Mysterio
SmackDown • 16. December 2005
King Booker's Coronation
SmackDown • 26. Mai 2006
Twist of Fortune!
SmackDown • 19. December 2008
WWE World Heavyweight Championship Steel Cage Match
CM Punk vs. Jeff Hardy
SmackDown • 28. August 2009
Thank You Edge
WWE World Heavyweight Championship Match
Christian vs. Randy Orton
SmackDown • 06. Mai 2011
Women's Money in the Bank Ladder Match
Charlotte Flair vs. Natalya vs. Tamina vs. Becky Lynch vs. Carmella
SmackDown • 27. Juni 2017
The Pride of Bulgaria
SmackDown • 26. September 2017
WWE Championship Match
Jinder Mahal vs. AJ Styles
SmackDown • 07. November 2017
WWE Tag Team Championship Match
The Bludgeon Bros vs. The New Day
SmackDown • 21. August 2018
WWE Championship Match
AJ Styles vs. Daniel Bryan
SmackDown • 13. November 2018
Kofi Kingston vs. Kevin Owens
SmackDown • 08. Mai 2019
Happy 20th SmackDown!
______________________
Technische Daten:
Releasedatum: 18. Oktober 2019
Regional Code: 2 & 5
Laufzeit: 6 Stunden 08 Minuten
Discs: 2 (DVD)
Sprachen: Englisch & Deutsch (Dokumentation)
FSK: 16
Label: Freemantle / Edel
_________________________
Fazit:
20 Jahre ist das WWE Sendeformat "SmackDown geworden, neben RAW die wohl am längsten bestehende wöchentliche Sendung. Man hätte sicher viele weitere Highlights in dieses DVD-Set packen können, da einige neuere Segmente dabei sind, die wir Fans aus den letzten Jahren kennen. Dennoch sind viele geschichtsträchtige Segmente dabei wie John Cena`s Main Roster Debüt gegen Kurt Angle, Edge & Hulk Hogan als Team gegen "Billy & Chuck", Eddie Guerrero und viele weitere Stars & Legenden.
Stacy Keibler wird in einem sehr unterhaltsamen Segment persönlich von Vince McMahon unter Vertrag genommen. Man sieht Rey Mysterio während dem Höhepunkt seiner Karriere und seinen damals noch kleinen Sohn Dominic. Natürlich fehlen auch nicht Sondersegmente wie die nach dem Terroranschlag am 09.11.2001, wo Vince eine sehr patriotische Promo hielt. Eine tolle Zeitreise zu der SD! Ausgabe, als Eddie Guerrero als WWE Champion mit den Fans feiert um dann mit Chavo zu diskutieren.
Erlebt "Sexy Kurt", "MNM" sowie King Booker! Auch CM Punk hat es neben den Hardys auf dieses Set geschafft. Trarig ist auch der Rücktritt von Edge. 20 Jahre, 2 DVDs…. einige Stunden Highlights aus WWE SmackDown! Sehenswert und absolut zu empfehlen. Wegen mir hätte man auch ein 5-Disc Set releasen können.
Als Bonus findet man auf der zweiten DVD den ersten WWE Smackdown Main Event. Ein Tag Team Match zwischen dem Undertaker & Triple H vs. Rock sowie Steve Austin. KAUFEN!
*****/*****
Artikel bei Amazon bestellen!