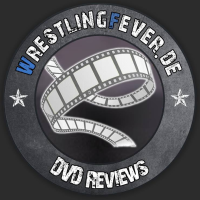 WWE The History of World Heavyweight Championship
Release: 15.12.2009
Regional Code: 3
Laufzeit: 8 Std. 29 Min.
Sprachen: Deutsch, Englisch, Französisch, Spanisch
FSK: 18
Label: Clear Vision (Alive)
Kurzbeschreibung
Das 3-DVD-Set zeigt nicht nur die Highlights der World Heavyweight Championship in der WWE, die seit dem 2. September 2002 dank Reaktivierung durch den ehemaligen RAW General Manager Eric Bischoff und Weitergabe an HHH den zweitwichtigsten Titel der Company darstellt, sondern auch die Wurzeln des Titelgolds über die Tage als hochwertigster Gürtel der WCW bis zurück als Schmuckstück der NWA in einer noch nie im WWE TV übertragenden Dokumentation, in der viele ehemalige Champions zu Wort kommen, plus 20 komplette Titelmatches aus Zeiten der NWA bis zur heutigen Zeit.
Menü:
Das Menü ist mit majestätischer Musik hinterlegt, in der Mitte sieht man den Champion Gürtel, mittig bewegte Highlights in schwarz-weiss! Man kann wählen zwischen dem "Menü", den "Kapiteln" und der "Timeline" (letzteres nur auf DVD1).
Inhalt:
Die exklusive Dokumentation verweist zuerst auf die beachtliche Geschichte und Anfangstage des Amateurringen und die Zeit des ersten weltweiten Superstars dieser Sportart, Georg Hackenschmidt, und beschäftigt sich schnell mit der Aufarbeitung der Tage des Vorzeigeringers Frank Gotch im frühen zwangzigsten Jahrhundert und dem frühen Catch Wrestling Style auf Jahrmärkten bis zum noch heute verehrten Pro Wrestler Lou Thesz, der gemeinsam mit anderen Veteranen zum TV Star der Fünfziger im US-amerikanischen TV wurde. Nach ausführlichen Kommentaren von Zeitzeugen und Ex-Champions findet man sich schon in der Neuzeit wieder, wo Ric Flair, Harley Race, Dusty Rhodes die Funks u.a. heutige Hall Of Famer und Titelmatches unter sich ausmachten.
Die international erfolgreiche Liga WCW spaltete sich von der NWA ab und übernahm allein die Regie über ihr großes Titelgold und zu Beginn dieses Jahrtausends wurde die WCW dann von Vince McMahons WWE aufgekauft, man schloss WWE und WCW World Heavyweight Title zur Undisputed Championship zusammen bis man sie im Herbst 2002 wieder getrennt einsetzte und all dies featuret weiterhin Kommentare der Legenden und heutigen Superstars. Zudem gibt es 20 Titelmatches um das legendäre Gold zu bewundern.
Disc 1:
Kapitel der Dokumentation:
Origins of Wrestling
An American Hero" Frank Gotch
Ed "Strangler" Lewis
National Wrestling Alliance
Lou Thesz
Buddy Rogers
New Breed of Champions
1970s World Champions
A Flair for the Gold
Crockett's World Champion
NWA to WCW
WCW Withdraws From NWA
Revolving WCW Champions
The Undisputed Championship
World Championship Returns
Legacy Lives
Matches:
Chicago, 1961 – 2 out of 3 Falls: Pat O'Connor vs. Buddy Rogers
Florida 11.02.1969 – Gene Kiniski vs. Dory Funk Jr.
Florida 10.12.1985 – Jack Brisco vs. Terry Funk
Florida 21.08.1979 – Harley Race vs. Dusty Rhodes
AWA SuperClash – Ric Flair vs. Magnum TA
Great American Bash `90 – Ric Flair vs. Sting
Disc 2:
Clash of Champions XIV – Ric Flair vs. Scott Steiner
Great American Bash `91 – Lex Luger vs. Barry Windham
Baltimore 02.08.1992 – Vader vs. Ron Simmons
WCW Saturday Night 16.10.1993 – Vader vs. Ricky Steamboat
Halloween Havoc `94 – Career vs. Career Steel Cage Match: Hulk Hogan vs. Ric Flair
SuperBrawl VIII – Sting vs. Hollywood Hogan
Nitro 06.07.1998 – Hollywood Hogan vs. Goldberg
Bash at the Beach `00 – Jeff Jarrett vs. Booker T
No Mercy `01 – The Rock vs. Chris Jericho
Disc 3:
Unforgiven `02 – Triple H vs. Rob Van Dam
Taboo Tuesday `04 – Triple H vs. Shawn Michaels
No Way Out `06 – Kurt Angle vs. The Undertaker
SmackDown 07.04.2006 – Rey Mysterio vs. Randy Orton
Armageddon `07 – Batista vs. Undertaker vs. Edge
Survivor Series `08 – John Cena vs. Chris Jericho
Extreme Rules `09 – Ladder Match: Jeff Hardy vs. Edge
Fazit:
Sehr gelungene Aufarbeitung der World Heavyweight Championship im Wrestling, die in der Steinzeit und einer von Aktiven kommentierten Lehre über die Geschichte des Ringens beginnt und sich über die Anfänge des Pro Wrestlings schnell weiterarbeitet zu der Bedeutung des NWA Heavyweight Titles und den absoluten Highlights der Titelfehden um das WCW Gold., der Wurzel des heutigen WWE World Heavyweight Titles, auch wenn dies offiziell natürlich 3 verschiedene Championships sind. Die Matches wurden sehr gut gewählt und so sieht man Klassiker wie Flair vs. Magnum TA vermischt mit Auseinandersetzungen der WCW-Hochphase um Hogan, Sting und Goldberg und emotionalen Momenten aus der Ära von Rey Mysterio, Jeff Hardy und Randy Orton bis hin zu den großen Duellen der letzten Jahre um den Undertaker, Edge, Batista und John Cena. Ein geniales Gesamtpaket, welches viele der größten Momente des Wrestlings für Fans parat hält und die Bedeutung dieses Titels nicht nur erklärt, sondern einen verinnerlichen lässt.
(c) Powered by WrestlingFever.de & Clear Vision