KURZBESCHREIBUNG:
Die größten und spektakulärsten WWE 24 Episoden aus 2018 sind nun erhältlich, um Deine DVD Sammlung zu ergänzen! Erlebe diese unglaubliche Doku Serie und tritt in das Leben deiner Lieblingsstras der WWE, wenn sie sich vorbereiten für die monumentalsten Nächte ihrer Karriere! Schaut hinter die Kulissen der Rückkehr der Hardy Boyz zur WWE, von "The Women`s Evolution", dem 25sten Geburtstag von RAW und von Wrestlemania 24.
DVD HIER BESTELLEN!
________________________
DVD1:
The Hardys: Woken
Team Extreme
Separate Ways
Family Above All
The Broken Universe
You Never Know
Dreams become Reality
RAW/Night after WrestleMania
The Long Road
WrestleMania Orlando
Feel The Glow Orlando
Friday/WWE Hall of Fame
Showtime
The Deadman Arrives
Feel The Power
The Ultimate Thrill Ride
SPECIAL FEATURES
Leiter Match für die RAW Tag Team Championship
Cesaro & Sheamus (The Bar) vs. Enzo & Big Cass vs. Gallows & Anderson vs. Matt & Jeff Hardy
WrestleMania 33 • 02. April  2017
Ultimate Deletion Match
Matt Hardy vs. Bray Wyatt
Monday Night RAW • 19. März 2018
6-Pack Challenge for the SmackDown Women's Championship
Alexa Bliss vs. Becky Lynch vs. Mickie James vs. Carmella vs. Natalya vs. Naomi
WrestleMania 33 • 02. April 2017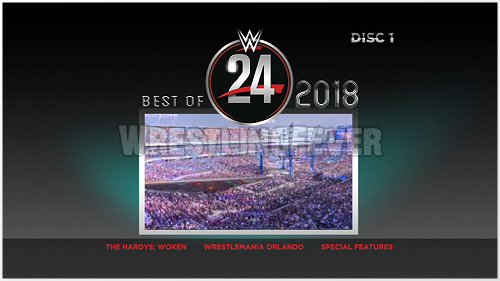 DVD2:
Empowered
24 Hours before Royal Rumble
For The First Time Ever
Past, Present, and Future
Royal Rumble – 28. Januar 2018
All Leading Up To This
History Was Made
RAW 25
New York City – January 22, 2018
Legends Arrive
A RAW Guy
RAW Is Jericho
Nostalgia
Manhattan Center wants Taker
Back To Brooklyn
We gotta go!
DX Invades RAW 25
From the Past to the Present
SPECIAL FEATURES
Koko B. Ware vs. Yokozuna
Erste Monday Night RAW Ausgabe • 11. Januar 1993
McMahons Give Thanks
RAW 25 • 22. Januar 2018
SmackDown Women's Championship Match
Charlotte Flair vs. Ruby Riott
Fastlane • 11. März 2018
SmackDown Women's Championship Match
Charlotte Flair vs. Asuka
WrestleMania 34 • 08. April 2018
_________________________
Technische Daten:
Releasedatum: 14. Dezember 2018
Regional Code: 2 & 5
Laufzeit: 5 Stunden 45 Minuten
Discs: 2 (DVD)
Sprachen: Englisch
FSK: 16
Label: Freemantle/ Edel Germany GmbH

Fazit:
Diese "WWE 24" Doku kann ich vorab nur sehr loben. Natürlich gibt es diese Serie auf dem WWE Network und viele kennen diese Ausgaben bereits. Für die Fans, die kein Network haben oder diese Ausgaben nicht kennen, bzw. diese auch gerne im Schrank stehen haben, kann ich diese Doppel-DVD nur wärmstens empfehlen.
Nehmen wir beispielsweise "The Hardys Woken" Ausgabe, wo genau berichtet wird, wie es zum WWE Comeback kam. Man sieht die sichtlich aufgeregten Brüder vor dem Mania Comeback, kaum jemand wusste, das sie dort auftreten werden, nicht mal enge Freunde wie "the Big Show". Bis kurz vor dem Comeback bei der wohl größten Wrestling Show des Jahres wurden beide gut versteckt und das Comeback bei (Wrestle)Mania (und die damit verbundenen Publikumsreaktionen) spricht für sich! Erlebt die ganze Geschichte "Backstage" mit, hört von Matt & Jeff wie sie das erlebt haben.
Mit "RAW 25" feierte WWE unglaubliche 25 Jahre des "A-Formates" RAW. Viele Legenden und Wrestler erinnern sich an Auftritte, Debüts und Fehden und haben so manche Geschichten parat! Man sieht die Entwicklung von damals bis heute und die DVD Extras schicken uns auf eine Zeitreise.
Mit "Wrestlemania Orlando" nimmt uns WWE erneut hinter den Vorhang und zeigt uns deutlich, das hinter all diesen Superstars auch Menschen stecken, die sehr aufgeregt und emotional berührt sind, wenn es auf die große Bühne geht. Es wird deutlich unterstrichen, warum Wrestlemania (nicht umsonst) sowie die "Hall of Fame" so wichtig und groß für alle ist. Absolut empfehlenswert.
"Empowered" zeigt viele Details (zum wohl einem der beliebtesten PPVs der Fans) des Royal Rumble sowie auch zu den Damen / Wrestlerinnen der WWE. Wie oft wurde hier Geschichte geschrieben, wie oft gab es Comebacks oder gar ein Debüt!? Finde es heraus.
Alles in allem volle 5 Sterne von mir, absolut empfehlenswert! Jede Doku an sich ist wirklich toll gemacht und erzählt ein Stück Geschichte, von WWE aber auch von diversen Superstars, die auch Menschen sind. Hier kannst Du direkt bei Amazon bestellen!
*****/*****
_____________________________
Like & Support us on FACEBOOK & TWITTER – THX 🙂