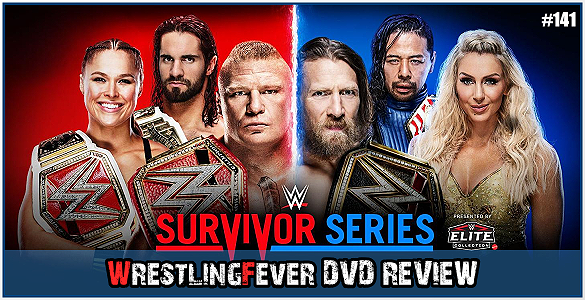 KURZBESCHREIBUNG:
AUF WELCHER SEITE STEHST DU?
Es geht Champion gegen Champion, wenn Brock Lesnar (RAW`s Universal Champion) zum ersten Mal auf Daniel Bryan (SmackDown`s WWE Champion) trifft. Ein Traummatch wird endlich Wirklichkeit, wenn sich RAW Women`s Champion Ronda Rousey mit Charlotte Flair misst. Angeführt von Baron Corbin nimmt es Team RAW (Braun Strowman, Drew McIntyre, Dolph Ziggler, Bobby Lashley und Finn Balor) mit Team SmackDown (Shane McMahon, Jeff Hardy, Samoa Joe und Rey Mysterio), angeführt von The Miz, in einem traditionellen "5 gegen 5" Survivor Series Match auf.
In dem zweiten Survivor Series Match des Abends trifft Alexa Bliss`s Team RAW (Nia Jaxx, Tamina, Bayley, Sasha Banks und Mickie James) auf SmackDown`s Naomi, Carmella, Many Rose, Sonya Devill und Asuka. RAW`s Intercontinental Champion Seth Rollins trifft im Ring auf SmackDown`s United States Champion Shinsuke Nakaumra. WWE`s November Tradition findet ihre Fortsetzung, wenn die Superstars von RAW und SmackDown bei Survivor Series um die Vormachtsstellung in der WWE gegeneinander antreten!
DVD HIER BESTELLEN!
________________________
Inhaltsangabe:
DISC 1:
A Battle for Brand Supremacy
Women's Traditional 5-on-5 Survivor Series Elimination Match
Bayley, Sasha Banks, Mickie James, Nia Jax, & Tamina vs. Naomi, Asuka, Carmella, Sonya Deville, and Mandy Rose
Baron Corbin Guarantees a RAW Sweep
Intercontinental Champion vs. United States Champion
Seth Rollins vs. Shinsuke Nakamura
Is Team RAW on the Same Page?
RAW Tag Team Champions vs. SmackDown Tag Team Champions
AOP vs. The Bar
Team SmackDown is Ready for Action
WWE Cruiserweight Championship Match
Buddy Murphy vs. Mustafa Ali
Men's Traditional 5-on-5 Survivor Series Elimination Match
Braun Strowman, Finn Bálor, Bobby Lashley, Dolph Ziggler, & Drew McIntyre vs. The Miz, Shane McMahon, Jeff Hardy, Rey Mysterio, & Samoa Joe
________________________
DISC 2:
A Lunatic Awaits Seth Rollins at TLC
Ronda Rousey vs. Charlotte Flair
Universal Champion vs. WWE Champion
Brock Lesnar vs. Daniel Bryan
________________________
EXTRAS:
Survivor Series Kickoff Show
— Team RAW is Down Two Members
— Charlotte Flair will make Ronda Rousey bow down to the Queen
— Mandy Rose Joins Team SmackDown
— Bayley and Sasha Banks Join Team RAW
Tag Team Traditional 10-on-10 Survivor Series Elimination Match
Team RAW vs. Team SmackDown
_________________________
Technische Daten:
Releasedatum: 25. Januar 2019
Regional Code: 2 & 5
Laufzeit: 3 Stunden 28 Minuten
Discs: 1 (Blu-Ray)
Sprachen: Englisch & Deutsch
FSK: 16
Label: Freemantle/ Edel Germany GmbH

Fazit:
Mit der "Survivor Series" 2018 fand der letzte der vier großen (klassischen ) PPVs statt. Zwei klassische Elimination Matches stehen im Fokus, Die Männer und Frauen kämpfen für RAW oder SmackDown um den Sieg. Teilzeit Wrestler und WWE / UFC Attraktion Brock Lesnar hat es mit Bryan zu tun, den WWE Superstar.
Daniel Bryan steht generell immer für anspruchsvolle Matches, mit Nakamura als Gegner verspricht man technisches "Know How". Die Matchausgänge sind Geschmackssache, viele Fans fanden diese Veranstaltung eher "mäßig".
Ich würde der Veranstaltung eine "3" nach Schulnoten geben. Für die Sammler gehört der Event sowieso ins Regal. Kommentiert wurde für uns durch Carsten Schaefer und Calvin Knie. Leider kein Wendecover, dafür in HD-Qualität. Bestellt bitte über diesen Link und unterstützt unser Projekt. Danke 🙂
Randnotizen:
– Der Event fand am 18. November 2018 im Staples Center in Los Angeles, Kalifornien statt.
– Es gab 8 Matches (inkl. Pre Show Match), davon gab es zwei traditionelle Elimination Matches.
– Der ehem. WWE Superstar Enzo Amore störte die Show während des Tag Matches und wurde der Halle verwiesen.
– Kalisto "verletzte" sich während des Matches und wurde durch Metalik ersetzt.
– Drake Maverick wurde von The Big Show gewürgt und "nässte" sich ein.
DVD HIER BESTELLEN!
***/*****