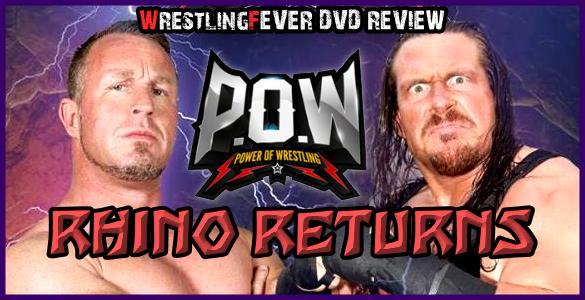 Releasedatum: 20.09.2014
Regional Code: 2
Laufzeit: 4+ Stunden
Discs: 1 (DVD)
Format: PAL
Sprachen: Deutsch
Produktionsjahr: 2014
FSK: —
Label: POW / Independent Entertainment GmbH
Kurzbeschreibung:
Mit dieser DVD erscheint das erste POW Catch-Wochenende in guter Qualität. Beide Events vom 16.05. & 17.05.2014 sind darauf zu finden inkl. der Hall of Fame Aufnahme von Drew McDonald. Power of Wrestling hat sich nicht lumpen lassen und bietet neben etablierten Wrestlern wie Rhino, Bad Bones, Joe Legend,. Absolute Andy, dem Bambikiller, Robbie Dynamite sowie Doug Williams auch die nächste Generation wie Scotty Saxxon, Demolition Davies, Karsten Beck, Veit Müller, Adrian Severe eine tolle Bühne – den legendären Schützenplatz in Hannover. Nach vielen Jahren kehrt die POW mit zeitgemäßem Catch zurück. Das Programm kann sich sehen lassen: Vom brutalen "Falls Count Anywhere" bis zum Qualifikations Match um den POW-Vertrag. Wrestler aus der ganzen Welt geben sich die Ehre und werden auf das herzlichste aufgenommen.
Inhalt:
____________________
DISC #1:
Show vom 16.05.2014 – Rhino Returns
Hakem Wakuur vs. Veit Müller
QUALIFIKATIONSMATCH UM EINEN P.O.W VERTRAG
Adrian Severe vs. Karsten Beck
3-WAY-DANCE
Chris "Bambikiller" Raaber vs. Joe Legend vs. Rhino
RETURN OF THE HIGHLANDER
Robbie Dynamite (mit Drew McDonald) vs. Absolute Andy
Murat Bosporus vs. Scotty Saxxon
DREAM PARTNER TAG TEAM MATCH
James Mason & Bad Bones vs. Douglas Williams & Rampage Brown
____________________
DISC #2
Show vom 17.05.2014 – The Return of the Highlander
Joe Legend vs. Absolute Andy
Murat Bosporus & Hakem Wakuur vs. Veit Müller & Scotty Saxxon
Chris "Bambikiller" Raaber vs. Rampage Brown
FALLS COUNT ANYWHERE MATCH
Rhino vs. Demolition Davies
Bad Bones vs. Robbie Dynamite
P.O.W INTERCONTINENTAL TITLE MATCH
Douglas Williams vs. James Mason
____________________
Fazit:
Diese DVD ist sehr professionell produziert und gepresst worden. Sie kommt eingeschweißt zum Fan und auch das DVD Cover wurde ansprechend gestaltet. Die Shows an sich waren sehr unterhaltsam. So hat man am 16.05.2014 bereits für den Tag darauf geplant und Elemente eingebunden (Demolition Davies kommt zum Ring und liefert sich einen kurzen Brawl mit Rhino). Besonders toll ist die Zusammenstellung der Wrestler & Matches. So hat man bewusst etablierte und beliebte Stars verpflichtet und auch dem nachwuchs mit dem Schützenplatz eine legendäre Bühne geboten. Man merkt deutlich, dass die Veranstalter mit Herzblut dabei sind. Neben Securitys und vielen versch. Kameraeinstellungen, wird den Fans neben der Show alles geboten ( Getränke, Merchandise, Meet & Greets, Legenden und Promoter zum anfassen). Neben dem ehem. WWE, ECW, WCW Superstar Rhino sind auch Joe Legend (WWE & TNA), Bad Bones (Europa & TNA), so wie beliebte Wrestler aus allen möglichen Ligen wie wXw, NEW, NFC, EWA etc. dabei! Auch die Kommentatoren sorgen für Entertainment, die Rollen sind klar verteilt und man ist sich selten einige – grandios. Die Bildqualität und der Schnitt sind in Ordnung, könnten aber besser sein. Mein (persönliches) Top Match dieser 2 Tage haben Demolition Davies und Rhino bestritten, die sich NICHTS schenkten. Zudem wurden die Weichen für die nächsten Shows gestellt: Saxxon vs. Müller und auch für Freddy Stahl soll sich die POW noch lohnen! Eine tolle DVD mit BEIDEN Shows zu einem fairen Preis, professionell gepresst und ein MUST HAVE für die "Catch-Fans" im deutschsprachigen Raum!
***/*****
Diese DVD ist im Legenden Shop erhältlich!