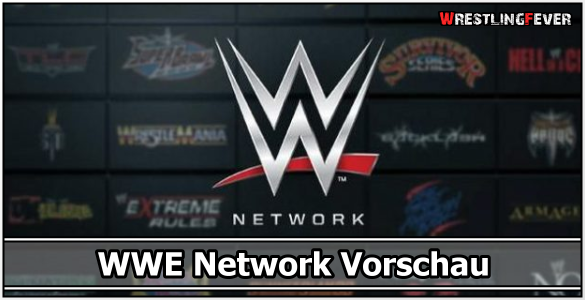 Wir bieten euch jeden Sonntag eine Programmvorschau für die nächste Woche auf dem WWE Network an. Hier findet ihr eine kompakte Übersicht, der neuen Shows auf dem WWE Network, mit der Zeit der Erstausstrahlung (CET). Die Shows sind nach der Erstausstrahlung natürlich jederzeit On-Demand verfügbar. In dieser Woche gibt es die Programmvorschau auf die Kalenderwoche 25 / 2019 (17.06.19 – 23.06.19):
Montag (17.06.19)

05:00 Uhr –> WWE Untold – Wahre Geschichte über den brutalen Street Fight zwischen Kurt Angle & Shane McMahon bei King of the Ring 2001.
Dienstag (18.06.19)

05:00 Uhr –> WWE Ride Along – Sheamus & Cesaro / R-Truth & Carmella.
Mittwoch (19.06.19)

04:00 Uhr –> WWE 205 Live – Citizens Business Bank Arena in Ontario, Kalifornien.
21:00 Uhr –> WWE NXT UK – Angekündigt ist eine Battle Royal um die #1 Herausforderin auf den NXT UK Womens Titel zu ermitteln.
Donnerstag (20.06.19)

02:00 Uhr –> WWE NXT – Der neue NXT Champion Adam Cole kehrt zu Full Sail University zurück um seinen Titelgewinn zu feiern.
Samstag (22.06.19)

01:30 Uhr –> This Week in WWE – 30 Minütige Highlights der dieswöchigen RAW & SmackDown Ausgaben.
Sonntag (23.06.19) auf Montag 24.06.19)

00:00 Uhr –> WWE Stomping Grounds 2019 Kickoff – 60 Minütige Vorschau auf den PPV WWE Stomping Grounds
01:00 Uhr –> WWE Stomping Grounds PPV – U.a. WWE Championship Steel Cage Match Kofi Kingston (c) vs. Dolph Ziggler, sowie RAW Womens Championship Becky Lynch (c) vs. Lacy Evans.
---
Das WWE Network ist monatlich kündbar und unter folgendem Link abonnierbar: network.wwe.com. Der erste Monat inklusive des Stomping Grounds 2019 PPVs ist kostenlos. Ab dem 2. Monat kostet das WWE Network 9,99 US-Dollar (Plus 19% Mehrwertsteuer = 11,89 US-Dollar) pro Monat. Weitere Informationen zum WWE Network findet ihr hier: KLICK