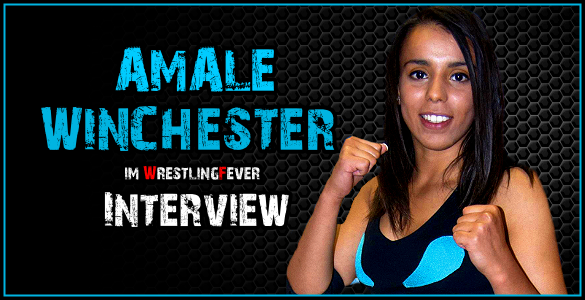 WF: Thank you very much for your commitment to take this interview, Amale!
AW: Thank you for having me on your website.
WF: There seems to be a *Wrestling Boom* happening, German media almost daily reports about it and a lot can be watched on free tv … what´s the situation in France?
AW: The situation is not really the same here. There's some promotions which really try harder than before and some good thing coming up. Fans also are more into it! Some of them drive more than 6 hours to go to some shows! But nothing compare to what happen in Germany or England.
WF: Are there many promotions how popular is this sport?
AW: There's a lot of promotions in France, but a lot of them don't take the wrestling business seriously: booked friends, non wrestlers… It doesnt help the popularity of this sport in my country ….
WF: There aren´t many women wrestling, they used to be some sort of *optic side dish* while today the focus is more on wrestling itself. Even with the market leader. What was your reason to become a pro wrestler?
AW: I always loved to fight! I've done MMA for years and at one point I just wanted to try something else, something more interactive! Wrestling was perfect for that! It's really, really, really hard to be a good wrestler.
WF: How difficult is it for a woman to step foot in this world, to get recognition by colleagues, (at work) and family?
AW: It's pretty hard, its still a world of man. My family doesn't really care about my wrestling career, they just want me to stay safe.
WF: Do you feel taken serious, accepted and acknowledged as a female wrestler? How is it to work among all the men?
AW: In france, women are not really taken seriously in the wrestling business, but in the other countries, its different and I really appreciate it! The way WWE put the girls other on TV help a lot to get this respect for our work.
WF: You only held one title but that still and for almost a year. Does the ECTA still exist?
AW: I have another title 😉 Yes ETCA still exist, I will defend my title in July and normaly in the end of August!
WF: Your partner is touring a lot recently and also you were around among others at *WrestlingKult* in Germany. How did you like it, will you be back?
AW: I loved working for Wrestling Kult, the venue was really nice, the promoter really professional and respectfull. The crownd was nice. Everything was great, so why not coming back  And to be more concrete , I will be back the 17th of June in Bochum!
WF: How do you see this sport, fans and promoters like WrestlingKult – it seems to be thriving, talents get better and shows more professional?
AW: Everyone is doing a lot for the wrestling business! Workers work harder, promoters put more money on the table for screen, musics, venues…. Fans travel a lot more to see shows and not only the WWE! And this is great!
WF: Are you interested in cultures, do you try to actually visit the city or country you are in or do you spend most of the time in arenas?
AW: For the moment, I doesnt really have the time to spent some time around but would love to! Berlin, Munich… are very beautiful and I would love to spend some days in those cities!
WF: The first match of yours I can find is against a German woman named *Lady Lori* in 2012. Was that your first *pro-match*, how do you remember it? In case it was the first, a *time limit draw* is splendid – most here are jobbers at first to learn their lesson.
AW: Yes it was my first and yes I still remember it! Thank to Lady Lori she was really helpfull with me, make me feel confortable for my first match.
WF: Did or do you have idols? – a dream opponent?
AW: My idols are Mickie James and Victoria. My dream opponent would be Asuka! Love the way she wrestle, more violent than the other!
WF: How do you like *Man vs Woman* in a wrestling ring?
AW: Don't really like it, if Tristan punch me in the ring, how can I kick out, seriously?????
WF: Let´s say Tristan gets another big chance and works for WWE longterm, would you go with him and how do you see your personal chances with the company?
AW: Of course, I will go with him, he's so talented. My dreams are not to work for WWE so I dont think about it at all.
WF: We wish you all the best and thank you very much for your time!
AW: Thank you for your interest and I hope you learn a little more about me! You can follow me on instagram 😉
_________________
Feel free to LIKE & Support us on FACEBOOK & TWITTER – Thank You 🙂