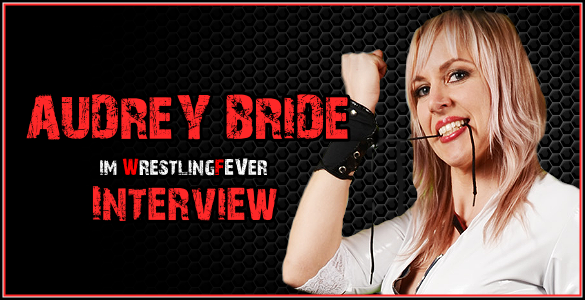 WF: Thanks a lot for your spontaneous commitment, Audrey. You are on the road a lot recently, can you tell us where you´ve been these past weeks?
AB: I also thanks. Yes…Im always on the way. Last time I was in Pakistan for 10 days. It was amazing  There were three events in three different cities. First stop was Karachi then Lahore, finally Islamabad. The crowd was amazing. A lot of people came to the events (4000-9000 people). They were so loud. <3
Everyone was very kind to us. I think it was very important for them because they wanted to show that Pakistan is a friendly country. And yes it is 🙂 The food was spicy like hell 😀 …but very tasty. The hotels we stayed in were beautiful.
And wherever we went, people were interested in us. 19 countries were represented at this event. It was a super adventure and a very special experience. I want to start a blog/vlog soon…and you will see all the pictures and videos. 😉
WF: I first saw you in the ring at GWP against two other ladies and have to admit I was amazed. Entrance, in ring action and your work with the fans. Please tell us how you got into professional wrestling?
AB: Haha…yes I can be a b*tch in the ring if I need. Ist a funny story. I didnt think I would be a wrestler. I lived with a wrestler for 3 years. First I didnt know he was a wrestler. At that time, he started building the HCW federation in Hungary when we met. He was/is Dávid Turger (Renegade) the head of the Hungarian Championship Wrestling Company (and one of my first coaches). 🙂 So once he said he was a pro-wrestler. I was surprised. I asked: …a what??? He said: a pro-wrestler. I thought it was funny. As time went by, I looked at the shows, helped them a little. They are getting better and better. They grew fast and the crowd liked what they were doing. Once I went to a training…I dont know why. I thought might roll a bit. At the end of the training I was wearing purple spots everywhere :D. But that was the point when I realized this was an amazing thing….wow…
So…I thank him for my career who created pro-wrestling for the first time in Hungary. I learned the basics and the first steps from him. 🙂 It's a 6 year old wrestling federation and this is developing very fast. We have a wrestling school now (with 4 different groups) and we have a great audience, this means 400-600 people per event. Awesome   
WF: You are originally from Hungary and have been wrestling for some years now. How is the wrestling scene there? Is there one?
AB: Yes, I live in Hungary. I wrestle for 5 years. We have a federation called HCW (Hungarian Championship Wrestling). This organization is starting from zero but is developing very very fast. We organize events 1 or 2 months. We just want to give something good and special to people and that is why we work day after day.
And as I said this before we have a very good crowd…this means 400-600 people per event. They are very loud and worshiped as we entertain them. This audience likes tough contacts, nice moves and they really like hardcore matches.
WF: Can you watch wrestling on Hungarian tv? How popular are wrestlers or wrestling there? For example in Turkey amateur wrestling is very popular.
AB: I cant watch wrestling on Hungarian TV because I dont have a TV. 😀 I dont like it. I usually download or pay for it. HCW is a very coherent organization. We do a lot of things together, for example, looking at the wrestling. In this cases, we usually meet in one of our homes and we watch, for example, a wwe or other events. Wrestling in Hungary is becoming more and more popular. Nowadays people are more open to this. They watch it on TV and more and more people come to our events. Fortunately 
WF: You were trained at HCW in Hungary. Who trained you?
AB: Trainers: Dover (HCW), Icarus (HCW), Renegade (HCW)
Seminars: Tommy End, Matt Cross, Johnny Moss, Dave Mastiff, Kenzo Richards, Gabriel Angelryre (PWH), Tengkwa (PWH)
WF: How do you recall your first match?
AB: My first match was very early. I was a green rookie. Our federation didnt have a female wrestler, but we realised we really need a women's match. So we did it. The crowd was looking forward to it. I was terribly nervous. I had no experience. My opponent was a Hungarian girl, she's names was Kyra. OMG… 😀
She was a very tough girl, but I could always trust her, whatever we did. She stopped it because she had a little daughter. 🙂 Since then, I do not know how to survive. But I remember that we got "This is wrestling" chant from the middle of the match.  The feeback was very very good. The crowd was happy and the coaches too.
WF: Before your debut in the GWP you´ve already been to the GWF. What´s your opinion on Germany?
AB: Germany is a really "präzise" country.  I like it. The crowd is very smart and very kind. If I travel to Germany, I know that I always get the right information about everything (showstart, briefing, time limit, details…etc). The promoters are very correct. They always tell exactly what they expect, so there is no misunderstanding. And I always get feedback that's good because I can learn from it. Events and roster are very similar to events and roster in Hungary…. The whole team is working to provide the best for his audiences. <3
Ohhh…yes about the country culture: If I can, I always go to see town. I love buildings and stories of old cultures. And Germany has a lot of such buildings 😉 So I cant wait to return 
Postscript:
A little German blood is flowing in my veins. One of my grandfathers was of German origin. 
WF: How difficult is it to get recognition as a female wrestler? Do you think it became easier in recent years and that ladies aren´t seen as *fresh meat* anymore? In WWE the focus seems to be more and more on good wrestling?!
AB: I've been wrestling for only 5 years. But yes, I think it became a bit easier. When I started to wrestle, I wanted to do it like a man. I moved like a man in the ring. 😀 😀 😀 Because I was the only female wrestler in the country. So it was hard to get this way. And really…it seems that WWE the focus seems to be more and more on good wrestling. And I've been meeting very good women wrestlers lately. I hope that will go this way
WF: Would the WWE be an (or maybe THE) option for you or do you feel better with the independent scene?
AB: I dont know this yet 🙂 I'm trying to give the best…and we will see
WF: Let´s say you can pick any 3 opponents (male and female) who would that be and why?
AB: 1. triple threat with Charlotte and Sasha (Because they can do a good match)
2. One on one with Alpha Female (Because we had 2 matches and I really love the work with her)
3. Tag match with Miz&Maryse (because they are very good performers) vs Cesaro&Audrey (because I think we could work together well)
WF: What do you think about intergender matches?
AB: I love intergender matches. Always interesting, always challenge, but with the right creativity it can be very good. In Hungary Im the only one female wrestler… So sometimes we need this type of match…It's good in wrestling that it's varied. And these kinds of matches make the wrestling even better and more interesting and colorful. And I always enjoy them. 🙂
WF: I´m sure we will meet again in Germany soon. Thank you very much for your time!
AB: Thank you for your patience…and sorry form my bad English 😀
I hope to see you soon in Germany 🙂
_____________________________
Feel free to LIKE & Support us on FACEBOOK & TWITTER – Thank You ?