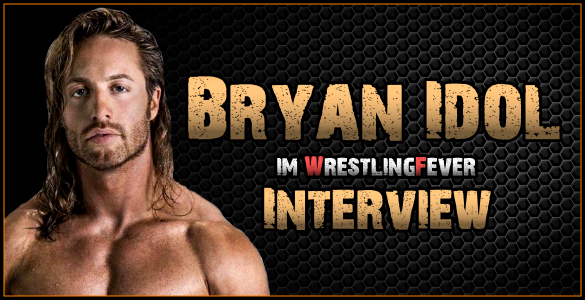 WF: Bryan, thank you for your spontaneous commitment, how are you doing these days?
BI: Hi I am doing well thanks for having me. Hope you are too.
WF: Looking through your profile it´s obvious that you are a Jack of all trades: wrestler, actor, model and musician. Do you play one or more instruments and what kind of music do you play?
BI: I suppose it looks like I am. I consider each of the things I do as being all part of the entertainment industry. I do play several instruments but my favorite is bass guitar. I help create music for a few national artists along side my brother who is an established producer.
WF: What kind of music or bands do you like listening to and do these bands influence your wrestling career?
BI: I like many different types of music , I would say 80s music is the biggest influence in my wrestling career. Not only the looks and style , but even my name and attitude. The 80s had such an amazing collection of music and fashion . pop, nu wave , glam metal. It is something I really try to incorporate in my persona.
WF: We are of course most interested in wrestling. Please give us a brief summary of how you got into wrestling and maybe what other sports you played/practiced?
BI: I got into wrestling after being discovered by a local independent wrestler in his 40s after his 10 year old son came to see us wrestle in a backyard. our backyard fed had guys like me , anthony nese, and mikey from spirit squad in it. I never really played sports past middle school football , I was pretty good at it , but after moving to a different school I lost interest.
WF: Many dream of working for the WWE one day, about you I recently read that you would have an opponent of choice at NXT? Tell us more about your goals and who is this opponent?
BI: I have sort of worked for WWE already . I just dream of being the biggest success in life that I can be . I want to be able to affect as many as I can others I can in a positive way. Mainstream exposure is always key for that so places like WWE are of big interest to me. I did recently state that I want to wrestle the recently debuted Aj Francis (Top Dolla) in 2 years at Wrestlemania! I met him very early in his career and I saw right away he is a superstar level talent! We have wrestled several times ( you can find it in youtube) and have always had great chemistry and matches. It would be amazing to showcase that on a huge stage!
WF: Many young talents dream of working in Japan, you had the chance to train there. What makes Japan attractive to so many and how do you get along with the style and the food?
BI: my experience in Japan was truly special. I went there on 2 bookings and turned it into 15 and then was even offered a contract from a company! I love the style there. I think its interesting because wrestlers who haven't ever worked there , try to emulate the style but it gets lost on them. I think its due to the fact that other countries dont train or even have the same work values as Japanese wrestlers. They are extremely careful and detail oriented. Everything is truly about honor and respect. not on a character level , but on the actual person. It really makes all the difference in matches! Food wise I was worried because I am not a fan of sushi, however was very surprised that there was a constant variety of about anything you could think of. Most of the food I had there was level 10 delicious! Also a big fan of how they dont use artificial sweeteners and preservatives found in most american foods. It has a whole different effect on your fitness and body!
WF: 2017 you shared the ring with the Nasty Boys, what was it like to work with them and how do you personally remember the boys?
BI: LOL. that same match not only had the nasty boys , but also they had the steiner brothers and road warrior animal on their team . The best part was I had no idea i was in a match with them , I saw it when i arrived at the venue and they were testing entrance music.I live very close to Brian knobbs and saggs and had hung out with them a lot so we were already friendly with each other. The match had some good natural comedy moments and got a great reaction from the crowd.
WF: The larger part of your career you spent in the USA, are there other countries you still 'need' to work in (if so which and why)?
BI: I have wrestled in many countries . yes most of my matches overall have been in my home country USA. U would say thats where most of the day to day opportunities are .I plan on returning to Japan because it went so well , but I would love to go to Mexico and wrestle for AAA! I think I could make the crowd crazy there. I have had some good matches with Mexican legends such as Blue Demon Jr. I work very well in a Lucha environment.
WF: "Fight the World Wrestling" (FTW) is your own wrestling promotion. What made you become a promoter yourself and how does the current pandemic influence your bookings and shows?
BI: .I originally opened FTW alongside my childhood best friend Sean Stern. We did it just for fun and to add something to our live music venue. FTW started out as a very adult hardcore promotion. After we lost our building due to zoning issues we decided to keep FTW running and make it a bit more family friendly. I feel it has negatively impacted my wrestling career because it made wrestler not like me because I didn't book them , or rival promoters wanted to smear my rep because they felt i was taking money out of their pocket. Its all kind of dumb really but I still hear about people talking trash and Im surprised because I barely know who these people are! Just typical independent wrestling behavior I guess. The pandemic had a huge negative impact on my bookings , but what can you do except be in your best shape (which I am ) and be ready for the next opportunity! I am here and ready!
WF: How did it come to your ringe name 'Bryan Idol' and why did you wrestle as 'Earl Cooter' sometimes – are those different characters?
BI: Earl Cooter was created by Jersey All Pro Wrestling , when they were at their peak. It helped me get established in wrestling, and I started to build a solid career under that character. I knew it was time to change as I began to peak physically and my opportunities became more high stakes.
The name Bryan Idol was def. created as an ode to the 80's , as well as the fact that i feel like that word represents who I am! Earl cooter is a white trash redneck comedy throwback. Bryan idol is me. An actor , model, wrestler , musician.
WF: "Speaking Out" was a huge topic even in Germany, my research shows that there have been accusations against you. What is your take on that campaign and were you able to refute those claims? I imagine that these kinds of allegations can destroy one's career and life – especially for someone who has a reputation in different fields it must be a threat to their existence.
BI: I am very pleased you asked this question. I would love to speak on this.
As a movement I think speaking out is hugely important as far as giving a voice to victims of sexual abuse within wrestling and eliminating horrible predators from the industry. That said its unfortunate that some of the stories discredit the whole movement because they are clearly made up and things like that.
In my specific case THE WHOLE STORY IS COMPLETELY FALSE! here are the simple facts to know why
1. Ot is clearly a fake profile and not an actual person that tweeted the story. the profile photo traces via google to a ukrainian dating site . the cover photo traces to a website for Omni hotels . the profile itself was created the same day as speaking out started.
2. the show they vividly described at the La boom venue NEVER took place. when i called this out they changed the date by 2 years , however the show still NEVER took place there.
The meat of the story said the "girl " was in town for summerslam weekend and went to the EVOLVE show at La boom to meet the WWE wrestlers that were appearing there for autographs.
EVOLVE NEVER HAD A SHOW AT LA BOOM ANY SUMMERSLAM WEEKEND EVER!
– so its very easy to tell it was fake if anyone did research.
Unfortunately there were so many stories out and people's reactions were so harsh most didnt even bother to check. Also worth noting that the story is a weird knock off of a speaking out story by Candy Cartwright. this leads me to believe that it was a former male student of mine who is a very bitter and failed wrestler who happens to hate both Candy and I , and blames me for his lack of success in wrestling.
I have tried to involve the police but because I cannot unmask the twitter profile (twitter will not unmask it unless an actual crime is committed. slander is not a crime) I cannot press charges until I can confirm the identity. At first I lost a few bookings but as promoters started to research they realized it was clearly a fake story. since then have appeared on major ppvs like Primetime live etc. also, any fans that havent bothered to add me back or apologize for their rush to judgement I dont miss! I have and always will conduct myself to the highest professional standards. I have never been arrested or in trouble with the law in anyway and never plan on it!
WF: New blood plays an important role, for every company. I noticed that you trained wrestlers yourself. How difficult is it today to find new recruits and how many actually stay until the end?
BI: i have trained 100s of wrestlers over the last 13 years! Mot many stay with it for the long haul and its a shame because some of them were incredible talents. sometimes life just gets in the way. I am one of the only wrestling trainers alive to currently have talents in WWE, AEW , Impact , ROH,EVOLVE , and MLW ! being a trainer is hard because, to be a good one you have to be a bit harsh and honest with trainees. People these days dont handle criticism well ! I get no joy in pointing out someones flaws. I only do it to help make them the best they can be!
WF: You are American and had all the possibilities to watch all the big promotions, live and on TV. How much do you, as an active wrestler, still keep up with wrestling and would AEW or Impact Wrestling be an option for you?
BI: I will wrestle for anyone that offers me a great situation to be successful. I feel I have a lot to offer and can help put a lot of eyes on whoever I work for. I really only watch wrestling to see my friends doing well. otherwise no meed to watch what I live every day.
WF: What´s your opinion about the AEW product, does it have a long-term future, is it a good alternative to WWE?
BI: I think any and all wrestling is a viable option for fans. I am all for competition as it benefits fans and wrestlers! AEW is a great product , hopefully they keep moving forward in the right direction!
WF: You also worked for Evolve which can now be seen on the WWE Network. Which show was that and what are your memories of the promotion?
BI: I worked for Evolve from pretty early on in the company. As well as in a backstage role. I have appeared on several shows for them. probably the biggest moment was bringing paul heyman back to the ecw arena for the first time in 18 years. that was Evolve 131 and its on WWE network.
WF: Do you get any money, being seen on the network and all – meaning is there anything in it for you?
BI: NO I DONT GET ANY MONEY, LOL
WF: We wish you all the success and especially health! Thank you for your time and stay safe!
BI: thanks very much for a great interview. please everyone check out my website BRYANIDOL.COM i have merch for sale there , and if it cant ship to your country , you can find some shirts of mine on prowrestling tees.