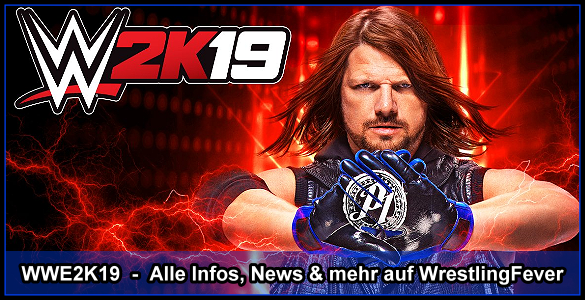 2K hat nun den dritten Teil der spielbaren Charaktere des neuesten WWE Games "WWE2K19" enthüllt. Viele "Legenden" wie der Zndertaker (2002), The Rock, Austin oder Flair wurden bestätigt. "WWE 2K19" erscheint am 09. Oktober 2018 für die Xbox One, die PlayStation 4 und den PC.
Roster – Part 3:

Alundra Blayze
Andre the Giant
Bam Bam Bigelow
Batista
Beth Phoenix
Big Boss Man
Booker T
Bret "The Hitman" Hart
British Bulldog
Brutus "The Barber" Beefcake
Chris Jericho
Christian
Diamond Dallas Page
Diesel
Eddie Guerrero
Edge
Greg "The Hammer" Valentine
Ivory
Jaqueline
Jake "The Snake" Roberts
Jim "The Anvil" Neidhart
Kevin Nash
Kurt Angle
Lex Luger
Lita
Macho Man Randy Savage
Mr. McMahon
Mr. Perfect
Papa Shango
Ravishing Rick Rude
Razor Ramon
Rey Mysterio
Ric Flair
Rick "The Model" Martel
Ricky Morton
Ricky "The Dragon" Steamboat
Rikishi
Robert Gibson
Roddy Piper
Scott Hall
Shawn Michaels
Stephanie McMahon
Sting
Stone Cold Steve Austin
Sycho Sid
Tatanka
Ted DiBiase
The Godfather
The Rock
Trish Stratus
Ultimate Warrior
Undertaker 2002
Undertaker
Vader
HIER VORBESTELLEN:
Alle weiteren Infos zum Spiel findest Du HIER!