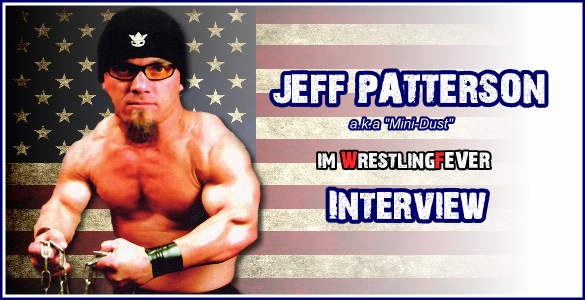 WF: Thank you for your commitment Jeff, there are certainly some people out there who are interested in your story.
JP: Not a problem.
WF: When we first look at you, we see notice your body size. How did you become so big, were you teased a lot or you just accept that you are the way you are?
JP: I have spent a lot of time in the gym along with taking my vitamins as Hulk Hogan would say. Growing up my best friends where useally the biggest guys in school.
WF: One of your friends (Chris Hollyfield aka Little Boogeyman) moves through the states to fight against bullying. In Germany this is an issue, too. Are you also someone who support the "No H8" campaign?
JP: Of course. We live in a very different society today from when I grew up.
WF: What career options you had in your life except that of the wrestler?
JP: I've been in Sales all of my life. I'm currently in software sales with Intuit Inc.
WF: Do you had problems with your "handicap" and how long did it take you straight to the youth in order to cope?
JP: Handicap? Come on brother I can do anything that any other man can do.
WF: Your size and your background have helped you to be seen in WWE TV repeatedly. When did you decide to become a wrestler and how was the training – Do you have to train differently and might be particularly careful, as compared to the other?
JP: Got started in the early 90's was intitally trained by Buddy Wayne & Oley Olson out of Cloverdale, Canada and then was last trained by Lord Littlebrook out of Saint Joesph, Missouri. I had arrived their when little boogey was leaving.
WF: How did you come to the nickname "Pitbull"?
JP: Just because-Pound for Pound Twice the Size of any other Midget Wrestler in the World.
WF: You've trained in Canada and are already active for some time. What about the acceptance in foreign locker rooms – today compared to the past?
JP: I have been treated just like one of the boys.
WF: You played "Mini Dust" in the WWE, a small version of Goldust. Please tell us how did you come to the WWE and possibly also how Goldust had responded to the "parody" of himself ..
JP: Got the call from WWE to see if I was interested and I jumped on it. That it was a great opportunity. I was part of the Friday Night Smackdown show for the Juniors Division with Short Sleeve Sampson. I wish it had lasted longer. Gold Dust was fine with it.
WF: You played in the movie "Southland Tales", alongside Dwayne Johnson. What are your memories of "The Rock" and did you like the shooting?
JP: The Rock is a down to earth guy. When I had suffered my head concussion on Monday Night Raw he came into the doctors office while I was being observed to check up on me. I thought that was great! Not to many other SuperStars would have done that.
WF: Last we saw you at WWE as part of the "Little People's Court" (Hornswoggle pulled the DX in court) …. Hornswoggle seems to have done it – it is more difficult to get in the ring for smaller people or do they have own promotions?
JP: Hornswoggle. WTF. I had auditioned for the role of Hornswoggle. I guess they wanted a short-puggy-ugly little guy. That's all I have to say about that.
WF: How do you remember the segment with Rosey and Jamal at RAW?
JP: From what I can remember. I was power slammed upside down from the top rope from Jamal. Next thing I knew about 20 minutes later being transferred from the stretcher Stephanie McMahan was asking me if I was ok. I couldn't remember where I was at or what state I was in. It took a good hour to come to and being able to talk and walk again, after that horrifying beat down from Jamal and Rosie.
WF: Do you watch wrestling today, are you still active?
JP: Don't watch it. Currently accepting Indy Bookings for the price.
WF: What are you doing today, outside the ring?
JP: Living the dream and enjoying life in sunny Tucson, Arizona.
WF: Do you have any funny road a story ready to share with us?
JP: What happens on the road stays on the road. Life is Grand!
WF: Thank you and all the best!