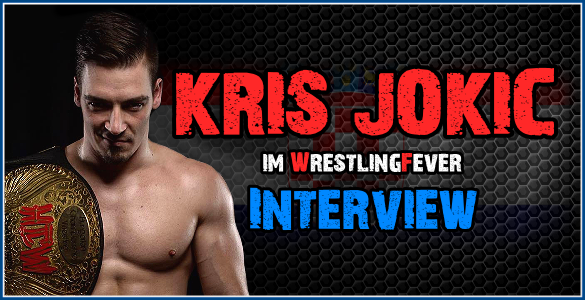 WF: We are glad to be able to introduce another young talent to the fans: Kris Jokic. Thank you for taking this interview, Kris…
KJ: Thank you for having me!
WF: Looking at your background it is obvious that you are passionate about sports and wrestling in general. How is it that you, living in Croatia, trained in Italy?
KJ: Yes, I've always felt that I can express myself better with my body and movement rather than using just words and today I feel like sport is the purest way of self-expression there is,especially extreme sports. So yes,I was always into self-expression and it just happens to be sports,you know.
And yes,I've moved to Italy to join the wrestling academy.My first plan was moving to the states to train but that didn't come to fruition so I've started looking into closer countries.
WF: Does that mean that you went from Croatia to Italy and back for every session? Was it weekend seminars or how can I picture that?
KJ: Well the start was the most difficult part cause the promotion I've trained in (Italian Championship Wrestling) didn't respond to my email or phone calls,so basically I drove down to Italy one day,knocked on their door and asked if I could join,went back to Croatia to pick my stuff up and moved to Brescia for the next 4 months or so.
My trainer there was Crazy G and I was fortunate to find him cause he was willing to traing with me every day when I was there.
After a few months I had to move back to Croatia cause life in Italy is really expensive! So after that I would come back for weekends or something,sometimes Crazy G would come to Croatia to train me.Fortunately I was a crazy kid that built a ring in his backyard haha.
After just 6 months of training,I had my debut match in ICW.
WF: You were trained at the ICW Academy by trainer/wrestler Crazy G, who gave you his last match. You were the one to retire him. I see that as a big 'thank you' and an honor. How do you remember your training, the person and mentor and the last match?
KJ: Yes it was a huge honor for me to be the one to wrestle him last.Especially cause I was really ''green'' back then. It was my first main event and my 8th pro contest of my career. I guess he always saw something in me and to this day he is probably my biggest supporter and I will never be able to thank him enough for everything.
WF: How big is wrestling in Croatia? Is there a fan base – apparantly there are no promotions, or why did you never perform there?
KJ: Well actually,there is no wrestling in Croatia…You are pretty much doing the interview with 'wrestling in Croatia',if you know what I mean.Even tough Croatia actually has a rich history in this sport with all these wrestlers and legends being from Croatia or having Croatian roots,there is no wrestling here.
At the moment I am the only Croatian pro wrestler, I'm the only one who actually does it from Croatia.
Also my trainee who I'm training for the last 5 years,Deno Babić finally made his pro debut in Kamikaze Pro,so yeah,you can say we have 2 now.
And although there is no pro wrestling here,there actually is a fan base and soon the first promotion will start with shows in Croatia. It is my promotion,called "Cro Wrestling Organization" (CWO).
WF: How did you get into wrestling? Did you or do you have idols?
KJ: I've started watching WCW back when I was 4 and simply felt like this is something I can be the best at. My idol is and always was Eddie Guerrero.
WF: You seem to live sports. What do you do when you are not a wrestler?
KJ: I am really into fitness. I own a fitness studio 'Falcon' in my hometown Zadar,where I work as a trainer.I'm training others every day and enjoy doing that.
For my own training preparation,I train 12-15 times a week.
WF: Kenzo Richards is the "Sensei of Chops", how do you recall the battles against him which also took place in Germany? Soon you will be back here…
KJ: Yes Kenzo Richards is definitively one of my mentors. I wrestled him in Portugal and Belgium for now. Each time was a terrifying experience haha cause Kenzo is a legit judo black belt and legit badass. There is something humbling to learn when you feel like that person can…well fuck you up any moment haha.
And yes,Germany is like my third home now,I will be there every month this year.
WF: Do you speak some German and were you able to see anything of the country yet?
KJ: Honestly I do know some curses in German haha. That's a plus side to wrestling,you get to see the world and meet the actual people, I love that.
WF: You´ve been active for a couple of years now. If I asked about your favourite match so far, would Paul London play a role in it?
KJ: Yes I'm wrestling professionally for 5 years now. And the match against Paul London probably still is my favorite and really special to me. Cause Paul is one of my idols. I've use to pretend and dress up like him haha think there is still a youtube video of me ''wrestling'' as Paul London somewhere haha.
You know what's the crazy part? Back in 2010 I told my best friend that Paul London will be the first ''WWE guy'' I'm gonna wrestle against.
5 years later I'm main eventing against him in Lisbon,Portugal…holy fucking shit.
WF: What ties you to Hungary, Icarus & Dover? These talents from Hungary come to Germany often and are gladly booked.
KJ: I consider HCW and Hungary my home…cause those guys really did save my career.
I am really honored to be a part of it and to get a chance to work with such talents as Icarus and Dover and many others as well.
WF: Congratulations on winning the HCW championship. Would you call HCW &GWF your main promotions?
KJ: Thank you so much,this is the first title of my career and I am really glad it happened in HCW. Yes HCW and GWF are my main promotions now.
WF: WrestlingKult is a new thing but enjoys great popularity. Wrestling has its comeback and you fight for them every now and then. How do you like WrestlingKult and would you leave your home country for wrestling?
KJ: Yes, recently I made my debut in WrestlingKult and I LOVED it! Great organization,passionate fans,I'm looking forward to being back in that ring!
I am a wrestler and I will live where ever I need to. However I feel my main role is presenting pro wrestling to Croatia and Croatia to pro wrestling. I am here to open the doors for Croatian pro wrestling.
WF: Senza Volto is also quite popular here, especially with GWF, where he and you appear on a regular basis now. How do you like their shows, the presentation and the concept of this promotion in general?
KJ: Yes with GWF it is a bit different as you learn more about the presentation.It's not just about pure wrestling,it's also about the product of it and how to make the most of it.
Each time I wrestle for GWF my game gets better by leaps and bounds.
WF: Ahmed Chaer & Crazy Sexy Mike are respected and appreciated wrestlers and promoters. How did you get to the GWF and what´s your relationship with the Chaer brothers?
KJ: GWF picked me up after they saw me wrestle in HCW. Yes, the Chaer brothers are in this game for very long and know the business inside and out. I consider them teachers and I'm honored to be in their organization and glad I can learn from them.
WF: Senza Volto often fights alongside you and so does Oliver Carter. Both are top talents with a bright future. Where do you see yourselves in 5 years?
KJ: Yes Senza Volto and Oliver Carter are like my brothers in this business and they are REALLY talented. I think it's just one of those things where you see a group of wrestlers that will wrestle around the globe in these upcoming years.
WF: Let´s say you could have a long-term feud with one of the two, who would it be?
KJ: Well,I've never actually wrestled against Carter. We only wrestled together as a NEW WAVE tag team. And Senza I've wrestled already and I would wrestle against that guy every day of the week and twice on Sundays and would make an instant classic each and every time.
WF: You have been to many countries but are there any you still wish to go to?
KJ: I've wrestled in 9 countries so far and yes I'd like to wrestle all over the world. Especially in Japan and Mexico. My love for wrestling came form Lucha Libre so me going to Mexico to wrestle is inevitability.
WF: Thank you ver much for your time, do you have some words for your fans?
KJ: Thank you for having me. And yes I want to thank all my fans and supporters who make this hard sport a bit easier,I also wanna thank my haters and doubters for pushing me to work harder and train harder 15 times a week. You've seen nothing yet. I'm in the best shape of my life and I'm here to take my place.
WF: Thank you!
KJ: Fly Falcon Fly!
_____________________________
Like & Support us on FACEBOOK & TWITTER – THX 🙂