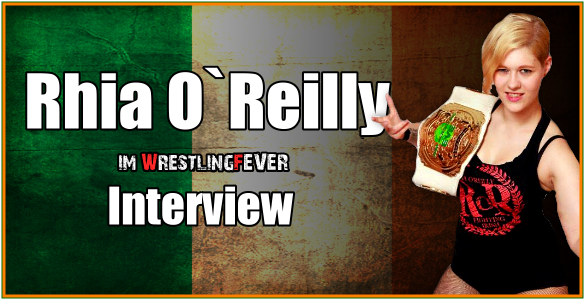 WF: We appreciate your commitment, Rhia – how are you today?
ROR: Good thanks! At the end of a hectic 6 weeks involving volunteering in a refugee camp, running a marathon and, of course, wrestling!
WF: Ladies wrestling is still ridiculed by many, even in WWE you see the "divas" finally more in athletic competition. Do you watch WWE and what do you think about the current "conversion"?
ROR: I think it was inevitable. Wrestling seems to be very cyclical and different things fall in and out of favour with time. It was only a matter of time before women were once again seen as serious competitors. It has of course helped that there has been a very strong group of women on the independent circuit coming through to developmental. Once Sara Del Ray was part of the training team it was bound to change too. It's all very exciting!
WF: You are standing for wrestling and compete for Shimmer regularly. Here in Germany only a few fans have heard of "Shimmer", unless you are concerned with women wrestling. How would you describe this promotion, how often do they have events etc.?
ROR: Shimmer is often regarding as the pinnacle of independent women's wrestling. It is always where I have wanted to work and feel honoured to be part of the promotion. These are women from all over the world wrestling different styles and all bringing something special to the ring. They run twice a year for two really full on weekends of wrestling which are hard to compare to anything else!
WF: You're the Pro Wrestling Eve Champ for some days. Is this promotion still "alive"?
ROR: Most definitely! I have been defending the title for over a year on the companies "brother" promotion XWA! And, on 20th March, Pro Wrestling EVE will return with its own show in London! It's very exciting as it will be the first all female show in London! Did you know womens wrestling used to be banned in London? Crazy!
WF: One of your trainers was the Canadian Lance Storm. How do you remember the workouts, Lance himself and the first match?
ROR: Training with Lance was an amazing experience. He is extremely knowledgable and he really cares about his students. He spends time in ring with everyone and helps people find a way to work to their strengths and hide their weaknesses. I'll never forget my time at Storm Wrestling Academy and would recommend it to anyone wanting to do an intensive training course.
WF: Paige is currently on everyone's lips and certainly your ways have crossed (at least you wrestled her mother). It is a goal for you to have appearances on mainstream TV or do you like to compete in the indy circus?
ROR: It is so awesome to see her do so well and I think it's been inspiring to other girls on the independents especially in the UK. I really love wrestling on the independents but who knows what the future could hold!
WF: Man vs. Woman – there are so many of these inter gender matches. What do you think about it, could you also gain experience in this regard?
ROR: I think if there's a market that wants to see it then there is a place for it in wrestling. I haven't done much myself but did "enjoy" wrestling Jimmy Havoc last year. Enjoy might not be the world but I do believe it is a great learning experience. In the UK there are less very experienced women and working with anyone with years more experience than you will only make you better.
WF: Why did you want to be pro-wrestler, who or "what" is to blame for this decision and how your family reacted?
ROR: I started watching wrestling around the age of 12 and was hooked instantly. I didn't want to be a part of the business until I saw Trish Stratus getting put through a table by the Dudleys. I wanted to see it happen so much it was the first time a woman evoked the same emotion reaction in wrestling for me as a man had. The decision to actually wrestle came later but that was what was to blame!
WF: Your debut … what memories do you have in mind and how was the feedback about it?
ROR: Sheer terror! Haha! My first training show match was with Jetta who has recently made an in ring return. I thought I was terrible but she seemed to think I did alright! My professional debut was on the first Pro Wrestling EVE show and I couldn't believe someone actually wanted to pay me to do something I loved!
WF: Do you have a road story that you can share with us? The fans really love these stories 🙂
ROR: I'm not sure I'm allowed to share most of the good ones haha! I will tell you though – I never really appreciated real road trips until the first time in America going from Pennsylvania to Illinois! That journey was longer than the length of the U.K. – puts it all into a but of perspective!
WF: Thanks for taking time!