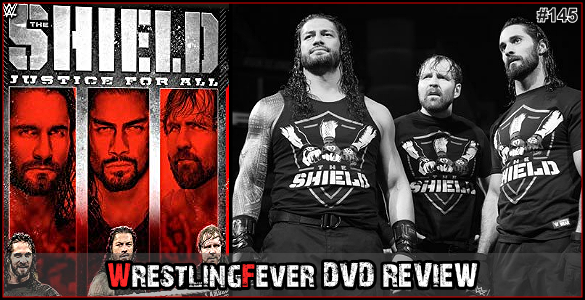 KURZBESCHREIBUNG:
So dominant Dean Ambrose, Roman Reigns und Seth Rollins als Trio waren, sie erreichten auch einzeln alle unglaubliche Erfolge. Jedes Mitglied wurde WWE Champion und war Teil der größten Matches der WWE Geschichte. Aber hört "The Hounds of Justice" selbst, wenn sie über den Einfluß von THE SHIELD auf ihre Kerriere sprechen und wie sie dadurch in die Main Events kamen. Folgt der Reise von Seth, Dean und Roman bei der sie gegen Superstars wie Undertaker, Brock Lesnar, John Cena, Triple H und viele mehr antreten! Auch nach ihrer Trennung blieb ihr Band unetreinander stark und man weiß nie, ob THE SHIELD sich nciht wieder zusammentun, um gegen die Ungerechtigkeiten anzutreten. This is THE SHIELD: Justice for All!
Trailer:

DVD HIER BESTELLEN!
DISC 1:
Ours for the Taking
Won't Be Set Up to Fail
United States Championship Match
John Cena vs. Dean Ambrose
RAW • 30. März 2015
Intercontinental Championship Match
Dean Ambrose vs. Kevin Owens
TLC • 13. Dezember 2015
Old School
WWE Championship Match
Triple H vs. Dean Ambrose
Roadblock • 12. März 2016
Money in the Bank Ladder Match
Dean Ambrose vs. Alberto Del Rio vs. Cesaro vs. Chris Jericho vs. Kevin Owens vs. Sami Zayn
Money in the Bank •  19. Juni 2016
A Feeling of Relief
Triple Threat Match for the WWE Championship
Dean Ambrose vs. Seth Rollins vs. Roman Reigns
Battleground • 24. Juli 2016
Intercontinental Championship Match
The Miz vs. Dean Ambrose
SmackDown Live • 03. Januar 2017
A Reluctant Reunion
RAW Tag Team Championship Match
Dean Ambrose & Seth Rollins vs. Sheamus & Cesaro
No Mercy • 24. September 2017
Always Down For A Six Man Tag
_________________________________
DISC 2:
Injection of Energy
WWE Championship Match
Roman Reigns vs. Seth Rollins
Money in the Bank • 19. Juni 2016
Unsanctioned Match
Seth Rollins vs. Triple H
WrestleMania 33 • 02. April 2017
Release The Hounds
The Shield vs. The New Day
Survivor Series • 19. November 2017
Gauntlet Match
Seth Rollins vs. Roman Reigns, John Cena, & Elias
RAW • 19. February 2018
The Ultimate Goal
Triple Threat Match for the Intercontinental Championship
The Miz vs. Seth Rollins vs. Finn Bálor
WrestleMania 34 • 08. April 2018
_________________________________
DISC 3:
Infiltrating the System
WWE Championship Match
Roman Reigns vs. Dean Ambrose
Survivor Series • 22. November 2015
WWE Championship Match
Sheamus vs. Roman Reigns
RAW • 14. Dezember 2015
It All Felt Perfect
WWE Championship Match
Triple H vs. Roman Reigns
WrestleMania 32 • 03. April 2016
No Holds Barred Match
Roman Reigns vs. The Undertaker
WrestleMania 33 • 02. April 2017
Dream Opponent
Roman Reigns vs. John Cena
No Mercy • 24. September 2017
Deeply In Love
Steel Cage Match for the Universal Championship
Brock Lesnar vs. Roman Reigns
Greatest Royal Rumble • 27. April 2018
_________________________________
Technische Daten:
Releasedatum: Juni 2018
Regional Code: 2
Laufzeit: 8 Stunden 44 Minuten
Discs: 3 (DVD)
Kommentar: Englisch / Deutscher Untertitel (Interviews)
FSK: 16
Label: FreeMantle Media
Fazit:
Sierra…Hotel…India…Echo…Lima…Delta…SHIELD
Keine Frage, diese Gruppierung war nicht nur eine Brüderschaft, sondern auch ein Stable mit Top Talenten. Man kann von der Wiedervereinigung 2017 halten was man möchte, ähnlich wie bei "Nexxus" war diese Gruppe voller junger, viel versprechender Talente ein Durchbruch. Alle drei verstanden sich in und außerhalb des Rings und haben vielleicht auch aufgrund deshalb diese unglaubliche Chemie, welche sogar Roman Reigns wieder einige Jubelrufe bescheren konnten.
Ob sie nun zusammen oder gegeneinander im Ring standen, die Matchqualität war immer in Ordnung und jeder ist für sich anders und besonders. Ambrose der eher durch geknallte, Reigns der "Big Dog" und Seth ein hervorragender Techniker – Eine gute Mischung. Versch. Momente der Karriere werden von ihnen selbst kommentiert, mit deutschen Untertiteln. Das DVD Cover ist innen mit der Matchlist ausgestattet. Wie in der Beschreibung oben zu lesen ist, hatten es alle nicht nur miteinander, sondern auch mit anderen Größen & Legenden zu tun, von Cena, Triple H bis zum Undertaker.
Sogar das Match zwischen Brock Lesnar vs. Roman Reigns vom "Greatest Royal Rumble" vom April dieses Jahres hat es auf dieses DVD-Set geschafft! Absolute Kaufempfehlung.
____________________
*****/*****
Diese DVD kannst Du bei Amazon bestellen!
_____________________________
Like & Support us on FACEBOOK & TWITTER – THX 🙂