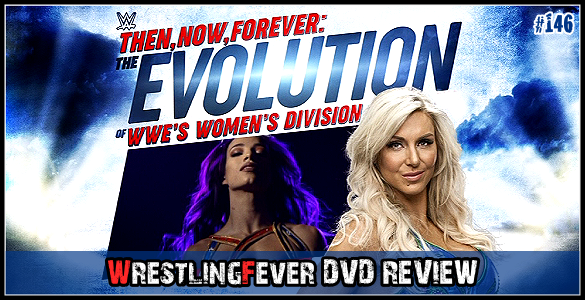 KURZBESCHREIBUNG:
Jede Woche reißen die Frauen von RAW, SmackDown und NXT neue Barrieren ein und stehlen anderen die Show bei WWE Events rund um den Globus. Jetzt könnt Ihr auf "Then, Now, Forever: The Evolution of WWE`s Womens`s Wrestling" sehen, wie alles begonnen hat. Von Vorreiterinnen wie Alundra Blayze und Chyna über Pionierinnen wie Lita oder Trish Stratus hin zu beieindruckenden Athletinnen wie Charlotte Flair, Sasha Banks, Bayley, Alexa Bliss, und Asuka. Diese Revolution fand auch im Fernsehen statt und nun könnt Ihr Zeuge werden einigen der größten und bahnbrechendsten Women`s Matches aller Zeiten. Von Wendi Richter über Ivory hin zu Becky Lynch und Ronda Rousey könnt Ihr sehen, wie diese erstaunlichen Frauen die WWE Landschaft von heute prägen!
Trailer:

DVD HIER BESTELLEN!
DISC 1:
The Women's Evolution
Spotlight on: Wendi Richter
WWE Women's Championship Match
Wendi Richter vs. The Fabulous Moolah
"The Brawl to End It All" [Madison Square Garden] • 23. Juli 1984
Spotlight on: Sensational Sherri
Traditional Survivor Series Elimination Match
The Fabulous Moolah, Rockin' Robin, Velvet McIntyre & The Jumping Bomb Angels vs. Sensational Sherri, Dawn Marie, Donna Christanello & The Glamour Girls
Survivor Series • 26. November 1987
Spotlight on: Alundra Blayze
WWE Women's Championship Match
Alundra Blayze vs. Bull Nakano
RAW • 03. April 1995
Spotlight on: Ivory
WWE Women's Championship Match
Ivory vs. Chyna
WrestleMania X-Seven • 01. April 2001
Spotlight on: Victoria
WWE Women's Championship Match
Trish Stratus vs. Victoria
RAW • 25. November 2002
Spotlight on: Lita
Steel Cage Match
Lita vs. Victoria
RAW • 24. November 2003
Spotlight on: Molly Holly
Title vs. Hair Match for the WWE Women's Championship
Molly Holly vs. Victoria
WrestleMania XX • 14. März 2004
Spotlight on: Trish Stratus
WWE Women's Championship Match
Trish Stratus vs. Lita
RAW • 06. Dezember 2004
Spotlight on: Mickie James
WWE Women's Championship Match
Trish Stratus vs. Mickie James
WrestleMania 22 • 02. April 2006
Spotlight on: AJ Lee
WWE Diva's Championship Match
Kaitlyn vs. AJ Lee
Payback • 16. Juni 2013
Spotlight on: Paige
NXT Women's Championship Match
Paige vs. Emma
NXT ArRIVAL • 27. Februar 2014
_________________________________
DISC 2:
Spotlight on: Natalya
NXT Women's Championship Match
Natalya vs. Charlotte
NXT TakeOver • 29. Mai 2014
Spotlight on: The Bella Twins
Brie Bella vs. Stephanie McMahon
SummerSlam • 17. August 2014
Spotlight on: Bayley
Iron Man Match for the NXT Women's Championship
Bayley vs. Sasha Banks
NXT TakeOver: Respect • 07. Oktober 2015
Spotlight on: Charlotte
Triple Threat Match for the WWE Women's Championship
Charlotte vs. Becky Lynch vs. Sasha Banks
WrestleMania 32 • 02. April 2016
Spotlight on: Becky Lynch
6-Pack Challenge for the SmackDown Women's Championship
Becky Lynch vs. Nikki Bella vs. Natalya vs. Naomi vs. Alexa Bliss vs. Carmella
Backlash • 11. September 2016
Spotlight on: Sasha Banks
Hell in a Cell Match for the RAW Women's Championship
Sasha Banks vs. Charlotte
Hell in a Cell • 30. Oktober 2016
_________________________________
DISC 3:
Spotlight on: Carmella
Money in the Bank Ladder Match
Carmella vs. Charlotte vs. Becky Lynch vs. Natalya vs. Tamina
SmackDown • 27. Juni 2017
Spotlight on: Mae Young
Mae Young Classic Tournament Final
Kairi Sane vs. Shayna Baszler
Mae Young Classic • 12. November 2017
Spotlight on: Royal Rumble Participants
Women's Royal Rumble Match
Royal Rumble • 28. Januar 2018
Spotlight on: Alexa Bliss
Elimination Chamber Match for RAW Women's Championship
Alexa Bliss vs. Bayley vs. Sasha Banks vs. Mickie James vs. Mandy Rose vs. Sonya Deville
Elimination Chamber • 25. Februar 2018
Spotlight on: Ronda Rousey
Kurt Angle & Ronda Rousey vs. Triple H & Stephanie McMahon
WrestleMania 34 • 08. April 2018
It's Only The Beginning
_________________________________

Technische Daten:
Releasedatum: 29. Juni 2018
Regional Code: 2
Laufzeit: 8 Stunden 49 Minuten
Discs: 3 (DVD)
Kommentar: Englisch / Deutscher Untertitel (Interviews)
FSK: 16
Label: FreeMantle Media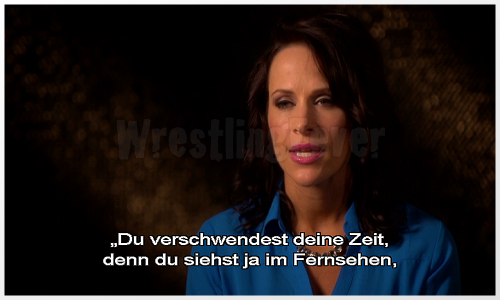 Fazit:
Wir starten mit den 80ern, als es noch "Rock `N Wrestling" hieß. Wendi Richter hatte Cindy Lauper auf ihrer Seite und gilt als Vorreiterin viele Wrestlerinnen. Auch die zu früh verstorbene Sherry Martel ist zu sehen. Augenscheinlich jede Diva, bzw. Wrestlerin hat auf diesem DVD Set ein "Spotlight" erhalten, wo sich jede Dame auch selbst zu ihrer Karriere bzw. dem Wrestling äußert. Danach folgen wichtige Matches ihrer Karriere. Es ist schön zu sehen, das die Damen nicht immer nur als sexy Beilage, Managerin gelten und sich inzwischen im Ring beweisen dürfen. Viele Fans erinnern sich natürlich an Lita, Trish Stratus oder auch heute an Natalya, Alexa Bliss oder Sasha Banks. Bis es jedoch diese Athletinnen so zu sehen gab, war es ein langer Weg. Alexa sagt beispielsweise, das sie nie dachte, so weit zu kommen. Sie ist klein und sicherlich nicht das vermeintlich perfekte Paket. Heute spielt das Entertainment eine wichtigere Rolle als damals.
Bei WWF (WWE) damals war es Alundra Blayze, die im Ring überzeugen konnte. "Madusa" ist eine klare Wrestlerin, eine Frau die bis heute viele den Weg geebnet hat. Es ist schön, das all diesen Damen eine Art "Ehrerbietung" geboten wird. Ich bin froh, das die Zeiten der "Bra & Panties" Matches oder der "Kissenschlachten" vorbei sind. Sind wir mal ehrlich: Viele von uns nutzten diese Segmente und Damenmatches der "Divas" für die Pinkelpause.
Mit Victoria, Ivory, Lita und auch Trish bot man neben den sexy Damen auch ansehnliches Wrestling, welches sich bis heute weiter entwickelt hat. Heute bestreiten die Wrestlerinnen (ja, es sind keine Divas mehr) knallharte Matches, auch im "Hell in a Cell". Sie schreiben Geschichte und dieses DVD-Set beleuchtet die Legenden, die Stars von gestern und HEUTE! KAUFEN 🙂
____________________
*****/*****
Diese DVD kannst Du bei Amazon bestellen!
_____________________________
Like & Support us on FACEBOOK & TWITTER – THX 🙂