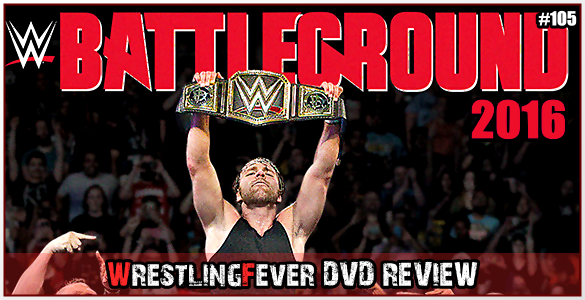 Kurzbeschreibung:
Fast zwei Jahre lang war The Shield eine der dominantesten Fraktionen im Sports-Entertainment. Jetzt – und das geschieht zum ersten Mal in der WWE Geschichte – kollidieren alle drei Mitglieder des Shield miteinander, denn der WWE-Welt-Champion Dean Ambrose trifft in einem Triple-Threat-Match um den Titel auf seine früheren Brüder Seth Rollins und Roman Reigns. Die größte Rivalität des Sommers wird immer heißer, denn the Club (AJ Styles, Luke Gallows und Karl Anderson) hat es in einem Sechs-Mann-Tag-Team-Match mit John Cena, Enzo Amore und Big Cass zu tun. Außerdem: "Die Viper" Randy Orton kehrt als gast in Chris Jerichos "Highlight Reel" zu WWE zurück und spricht über sein SummerSlam Match gegen "Die Fleischgewordene Bestie" Brock Lesnar. Die WWE-Superstars riskieren alles, wenn sie bei WWE Battleground das Schlachtfeld betreten.
Trailer

Inhalt
Tag Team Match
Sasha Banks & Bayley vs. Charlotte (c) & Dana Brooke
6 Man Tag Team Match
The Wyatt Family vs. gegen The New Day
WWE United States Championship
Singles Match
Rusev (c) (w/ Lana) vs. Zack Ryder
Singles Match
Sami Zayn vs. Kevin Owens
Singles Match
Natalya vs. Becky Lynch
WWE Intercontinental Championship
Singles Match
The Miz (c, w/ Maryse) vs. Darren Young (w/ Bob Backlund)
6 Man Tag Team Match
John Cena, Enzo Amore & Big Cass vs. The Club (AJ Styles, Luke Gallows & Karl Anderson)
WWE World Heavyweight Championship
Triple Threat Match
Dean Ambrose (c) vs. Seth Rollins vs. Roman Reigns
Technische Daten:
Releasedatum: 21.10.2016
Regional Code: PAL
Laufzeit: 193 Minuten
Discs: 1 (DVD)
Sprache: Deutsch, Englisch
FSK: 16
Label: Edel Germany GmbH

Fazit:
Mit WWE Battleground liegt für viele Fans ein wirklich gelungener Event in den Geschichtsbüchern. The Shield steht sich bei einer Großveranstaltung gegenüber – Jeder gegen jeden um das große WWE Gold. Neben etablierten WWE Superstars wie Brock Lesnar, Jericho, Cena & Orton geben sich auch "neuere" Gesichter auf großer Bühne die Ehre: AJ Styles, Luke Gallows sowie Karl Anderson als "The Club", wie auch Enzo Amore, Big Cass, Becky Lynch, Kevin Owens und viele mehr. Ein Fazit über die Matches zu schreiben wäre wohl gewagt, aber die Namen und Fehden sprechen für sich. Heute ist es in der tat so, dass man sich Ladies Wrestling ansehen kann und frühere Indy Stars der WWE neuen Pfeffer geben. Diese DVD dürfte somit kein Fehlkauf sein.
____________________
***/*****
Wir präsentieren Euch diese DVD Review in Kooperation mit EDEL! Diesen Artikel erhälst Du als DVD bei Amazon.