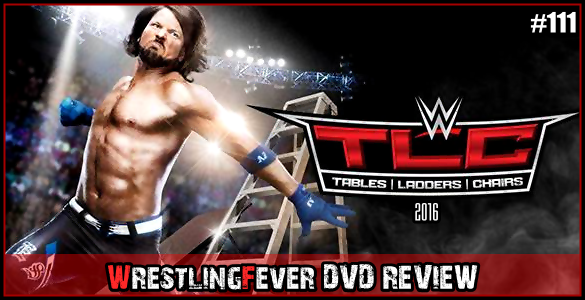 Kurzbeschreibung:
TLC geht in die nächste Runde: Umgeben von Tischen, Leitern, Stühlen und einem von der Decke hängenden WWE World-Champion Gürtel stürzt sich AJ STYLES in sein erstes TLC Match mit der Absicht, seinen Titel gegen "The Lunatic Fringe" DEAN AMBROSE zu verteidigen. Der Kampf um den Intercontinental Championship geht in die nächste Runde und nimmt mit der Titelverteidigung von THE MIZ gegen DOLPH ZIGGLER in einem Ladder-Match Dimensionen an, wie wir sie noch nicht erlebt haben. Seht, wie die Ladies in Blau sich von ihrer prächtigsten Seite zeigen, wie Becky Lynch gnadenlos ihren "WWE Smackdown-Womens Championship" Titel in einem Tables-Match verteidigt und vieles mehr. Für die Superstars von Smackdown Live steht TLC nicht für tolerant, lieb und charmant, sondern für TABLES, LADDERS AND CHAIRS! Eines DER Fan-Ereignisse des Jahres!
Trailer

Inhalt
WWE World Championtitel TLC Match
AJ Styles vs. Dean Ambrose
SmackDown Women's Championtitel Tische Match
Alexa Bliss vs. Becky Lynch (c)
Stühle Match
Baron Corbin vs.  Kalisto
Intercontinental Championtitel Leiter Match
The Miz (c) mit Maryse vs. Dolph Ziggler
Match ohne Disqualifikation
Nikki Bella vs. Carmella
SmackDown Tag Team Championtitel Match
Bray Wyatt & Randy Orton vs. Heath Slater & Rhyno (c)
Extras:
WWE TLC Kickoff 10-Mann Tag Team Match
Apollo Crews, American Alpha & The Hype Bros. besiegten Curt Hawkins, The Ascension & The Vaudevillain
Technische Daten:
Releasedatum: 10.02.17
Regional Code: 2
Laufzeit: 2 Stunden 54 Minuten
Discs: 1 (DVD)
Sprache: Deutsch & Englisch
FSK: 16
Label: Edel Germany

Fazit:
Der "TLC" (Tables, Ladders & Chairs" PPV ist wohl eine der härtesten WWE Großveranstaltungen für viele Fans und Wrestler, denn hier dürfen Tische, Leitern und Stühle eingesetzt werden, was eine erneute Belastung für die Aktiven bedeutet. Egal ob als Tag Team (Wyatt/ Orton vs. Slater & Rhyno) oder auch in einem sog. Singles Match: Knallharte Action ist vorprogrammiert. Die Matches an sich sind immer Geschmacksache, dennoch empfehlen wir AJ Styles vs. Dean Ambrose und auch Ziggler vs. the Miz! Evtl. gefallen Euch diese Matches auch besonders. Fans von James Ellsworth werden zudem auch überrascht werden.
Diese DVD wurde von den deutschen Kommentatoren Holger Böschen und Manu Thiele kommentiert und es gibt KEIN Wendecover um die FSK Kennzeichnung zu verstecken.
____________________
***/*****
Wir präsentieren Euch diese DVD Review in Kooperation mit EDEL! Diesen Artikel erhälst Du als DVD bei Amazon.