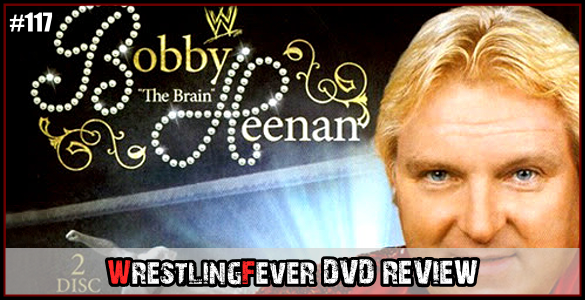 Kurzbeschreibung:
Bobby "The Brain" Heenan revolutionierte das Sport Entertainment nicht nur mit seinem beachtlichen Talent als Sport Manager, sondern auch als Wrestler und als Kommentator. Anerkannt und betrachtet als der beste Manager aller Zeiten, wurden The Brain und sein beißender Humor das wertvollste Sprachrohr seiner Protégés: "Ravishing" Rick Rude, "Mr Perfect" und natürlich Andre the Giant. Zusammen mit Gorilla Monsoon formte Bobby Heenan die Abbott & Costello der Sportunterhaltung. Zu Recht wurde Heenen 2004 in die WWE Hall of Fame aufgenommen. Jetzt können seine Fans zum ersten Mal seine unglaubliche Karriere auf einem 2-DVD-Set noch einmal miterleben, mit einer umfassenden Biographie von "The Brain" sowie seinen berühmtesten Matches, vielen Interviews und ganz besonderen Momenten.
Trailer:

Inhalt
DVD 1:
Chicago Root
Manage like a Wrestler
Orange Fire
Weasal Suit
Remembering AWA
Bright Lights, Big City
Heenan Family
WrestleMania
I Am Not a Weasal
Manager of Champions
Primetime
The Bobby Heenan Show
Commentating with Gorilla
Leaving WWE
WCW
Health Issues
Hall of Fame
The Executioners
AWA Manager of the Year 1976
AWA All-Star Wrestling – 25th December, 1976
The Wrestling Bear
Centerfold
"Honey, I'm Home!"
The Other Weasel Suit
"I Am Not A Weasel"
Tuesday Night Titans – 2nd October, 1984
Bobby Heenan & Gorilla Monsoon go to Busch Gardens
Prime Time Wrestling – 12th December, 1988
Get Your Popcorn Ready
Golfing Tips with Bobby Heenan & "Mean" Gene Okerlund
Sterling Farms Golf Course – October 1991
Bobby's Big Entrance
WrestleMania IX – 4th April, 1993
Gorilla Monsoon Fires Bobby Heenan
RAW – 6th December, 1993
The Humor of Bobby Heenan
A Farewell to Gorilla
Nitro – 11th October, 1999
The Wedding Eulogy
"Freakish Noises"
WrestleMania XX – 14th March, 2004
Bobby Heenan's Induction into the WWE Hall of Fame
WWE Hall of Fame – 13th March, 2004
DVD 2:
Battle of the Managers
Bobby Heenan vs. Lord Alfred Hayes
AWA St. Paul, MN – 13th January, 1980
Weasel Suit Match
Bobby Heenan vs. Greg Gagne
AWA St. Paul, MN – 17th August, 1980
Handicap Match
Hulk Hogan vs. Nick Bockwinkel & Bobby Heenan
AWA – St. Paul, MN – 2nd May, 1981
Bobby Heenan vs. Salvatore Bellomo
Madison Square Garden – 26th November, 1984
Weasel Suit Match
Bobby Heenan vs. Ultimate Warrior
WrestleFest '88 – 31st July, 1988
The Royal Rumble Match
Royal Rumble – 19th January, 1992
Commentary By: Gorilla Monsoon & Bobby Heenan
Gimmick Battle Royal
WrestleMania X7 – 1st April, 2001
Commentary By: Gene Okerlund & Bobby Heenan
Technische Daten:
Releasedatum: 18.03.2011 (GER)
Regional Code: 2
Laufzeit: 4 Stunden 39 Minuten
Discs: 2 (DVD)
Sprache: Englisch
FSK: 16
Label: Silvervision

Fazit:
Mit diesem DVD-Set hat WWE nicht nur einem "Hall of Famer" ein Denkmal gesetzt sondern dem wohl (für viele) besten Kommentator und Manager. Als "Weasel" war er zudem vor einigen Jahren als Wrestler tätig, heute erinnern sich die Fans und Kollegen aber vor allem an seine Arbeit als Manager. Leider war Heenan an krebs erkrankt, als diese DVD entstand, heute hat er den Kehlkopfkrebs besiegt und nach zahlreichen Operationen des Kiefers auch wieder sprechen gelernt, auch wenn er an Gewicht und Stimme verloren hat, ist er noch auf Conventions vertreten. Dies erwähne ich, da er natürlich zu den Dreharbeiten dieser DVD nicht verfügbar war.
Hier griff man auf Freunde, Kollegen und Familie zurück, die in den höchsten Tönen über Bobby sprechen. Denn auch wenn er als "Loudmouth" vor den Kameras agierte, wear er sehr beliebt. Sein Kommentatoren Kollege "Gorilla Monsoon" war privat ein sehr enger Freund und unter Tränen sagte er bei seiner HoF Aufnahme, wie sehr er sich wünschen würde, das Gorilla anwesend wäre. Als sein langjähriger Freund verstarb, setzte er sich bei WCW dafür ein, es im Live TV erwähnen zu dürfen, auch wenn Monsoon nie Teil von WCW war.
Man kann auf dem DVD-Set legendäre Szenen, die Hall of Fame Rede, Matches und vieles mehr finden und in knapp 50 Minuten, glänzt eine gelungene Doku – die sicherlich mehr Zeit verdient hätte. Diese DVD erschien bereits bereits 2010, in den UK dann ab 2011 und wurde nie in deutscher Sprache kommentiert.
____________________
*****/*****
Wir präsentieren diese Review in Kooperation mit unserem Partner  Much Media – DEM Wrestling Fanshop! Dieses DVD-Set kannst Du HIER bestellen (Versandkostenfrei in Deutschland)!