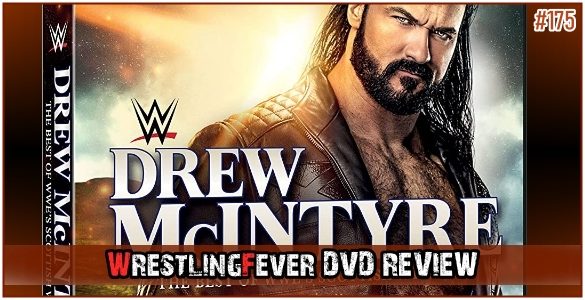 KURZBESCHREIBUNG:
3…2…1…CLAYMORE!
Mit seiner immensen Kraft, seinem unbestreitbaren Können und dem Respekt des WWE-Universums kletterte Drew McIntyre an die Spitze der WWE und taufte sie in Claymore Country um. Jetzt können Sie mit DREW McINTYRE: THE BEST OF WWE'S SCOTTISH WARRIOR die aufregendsten Matches eines der widerstandsfähigsten Superstars der WWE noch einmal erleben. Von seinen Anfängen als WWE's Chosen One über seinen Erfolg bei NXT bis hin zum Main Event bei WrestleMania – diese DVD umfasst McIntyres Achterbahnfahrt durch die Sportunterhaltung. Diese Sammlung hebt Drew McIntyres Größe hervor und enthält MATCHES gegen UNDERTAKER, BROCK LESNAR, KURT ANGLE, RANDY ORTON, GOLDBERG UND MEHR!
Drew McIntyre's most impactful Claymores:

Inhaltsangabe:
The Warrior Arrives
WWE Intercontinental Championship Match
Drew McIntyre vs. John Morrison
TLC • 13. Dezember 2009
Drew McIntyre vs. The Undertaker
SmackDown • 19. März 2010
NXT Championship Match
Drew McIntyre vs. Bobby Roode
NXT Takeover: Brooklyn III • 10. August 2017
Drew McIntyre vs. Kurt Angle
RAW • 05. November 2018
2020 Men's Royal Rumble Match
Royal Rumble • 26. Januar 2020
WWE Championship Match
Drew McIntyre vs. Brock Lesnar
WrestleMania 36: Night Two • 26. März 2020
WWE Championship Match
Drew McIntyre vs. Randy Orton
SummerSlam • 23. August 2020
WWE Championship Match
Drew McIntyre vs. Goldberg
Royal Rumble • 31. Januar 2021
____________________________
Entrance Theme:

_________________________
Technische Daten
Releasedatum: 17. November 2021
Regional Code: 2 & 5
Laufzeit: 3 Stunden & 13 Minuten
Discs: 1 (DVD)
Sprachen: Englisch & Deutsch
FSK: 18
Label: tonpool Medien GmbH / Freemantle
_________________________
Fazit:
Bald wird WWE die DVD-Produktion einstellen, bereits im März 2022 soll es wohl in den USA keine Silberlinge geben. Schade, dass man Drew kein größeres, evtl. 3teiliges Set gewidmet hat, so war er ja bereits vor vielen Jahren Teil der WWE, Mitglied von 3MB und hat in den letzten Jahren wirklich viele Highlights erlebt. Beim Debüt wurde ihm durch McMahon persönlich eine große Zukunft voraus gesagt. Schade für Drew, dass er seinen ersten großen Titelgewinn bei WWE ohne Fans erleben und feiern musste.
Auch gibt es keine deutsche Tonspur, was ich ebenfalls als sehr schade empfinde. Dennoch hat man sich entschieden, ihm als (wohl letzten) WWE Superstar eine eigene DVD zu widmen, was ja auch eine Art Wertschätzung ist. Einen offiziellen Trailer findet man leider auch nur auf Twitter, jedoch nicht auf Youtube.
Darauf zu finden sind auf alle Fälle zahlreiche Highlights der letzten Jahre. So könnt Ihr Matches gegen Orton, Lesnar, Goldberg, Undertaker und Kurt Angle sehen. Das "Who is Who" der WWE. Und eines ist sicher: Drew (und diese DVD) ist jeden Euro wert. Auch wenn man sich mit einer ausführlichen Bio (wie der WWE24 Beitrag auf dem WWE Network) etwas mehr Mühe für diesen Release machen hätte können, ist es dennoch ein sehenswerte DVD, eines wirklich sehr guten Wrestlers… äh.. . Superstars! Die DVD kannst du HIER auf Amazon.de preiswert erstehen.
****/*****