KURZBESCHREIBUNG:
Seit über einem Vierteljahrhundert erhebt der Undertaker Anspruch auf die Seelen der Männer, die ihm bei WrestleMania gegenüberstanden. In dieser kompletten Sammlung erleben Sie jedes einzelne historische Match von seinem WrestleMania-Debüt 1991 bei WrestleMania IV über das schockierende Ende seiner ungeschlagenen Serie bei WrestleMania 30 bis hin zu seinem letzten Match bei WrestleMania 36 im Jahr 2020.
The Undertaker's legendary WrestleMania Undefeated Streak: WWE Playlist:

________________________
DVD1:
WRESTLEMANIA VII (1991)
Jimmy "Superfly" Snuka
WRESTLEMANIA VIII (1992)
Jake "The Snake" Roberts
WRESTLEMANIA IX (1993)
Giant Gonzalez
WRESTLEMANIA XI (1995)
King Kong Bundy
WRESTLEMANIA XII (1996)
Diesel
WRESTLEMANIA 13 (1997)
Sycho Sid – No Disqualification Match for the WWE Championship
________________________
DVD2:
WRESTLEMANIA XIV (1998)
Kane – Brother vs. Brother Grudge Match
WRESTLEMANIA XV (1999)
Big Boss Man – Hell in a Cell Match
WRESTLEMANIA X-Seven (2001)
Triple H
WRESTLEMANIA X-8 (2002)
Ric Flair – No Disqualification Match
WRESTLEMANIA XIX (2003)
Big Show & A-Train – Handicap Match
WRESTLEMANIA XX (2004)
Kane
________________________
DVD3:
WRESTLEMANIA 21 (2005)
Randy Orton – Legend vs. Legend Killer
WRESTLEMANIA 22 (2006)
Mark Henry – Casket Match
WRESTLEMANIA 23 (2007)
Batista – World Heavyweight Championship Match
WRESTLEMANIA XXIV (2008)
Edge – World Heavyweight Championship Match
Das Ende der Streak – Direcotr`s Cut:

________________________
DVD4:
WRESTLEMANIA 25 (2009)
Shawn Michaels
WRESTLEMANIA XXVI (2010)
Shawn Michaels – Streak vs. Career
WRESTLEMANIA XXVII (2011)
Triple H – No Holds Barred Match
________________________
DVD5:
WRESTLEMANIA XXVIII (2012)
Triple H – Hell in a Cell

WRESTLEMANIA XXIX (2013)
CM Punk
WRESTLEMANIA XXX (2014)
Brock Lesnar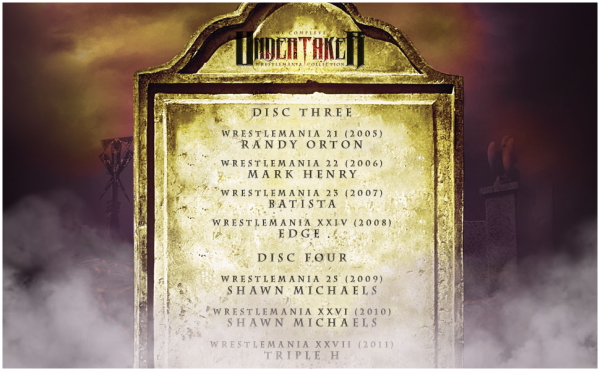 ________________________
DVD6:
WRESTLEMANIA 31 (2015)
Bray Wyatt
WRESTLEMANIA 32 (2016)
Shane McMahon – Hell in a Cell Match
WRESTLEMANIA 33 (2017)
Roman Reigns – No Holds Barred Match
WRESTLEMANIA 34 (2018)
John Cena
WRESTLEMANIA 36 (2020)
AJ Styles – Boneyard Match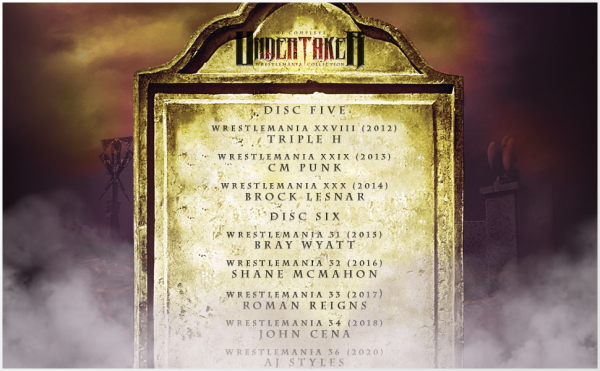 _________________________
Technische Daten:
Releasedatum: 18. November 2022
Regional Code: 2 & 5
Laufzeit: 13 Stunden & 40 Minuten
Discs: 6 (DVD)
Sprachen: Deutsch (Dolby Digital 5.1), Englisch (Dolby Digital 5.1)
FSK: 16
Label: tonpool Medien GmbH / Freemantle
_________________________
Fazit:
Mark William Calaway, auch bekannt als "UnderTaker" gilt als einer der beliebtesten Charaktere der WWE, auch nach seinem Rücktritt vom aktiven Wrestling. Seine Wrestlemania Siegesserie galt über viele Jahre als Konstante, als nicht zu brechen. Erst Brock Lesnar schaffte es (zur Überraschung vieler) 2014, bei Wrestlemania 30. Der "Deadman" hat im Laufe seiner Karriere viele Topstars besiegen dürfen und es galt als große Ehre, ein Match gegen den "Lockerroom Leader" bestreiten zu dürfen. Hier ging es nicht nur um die Respektsbekundung, sondern auch um den Charakter, den Einzug, das Theme, die Legende UND WRESTLEMANIA!
Auf 6 DVDs hat WWE nun alle Matches veröffentlicht, auch das eine, welches er verlor. Seit über 30 Jahren steht er nun bei WWE unter Vertrag, dies hat wohl kein aktiver Wrestler vor ihm geschafft. Loyalität, Stolz und Fleiß hat er in seine Karriere investiert. Inzwischen ist auch er in die Jahre gekommen und plaudert in so manchem Interview aus dem Nähkästchen, was etwas besonderes ist, denn kein anderer hielt sich so an "Kayfabe" wie er. Er verkörperte DEN Charakter mit Leib und Seele und galt lange als mystisch, wenn nicht sogar unheimlich.
Seit 2022 ist er Teil der WWE "Hall of Fame", wie auch Shawn Michaels, mit dem er wohl (für viele) sein bestes Wrestlemania Match (2009) bestritt. Zu seinen Gegnern gehörten sein "Bruder" Kane, Triple H, Diesel (Kevin Nash), Sycho Sid, Batista, Edge, Randy Orton, Big Boss Man, Brock Lesnar und Bray Wyatt und und und. Absolut sehenswert. Eine Reise in die frühen 90er bis 2020. Das Boneyard Match gegen AJ Styles wurde wie in Film inszeniert, die Idee zum Match kam von AJ. Das sollte sein letztes Wrestlemania Match sein. Aber im Wrestling heißt es ja: Sag niemals nie 😉 – KAUFEN, KAUFEN; KAUFEN!