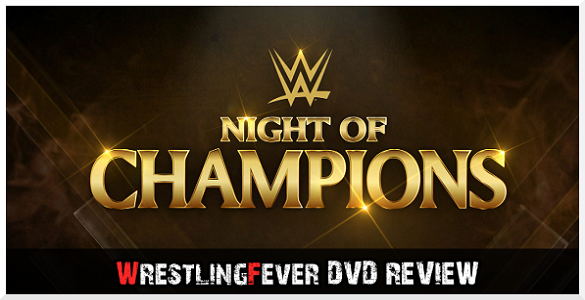 Kurzbeschreibung:
At Night of Champions, after being brutalized by "The Beast Incarnate" at SummerSlam, John Cena gets his chance at redemption when he challenges Brock Lesnar for the WWE World Heavyweight Championship. Plus, former Shield members turned bitter rivals will finally collide when Seth Rollins battles Dean Ambrose in a long awaited head to head match-up. And Mark Henry hopes to make America proud as he tries to stop "The Super Athlete" Rusev and his path of destruction. Every Championship will be defended on WWE's most golden night – it's a night of glory, it's WWE Night of Champions!
__________________
Disc 1
WWE Tag Team Championship Match
The Usos Vs. Goldust And Stardust
United States Championship Match
Sheamus Vs. Cesaro
Intercontinental Championship Match
Dolph Ziggler Vs. The Miz
Seth Rollins Promo
Mark Henry Vs. Rusev
Chris Jericho Vs. Randy Orton
WWE Divas Championship Match
Paige Vs. Nikki Bella Vs. AJ Lee
WWE World Heavyweight Championship Match
John Cena Vs. Brock Lesnar
Blu Ray Exclusiv Features
Monday Night Raw – 18 August 2014
Brock Lesnar is Awarded the New WWE World Heavyweight Championship
Monday Night Raw—25 August 2014
Hulk Hogan, Shawn Michaels & Ric Flair Hall of Fame Panel
Monday Night Raw—1 September 2014
Stephanie McMahon Grants Nikki Bella a Shot at the Divas Championship
SmackDown—12 September 2014
Chris Jericho & Roman Reigns vs. Randy Orton & Seth Rollins
Monday Night Raw—15 September 2014
John Cena Wants a Fight with Brock Lesnar
WWE.com Exclusive
Brock Lesnar Sits Down with Michael Cole
Technische Daten:
Releasedatum: 24.11.2014 (UK)
Regional Code: 2 (UK)
Laufzeit: 4 Std. 11 Minuten
Discs: 1 (Blu-Ray)
Sprache: Englisch
FSK: —
Label: Freemantle
Fazit:
Im Menü der Night of Champions sieht man ein Video, dass die Highlights des WWE World Heavyweight Championship Matches beim SummerSlam 2014 zeigt, bei dem Brock Lesnar sich den Titel von John Cena in eindrucksvoller Art und Weise sichern konnte. Das Menü ist sehr übersichtlich gehalten und die einzelnen Kapitel und Extras lassen sich ohne Probleme auswählen.
Bei Night of Champions 2014 standen insgesamt 7 Matches auf der Main Card, unter anderem das Rückmatch um den WWE World Heavyweight Champion Titel zwischen Brock Lesnar(C) und John Cena. Alle Matches waren auf einem hohem Niveau. Es fällt schwer ein Match besonders hervor zu heben, aber wenn man eins nehmen würde, dann am ehesten das United States Championship Match zwischen Sheamus(C) und Cesaro.  Der einzige Kritikpunkt, ist das kontroverse Finish des Main Events.  Desweiteren gab es noch ein Segment mit Seth Rollins und einem "Rückkehrer", dass sehr unterhaltsam war.
Neben dem ca. 3 Stündigen PPV gibt es als Extras noch Christian´s "Peep Show" mit dem Gast Randy Orton aus der Night of Champions Kickoff Show, einige Matches, Promos & Segmente von RAW & SmackDown Ausgaben vor dem PPV, u. A. das Hall of Fame Panel zu dem NOC Main Event bei RAW und die Übergabe des neuen WWE World Heavyweight Gürtels an Brock Lesnar. Die Bild & Ton Qualität entspricht natürlich den HD Standards. Night of Champions 2014 wurde leider erneut ohne deutschen Kommentar rausgebracht.  Alles im allen ist WWE Night of Champiosn 2014 ein gelungener PPV, bei dem alle Matches überzeugen konnten.  Für diejenigen, die den PPV noch nicht gesehen haben, ist diese Blu-Ray absolut empfehlenswert.
____________________
****/*****
Diese Review präsentieren wir in Kooperation mit Much Media. Die DVD & Blu-Ray könnt ihr in Deutschland sogar versandkostenfrei erstehen. Weitere WWE (World Wrestling Entertainment) Artikel gibt es hier.