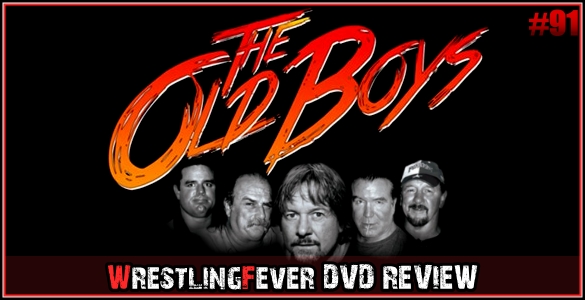 Kurzbeschreibung:
The 80's and 90's was a great time to be a fan of professional wrestling. The wrestlers of this generation never failed to put on unforgettable shows.
Now learn the behind the scene stories of these men who put wrestling on the mainstream.
With original never before seen interviews and footage, hear first hand from the men who lived it… These are The Old Boys!
Featuring a cast of legends in the wrestling business: Roddy Piper, Terry Funk, Bret Hart, Dynamite Kid, Davey Boy Smith, Jake Roberts, Iron Sheik, Scott Hall, Demolition, Ted DiBiase, Road Warrior Animal, Brutus Beefcake, Honky Tonk Man, Marty Jannetty, Tatanka, Jacques Rougeau, Lanny Poffo, Virgil, Pierre Ouellet, Paul Roma, Jim Powers, Bob Holly, Raven, Brian James, Billy Gunn and more.
These legends tell all in this most candid, eye opening wrestling documentary ever that is not to be missed!
Teaser:

Kapitel:
Positive is Good
The Characters
Places to Work
Working for Vince
Sheiky Baby
Teaching
Career Change
Shocking
Owen
Pizza Delivery
Ribbing
On The Road
Hall
Backstabbing
Internet
Family
Hogan
Pension
The Party
Death
Davey
Fans
The Predator
Life Lesson
Friendship
Final Thought
Technische Daten:
Releasedatum: 2015
Regional Code: 0
Laufzeit: 107 Minuten
Discs: 1 (DVD)
Sprache: Englisch
FSK: 16
Label: No Money Films

Fazit:
Die "alten Jungs" sind in dieser Dokumentation fast ausschließlich Legenden – Ringveteranen und "Hall of Famer" die sich an die gute "alte Zeit" zurück erinnern. So berichtet Koko B. Ware ziemlich am Anfang von einem Drogentest bei der führenden Company in Stamford, die den Iron Sheik nicht nur wegen Kokain überführte. Man lacht schon in den ersten Minuten, wenn erzählt wird, wie sehr sich der Sheik über ein "positives" Ergebnis freute – wusste die Legende nicht, das sich ein POSITIVES Ergebnis eines solchen Tests doch negativ auswirken würde.
So bedankte sich der Sheik bei McMahon, um kurz darauf aufgeklärt zu werden. Diese Geschichten können nur die Beteiligten selbst erzählen, diese OFFENEN Storys, Erinnerungen, Fehden und Freundschaften wird man in keiner der WWE Releases finden. Hier gibt es Kritik und Geschichten, die man wohl sonst nirgends hören und sehen wird. Man sieht private Filmaufnahmen, beispielsweise von der Hochzeit des British Bulldogs. Man hört Jim Powers, dem der große Durchbruch verwehrt blieb und Kritik an der WWE – auch von heutigen Hall of Famern.
Alles in allem eine SEHR interessante Dokumentation mit offenen Worten für jeden Fan. Wie gefiel Owen Hart das "Blue Blazer" Gimmick, wie war es bei WCW und WWE damals wirklich, wie war das mit Steroiden und Drogen? Spielte nicht nur Owen den Kollegen bitterböse Streiche oder auch der British Bulldog? Unveröffentlichtes Video- und Tonmaterial sorgen für interessante Erzählungen. Diese und viele weitere Fragen werden offen beantwortet.
____________________
****/*****
Diese Review präsentieren wir in Kooperation mit MuchMedia und nicht nur diese DVD gibt es bei unserem Partner (neben vielen anderen) preiswert und in Deutschland versandkostenfrei.