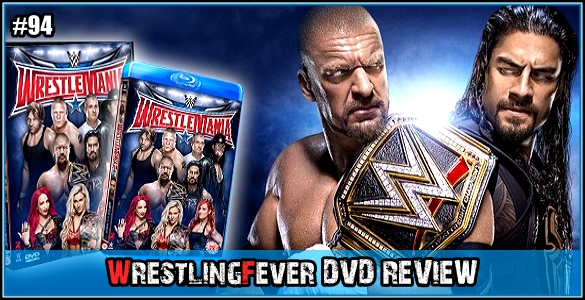 Kurzbeschreibung:
Herzlich Willkommen zur grössten Wrestlemania Show von allen.
Die Show der Superlative vor über 100.000 Zuschauern präsentiert die größten WWE Superstars unserer Zeit. Wrestlemania 32 bricht alle Rekorde und präsentiert WWE Legenden wie den Undertaker (im Match gegen Shane McMahon) sowie Brock Lesnar in einem knallharten "Kampf ohne Regeln" gegen den durchgeknallten Dean Ambrose u.v.m. Die Top WWE Talents machen dieses Event zu einem Spektakel der Extraklasse.
Das Roman Empire treffen im WrestleMania-Hauptmatch aufeinander, wenn der 14fache WWE-World-Heavyweight-Champion Triple H seinen begehrten Titel gegen Roman Reigns aufs Spiel setzt.
Shane McMahon riskiert alles, um Monday Night Raw zu kontrollieren. Ein Hell-in-a-Cell-Match gegen den Undertaker entscheidet über das Schicksal beider. Der Kreis der Diven-Revolution schließt sich, denn Charlotte, Sasha Banks und Becky Lynch treten in einem Triple-Threat-Match gegeneinander an. Die Siegerin wird allererste WWE-Women's-Championesse. "Der Durchgeknallte" Dean Ambrose muss sich an seine bisher schwerste Aufgabe machen: Er betritt Suplex City, um in einem Street-Fight ohne Regeln gegen "Die Bestie in Menschengestalt" anzutreten. An diesem Abend werden WWE Superstars zu Helden, Helden zu Legenden – und Legenden werden bei Wrestlemania unsterblich.
Teaser:

Inhalt – Disc 1:
Fifth Harmony performt die Nationalhymne
WWE Intercontinental Championship Leiter Match
Kevin Owens vs. Dolph Ziggler vs. Zack Ryder vs. Sin Cara vs. Sami Zyan vs. The Miz vs. Stardust
AJ Styles vs. Chris Jericho
Zack Ryder macht seinen Wrestlemania Moment
The New Day vs. League of Nations
No Holds Barred Street Fight
Dean Ambrose vs. Brock Lesnar
Vorstellung der WWE Hall of Fame Class 2016
Triple Threat Match um den WWE Women`s Championship
Charlotte vs. Becky Lynch vs Sasha Banks
Hell in a Cell Match
Shane McMahon vs. Undertaker
"Andre the Giant" Memorial Battle Royal
The Rock hat eine Nachricht für das WWE Universum
Blu Ray Extras
Wrestlemania 32 Kickoff Show Match
WWE United Championship Match
Kalisto vs. Ryback
Wrestlemania 32 Kickoff Show Match
The Total Divas vs. B.A.D & Blonde
Wrestlemania 32 Kickoff Show Match
The Usos vs. The Dudley Boyz
Inhalt – Disc 2:
WWE World Heavyweight Championship Match
Triple H vs. Roman Reigns
WWE Hall of Fame 2016
The Godfather
Jacqueline
Stan Hansen
The WWE 2016 Legacy Hall of Fame
The Fabulous Freebirds
Big Boss Man
Snoop Dogg
Joan Linden
Sting
Blu Ray Exclusive
Fighting for a Legacy
USB Stick Extras:
25 exklusive Clips
Technische Daten:
Releasedatum: 24.06.2016
Regional Code: 2
Laufzeit: 8 Stunden & 56 Minuten
Discs: 2 (Blu Ray)
Sprache: Deutsch & Englisch
FSK: 16
Label: Freemantle Media International

Fazit:
Keine Frage – Wrestlemania ist DIE Show des Jahres, DAS Highlight im Pro Wrestling Business. Mit Wrestlemania 32 hatte man im Vorfeld für mehrere Überraschungen gesorgt. Zum einem kehrte Shane McMahon zurück und hatte mit dem Undertaker bei diesem Event sicher einen Wrestlemania Moment geschaffen. Wenn einer bei WWE härter zur Sache gehen kann, dann Dean Ambrose der ja eine CZW Vergangenheit hat – Brock Lesnar war hier als Gegner die richtige Wahl. Auch die Ladies glänzen heute nicht mehr nur als optisches Highlight, das Match um Charlotte, Sasha Banks und Becky Lynch gilt für viele als ein weiteres Highlight der Veranstaltung und ja, IHR habt richtig gelesen.
Natürlich gab es wieder ganz spezielle Momente und Auftritte, neben HBK sah man auch Mick Foley, Steve Austin und The Rock. Auch der neue "Hall of famer" Snoop Dogg war anwesend. NATÜRLICH ist die HoF Zeremonie auch Teil dieses Blu-Ray Sets (neben tollen Extras und einer 4 GB USB Karte auf welcher Backstage Material zu sehen ist). Kommentiert wurde dies für die deutschen Fans von WWE Kommentatorenlegende Carsten Schaefer & Manu Thiele.
Wrestlemania gehört mit Sicherheit für jeden Fan und Sammler IMMER ins Regal, die Blu-Ray glänzt mit brillantem Bildmaterial, tolles Extras. Die Show des Jahres ist immer ein Highlight. Natürlich kannst Du dieses Blu-Ray und DVD sowie weitere WWE Artikel (in Deutschland versandkostenfrei) bei unserem Partner MuchMedia beziehen!
____________________
*****/*****