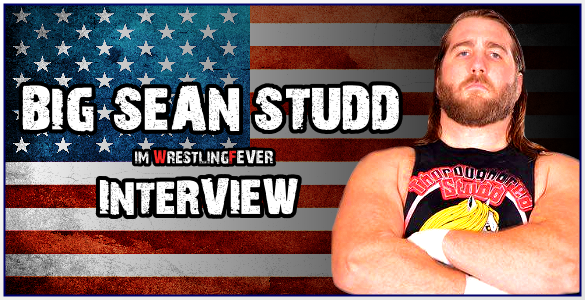 WF: Thanks for your time, Sean. How are you today?
SS: I'm doing great! I'm currently flying back to Washington D.C. from Houston Texas. Just wrapped up another great TV taping for Reality of Wrestling.
WF: You've become a pro wrestler like your father. Were there any other possibilities or was it clear for you that you want to live that dream, too?
SS: Yes! Ever since I can remember, I've always wanted to be a part of the wrestling business. Before my father got sick, he would always take me to local wrestling shows to watch while he was scouting for talent. After I graduated High school I did a year at college and just couldn't picture myself working a regular 9-5 job. Once I left school, I knew this was my one chance to give wrestling a try, I started really focusing on weight lifting and looking around for a good school to join. It was about 2 years after I decided to pursue wrestling, that I met Booker T.
WF: You're bearing a big name which offers you some opportunities. Did you feel a "high pressure" or wasn't it so that the people expected great things from you and sees you as its own character?
SS: If I told you I didn't feel pressure every time I walked towards that ring, I would be lying. I am a professional though, and pressure is just one of things you have to overcome if you ever expect to be great at anything.
WF: You're grown up with wrestling. What many only know as a fan, you know from the other side. Please tell us how it is to have a father who was a big star and wrestler. I guess it wasn't too easy for you not to be able to see your father so often as you were a child?
SS: Growing up I didn't really understand any of it. I was pretty young when my dad died but I do remember he traveled a lot for work and everywhere we went, people always wanted to take pictures with him. Honestly, I thought it was really cool. I still remember the first time I saw a video of my dad wrestling. It was against Andre the Giant in a steel cage match, and my dad was covered in blood. As a young kid, seeing your father get beat up and bloody is terrifying! It took a lot of explaining from my mother to calm me down. She was a real soldier for my family, always made sure everything was taken care on the home front while my father traveled.
WF: When did you start to practice, who trained you?
SS: In August of 2014, I met Booker T at an Indy show in Maryland and told him that I was extremely interested in getting into the business but I just didn't know where to start. He invited me to come to Houston for a week and check out his wrestling school "Reality of Wrestling" and also attend a TV taping. As soon as I stepped in the ring, I knew I had found my career. Once I got back to D.C. from Houston, I packed my tiny Honda civic with everything I could, and drove it 1100 miles across country to Texas. I arrived on my 24th birthday, and have been completely focused on wrestling ever since.
WF: What can you tell us about Booker T & Reality of Wrestling?
SS: I'm going to answer this question in two parts. First, Booker T is not only an awesome coach, but a great mentor as well. He really knows how to get us (his students) to bring out all of our strengths, and keep our weaknesses hidden.
For almost 20 years he was a top performer in this industry, has been a multi-time world champion, and main evented the grandest stage of them all- WrestleMania. Unless you're actually down at the WWE performance center, there is no one else in the country, let alone the world, who is more qualified as a coach than Booker T. he is at the school 3-4 times every week overseeing all of his students train. He is also a very hand's on trainer who will get in the ring to demonstrate the correct way (WWE style) to do the moves, or give some unlucky student a chop, depending on his mood. I have been one of those unlucky students a few times!!
Normally, when you think about Indy wrestling promotions you usually picture a bunch of guys wrestling in front of 30 people inside a VFW. That is not the case with Reality of Wrestling. It is literally a mini WWE and we are trained to work TV. The amount of effort and detail that go into each show is truly amazing; the editing team will spend hours upon hours every week making sure our episodes look as flawless as possible. You really feel like you belong to something special at Reality of Wrestling. Reality of Wrestling is also filled with a lot of guys who have been in this industry for a long time and won't hesitate to help you out whenever you ask. I have learned a lot from Booker T, but it wouldn't be fair if I didn't mention guys like Ryan Davidson, Gino, or the Lockhart brothers. These guys treat you like family and will go out of their way to help you get better.
All in all, if you're interested in getting into the wrestling business and you can afford to relocate, I highly recommend coming to Houston to train at Reality of Wrestling.
WF: How long took it to wrestle your first match and how do you remember your debut?
SS: It took me about four months of training until I was ready to wrestle my first match. As you know I grew up around this business and have been watching wrestling for about 20 years, so I had a strong advantage over most and it came second nature to me.
My debut match was a very emotional experience for me and I think that feeling will stay with me for the rest of my life.
WF: Would you like to be "on the road" fulltime in order to get a possibly lucrative Stamford contract or do you like the Indy scene more? WWE provides financial security…
SS: At some point in my life I definitely want to have a big family but unfortunately, with the way wrestling is, it is very hard to do both. I don't have a girlfriend or any kids and its most likely going to stay that way until the back end of my career. My father was always known as a family man and I think one of his regrets was that he did not get to spend as much time with us as he would have liked. When I'm ready to have a family, I want to be able to be with them 24/7 and that is just not possible with the schedule of a Professional Wrestler.
WF: Where do you wrestle today, where can we see you with certainty?
SS: At this very moment you can watch me on Reality of Wrestling. I just started taking outside bookings and I'm starting to travel a bit more, but until I become a WWE guy, I'll always be a R.O.W. guy. That being said, I am open to discuss any and all bookings as long as the company has a good reputation.
WF: I read that you have not only worked for WWE, but also were a "Rosebud" too, is that right? (How did come to this, is there any discussion)?
SS: About 3 months after I began training, the WWE was doing a four-day long Texas tour. Booker T. wanted me to see what it was like up in the big leagues. It was an incredible experience and I am very fortunate and happy that I was able to be a rosebud on Monday night RAW.
WF: You've wrestled your first match in the WWE ring? Is that right and how did it happen?
SS: When you travel with the WWE they let you work a tryout match before the Smackdown television tapings. Until this point in my career the only matches that I wrestled were in the school so this was a big leap for me. The match was not great, but I stepped up to the plate and performed to the best of my abilities. Needless to say, they told me to keep training for another year or so. As of now, I'm shooting for fall of 2016 to go and work another loop with them.
WF: What countries could you travel by now, where would you like to work again as a wrestler? Are there any "dream destinations" for you?
SS: I'd love to travel anywhere in the world! A dream destination for me would be to work in Japan. There is something about Japanese wrestling that I absolutely love. Germany would also be another awesome country I would love to wrestle in.
WF: Fans love road-and special stories, can you share a nice one with us, maybe one of your father?
SS: I don't have too many of my own, but I have a great one of my father… He was on the road with his protégé Ron Reese. Ron was driving and my father was taking a nap. a couple of "rough-necks" cut them off. Ron gives them the bird and the guys start signaling them to pull over. My father wakes up and asks Ron what's going on and he explains what happened. So they continue driving and eventually lose sight of that car but an hour later they pull over at a rest stop and 15 minutes after that the other car pulls up right next to them! Four guys to get out of the vehicle, and walk over to my fathers car. As Ron gets out of the car the guys see how big he is and they all stop and look at each other. Then, as my dad gets out of the car, they all turn around, get back in their car, and take off running like a bat out of hell!
WF: We thank you for your time and wishing you all the best, maybe we'll meet one day?!
SS: Thank you for the interview! Hopefully you will be able to see me wrestle in Germany sometime soon! Make sure you check out Reality of Wrestling!!