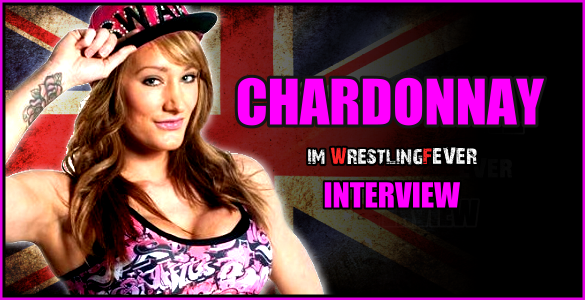 WF: Hey Chardonnay! Thank you for taking some time for us. How are you today?
C: Thanks, well I'm not all swag without my baseball cap.
WF: Let's start with something our users want to know about all new talents: When did you decide to become a pro-wrestler and how did you go about it? When was your first session?
C: I actually firstly got persuaded in to wrestling from my friend who needed lifts to training sessions as he couldn't drive. Growing up I was a big fan but was never something I thought I could do until I learnt pulling girls around the ring by there hair was kind of fun! I started training in 2012. Tried it and couldn't wait until my following session!
WF: What do your friends and family say about your decision?
C: Most of my friends think it's WICKED they love to watch me wrestle as for my family there a bit more different but know that I can handle myself!
WF: How did you acquire Chardonnay as your alias?
C: Well I guess really deep down I have a lot of attitude and wanted to bring that out for my wrestling self
WF: Who was your first trainer and what did a typical workout look like?
C: My first trainer was Tyson Tbone and his sessions wear a shock to my system at first cardio wise but he would always drill the importants of learning the basics. He the. Took me to Brooksides school of wrestling which used to be taken by NXT trainer Robby Brookside and that was when I learnt a whole different side to wrestling!
WF: You do not look like you need to watch what you eat but for curiosities sake I have to ask – do you have to eat a strict diet or are you able to enjoy more that just one cheat day every once in a while?
C: Nah I live of Mc Donalds and pizza what's a diet!? Ha no I am quite strict with myself but keep fit at the gym and by my training and healthy eating does sadly have to follow.
WF: Do you remember your first match?
C: Yes I do,my first match was against Nixon. She's a fab female wrestler but some girls just need to take a slap every once in awhile and yes I kinda did that!
WF: Do you consider yourself more a singles wrestler or rather a tag team player?
C: Well I've had a couple of tag matches which I have really enjoyed but until there's a 'Team Swag' I'll be happy being a solo wrestler.
WF: What is your opinion about intergender matches?
C: I think intergender matches are cool, there different and if placed well can work but me personally I'd rather not be slapping a male about the ring unless if it was an ex boyfriend.
WF: Female wrestling still seems to be inundated by prejudice. What is your personal impression?
C: I personally think.. It's not cool.. But luckily us females hold a lot of wrestling fans and I think there's a lot of kick arse girls now that will hopefully changed the opion of that.
WF: Which wrestlers do you most look up to? Who are your idols?
C: Growing up I was a huge Molly Holly fan! When I watch females now I normally go back to Trish, Ivory, Victoria and Jacqueline all great female wrestlers.
WF: Are there any iconic wrestlers that influenced your in-ring personality and style?
C: In ring personality and style rather than copying I'm trying to make it my own
WF: Your entrance theme (Donna Summer: Hot Stuff) is, in my opinion, pretty awesome. Did you choose it yourself or was it recommended to you?
C: I picked my entrance theme as it was something I wanted for myself . Think your entrance is the most important so wanted something that I knew would establish me the best and importantly what I'd enjoy!
WF: Your colourful gear and baseball cap, your great, if not hot, entrance theme and your attitude in general make it hard not to think of you as a babyface girl.
Is that you or would you like to break and show the *bad girl* sometimes?
C: Well sometimes it happens to be that I am the bad girl but if that's so that's when the bad attitude side of me comes out!
WF: What are your personal goals in wrestling? Where should your journey go?
C: Like most indy wrestlers I have dreams to get to the WWE.
WF: Now we asked about your goals we are as curious about the personal highlight(s) of your career so far?
C: So far my highlights are the girls I've wrestled and the girls I've beat. Facing Kay lee Ray, toni storm, nixon and Nadia sapphire in which I've had a fab time doing so as there great wrestlers
WF: What does Chardonnay most like to do in her free time?
C: Like most I enjoy hanging with my mates, there the most important ones for me. I'm a bit of a busy bee with life so whenever I have free time it's definatly spent with them!
WF: Are you interested in other sports or even practice them?
C: Yes I love MMA so also do that on a weekly basis.
WF: Do you keep track of the tv programs of the leading companies?
C: I'm always watching WWE, have the network now so I'm a bit of an addict!
WF: Can you imagine yourself being a WWE Diva or do you prefer the TNA Knockouts?
C: Definitely would LOVE to imagine myself as a WWE Diva
WF: Your thoughts about the ladies from WWE NXT?
C: Wow I think the NXT women are amazing! Watching there matches just shows how hard they work! They definatly show that women belong in the ring!
WF: We would like you to give us a brief statement about some of your famous colleagues:
Nattie Neidhart
I think she's fab! Love to watch her especially her tecnical skills there amazing
Gail Kim Think she's fearless, great high Flighter, have enjoyed so many of her matches!
Trish Stratus
Well growing up she was one of my favourites, she has inspired a lot of female talent, athletic and beautiful!
WF: You surely have heard of Germany´s number 1 Diva, Melanie Gray.
Would you consider stepping into the ring with her?
C: Yes I'd love to, heard she's a tough cookie but well I'd like to make my mind up after if I ever do step in the ring with her.
WF: How are you or who is to be contacted about booking arrangements?
C: I can be contacted via my Facebook or Twitter.
WF: Which countries have you already been in action in? Which was your favorite place?
C: So far just the United Kingdom but have some European bookings coming up!
WF: To which other countries do you plan on travelling to fight?
C: Shortly off to Switzerland
WF: Many British wrestlers travel in groups with colleagues. How do you get to your shows?
C: Yes some times I travel with other people or drive myself. Always great to travel with others tho always full of lots of laughs.
WF: What does a typical day on tour look like for you?
C: I recently did a 9 day All Star Wrestling tour and that was great but also so much travelling to up and down England each day but u forget about the travelling whilst having laughs and doing what you love!
WF: We but most importantly our numerous readers love roadstories. Will you give us one of yours?
C: I don't have any bad road stories my most memorable ones are from my Alll Star Tour. Each person in the 7 seater car picking a song for the road trip… Discovering that grown wrestling men love to listen to abit of SClub 7 and spice girls was strange!
WF: A good way of house advertising and to stay in contact with fans are social networks. Which ones did you choose to communicate with your fans?
How important is communication and even personal contact at shows for you?
C: Facebook and Twitter are great for fans! Also most shows have meet and greets at the end of the show and think there brilliant as it means we get to meet the fans and they can meet us too!
WF: Many independent wrestlers offer their own merchandise. Do you already have your own products or something planned and how can your German fans purchase those items?
C: I have my own photos that I sell at show but nothing via the internet as of yet!
WF: At last we would like to ask you for some personal words to your fans in Germany.
C: What's up Germany! One day I hope that I can bring my Swag over to your country! heard you fans are crazy BUT that's the best kind off fans!
WF: Thank you very much for your time and all the best for your future!
C: Thank YOU!