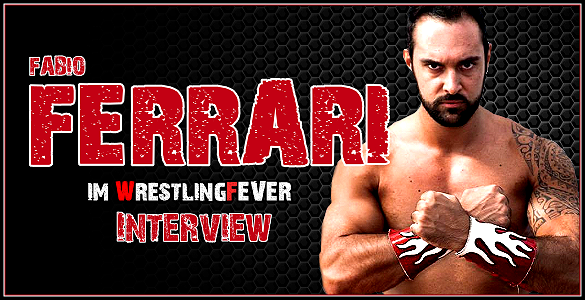 WF: Thank you for this interview, Fabio. We are always happy to introduce new respectively international talents. How are you?
FF: Hello Markus and hello to all the WrestlingFever.de fans! Thank you very much for having me on your website, it's a true honour.
WF: You wrestle for over 15 years now but still you are rather unknown around here. But first things first … how did you get into pro wrestling?
FF: I started with Wrestling when I was 17 but back then there wasn't any wrestling school at all in Italy, so basically I started as a backyarder only because there wasn't any other opportunities.
Back in 2001 the only group of guys that were trying to build up something in Italy was the original ICW, formed by about 10 people from all over the north of Italy, catching up in some shitty hole gyms and trying to do something…but, as I said, it was just backyard.
After a few years I had the opportunity to get some proper training in the UK at the Dropkixx Academy with Frank Rimer and Tony Scarlo and at the FWA Academy in Portsmouth with Mark Sloan.
In the meantime, Wrestling became very popular in Italy, I was only 20 and I found myself in front of 11000 people, but honestly I wasn't ready at all on the wrestling side neither on the physique side.
WF: What made you decide to become a pro wrestler yourself?
FF: I fell in love with the game when I was 6 watching Hulk Hogan against Earthquake from Summerslam. It was love at first sight but honestly I tought for many years that Wrestling was just an American and Japanese thing, didn't know about any other company because in Italy there wasn't any Wrestling. Didn't know anything about the rest of Europe either.
At 17 I was playing the national basketball championship and I was really into it, but a close friend introduced me to the first italian company who tried to do something in the business. After I got in the ring for the first time, I knew straight away that was what I wanted to do.
WF: One of your trainers was Ares, who is very well known in Germany. Who else trained you, taught you the basics and how do you recall your first training sessions?
FF: The very first training session was in Italy with a man from Santo Domingo who wrestled a bit during his younger years but the only thing I recall was a back body drop on the floor. I died there for a few minutes and, as soon as I got on my feet again, I left for coming back never again.
The first real trainings were in the UK were I learned the basics. After that I attended every seminar I could with the likes of Ares, Nigel McGuinness, Cesaro, Chris Hero, Johnny Saint, and many more.
The coach that nowadays I consider my mentor is Marty Jones, who helped me amazingly in the last few years.
WF: How long did it take until you had your dabut match and what are your thoughts on it?
FF: As I said before, my first years were backyard times with a ring. I had my very first match back in 2001 but I can't remember much: I just didn't have any proper training, just a skinny guy with a bit of athleticism because of my basketball years.
WF: Before becoming "Fabio Ferrari" you fought as "Red Devil" with red face paint. Am I right to think that the Warrior inspired you somehow? As a fan, who were you most impressed by?
FF: The Red Devil was a gimmick I used for years, it popped out from the fan side of me back when I haven't got any proper training. It worked very well for years in Italy because our crowds are mainly kids, so I was the fancy and shiny guy with the cool face paint doing all these flips. And yes, you got it right, the Warrior, plus Sting and Great Muta, inspired me. Wrestling wise I adored Hayabusa back then.
WF: Why "Red Devil"? Wie entstand der Name "Red Devil" and why did you change it to "Fabio Ferrari" – italian cliché?
FF: Over the years many collegues suggested me to use my real name because it sounded cool to the foreign market. After I worked in the UK for Brian Dixon I needed a gimmick who could fit outside of Italy, so using my real name was a natural thing and the stereotype persona came up because of my surname. It became natural to be a descendant of the great Ferrari's car family, so I turned into that guy who has the money but never worked one day in his life and thinks he's better than anybody. The first time I tried the gimmick I had so much fun that I discovered a whole new world and it worked so well with the crowds that in just a few months almost everybody in Italy forgot the Red Devil gimmick that was pretty popular.
WF: Throughout your career you fought against the "Bambikiller" several times, last at the CWE events. How did you like this "Catch Grand Prix" and what do you think about wrestling tournaments in general – and the Bambikiller?
FF: Chris gave me so many opportunities to wrestle in top professional companies so I would never thank him enough. He's one of the smartest workers I know in Europe.
I enjoyed every second of the Catch Wrestling World Grand Prix, everything was great and I had so much fun working in a top team like that for those 4 shows. It felt like the old CWA days I watched on tapes and I really hope that this could be just the beginning of a comeback of the catch wrestling in the mainstream in Austria.
WF: In the 90´s Italy, next to Germany, was a "stronghold" of wrestling (fans) – what´s it like nowadays? How did things change?
FF: Italy is the land of soccer, there's not much space left for any other sports in the hearts of our people. The italian mindset is pretty close too, everybody thinks they know better. If you go to a bar on monday morning, they're all great football coaches. Therefore Wrestling can't find a rightful place and everybody thinks "that's bullshit" instead of enjoying the show.
Wrestling it's just a fashion over here: we had two big boom, one in the late 80s and one in 2004.
There's some serious companies trying to bring over some good wrestling now, but it's hard if there's very few money from investors.
I know for a fact that if the product is presented in a certain way, then Italy has a great potential. Maybe in the next years, with the right people, some good stuff would rise up.
WF: You also fought some big names of this industry, for example Austin Aries. How do you remember that match (EPW) and the person?
FF: That night I also had a sort of qualification match against Adrian Severe for a spot in the Main Event (a 4 way bout with Austin Aries, Eddie Edwards and MVP) and I remember that Austin was the one who took us apart and gave us advices on the match as soon as we got backstage. It's always a great learning experience when you have opportunities like this.
WF: Do you have personal highlights of your career which you would like to share with us?
FF: Back when I started I had so many great opportunities to work with some of the best performers in Europe and they all helped me amazingly to learn and understand the business, even tho I was just a backyarder, but I guess they understood the situation over there.
Throughout the years I felt like I was in a bubble that was going nowhere, but everything changed after I met and trained with Marty Jones, who gave me the opportunity to work in England for long time top promoter Brian Dixon, where I learned so much.
The Caribbeans Tour with France's Wrestling Stars was a lot of fun: beach during the day with Team Rudo (Heimo from Finland and Kodiak from Holland) and the matches during the afternoons. Great times but also hard work, having wrestled 11 matches in 3 shows in a boxing ring.
Pakistan Tour with PWE was amazing, such a great treatment from the promoters and a lovely place to go. Looking forward to the next one!
WF: You used to be rather wispy but seem to have gained some weight in recent years. Did you change your workout and / or diet?
FF: I just basically started training hard and eating properly. I gained 30 kilos from when I started wrestling and never felt better. Training in the gym and gaining weight and lean muscles is a must in this business not just for the look you should have in the ring but also for staying healthy and well trained.
WF: Which goals did you set for your career? Are there any opponents you still need to fight, countries you want to go to wrestle?
FF: There's no limit to my goals. I just want to improve and learn as much as I can, I love this business and I just want to have fun doing it at the highest levels possible.
WF: Thank you for your time, Fabio 🙂
FF: Thank you very much for having me on your website and thank everyone who took their time to read this. If I can ask you a favour, please check my Facebook page at www.facebook.com/devilprowrestling and my Instagram at www.instagram.com/fabioferrari.reddevil
Last but not least, I would like to invite you all German Fans to see me in action at the next POW Power Of Wrestling show in Hildensheim on December 2nd and in Rostock on December 15th! Don't miss it and please come to say hi!!
_____________________________
Feel free to LIKE & Support us on FACEBOOK & TWITTER – Thank You 🙂