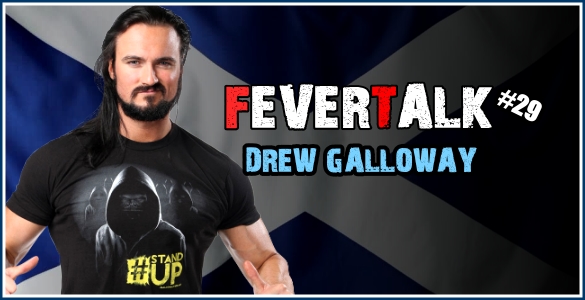 In der bereits 29. Ausgabe unseres Wrestling Podcast`s "FeverTalk" begrüßen wir erneut einen TNA bzw. Impact Wrestling Superstar. Der Schotte Drew Galloway stand uns für ein paar Fragen zur Verfügung und wir freuen uns, Euch dieses Interview in Kooperation mit MAX Wrestling & Much Media präsentieren zu dürfen!

Video startet nicht? Direktlink: KLICK
Inhalt:
– On the Road
– Der Beste
– Bret Hart
– Idole
– Wrestling Szene in Schottland
– ICW
– "One of a Kind" – GRADO
– Roddy Piper & Der betrunkene Bruder
– Neuer Style & FCW
– Bound for Glory
– Matt Hardy & World Heavyweight Championship
– Der Glaube an TNA
– Modeln, Rockband & Chicks?
– Some German Words
– Ohne Benzin & zu spät
– MAX Wrestling
– Fans sind Teil des Rosters
– Einige Worte an die Fans!
Technische Daten:
Format: MP3
Länge: 16,49 Min.
Größe: 21,7 MB
Taping: 16.10.2015
Release: 16.10.2015