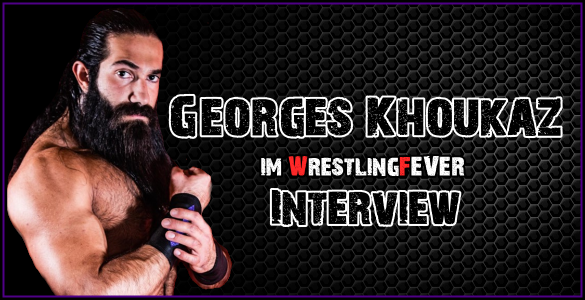 WF: Let me thank you for doing this interview, Georges. I´m interested in you as a wrestler and an actor. Therefore I would like to split this interview in two parts.
GK: Thanks for having me ?
WF: For me you are still an unknown quantity. I know you come from Syria and you wrestle for GWF. Did your career actually start with GWF?
GK: Yes, i start my career in the GWF!
WF: Your name sounds rather Greek, is that just me or is there something to it?
GK: I don't have any Greek roots but I have Armenian roots From my dad side
WF: You fled from Aleppo (Syria) into Turkey where you spent the next years as a hairdresser/barber, for me quite an interesting story. From a young age you had to make important decisions to survive. How is your current contact to family and friends back home and what is the actual situation there. Unfortunately the media all say different things.
GK: yes it is I start work as hairdressers since I was 13 years old,It was very risky and dangerous to leave Syria in that time and I witness everything I see everything in the war…. then i go to Turkey and from there I find my way to go to Europe accomplish my dream…
And about my relationship with my parents I have no relationship with my parents since I was there … so I have no connection with them at all.
WF: Would you like to go back one day or do you consider Germany your future?
GK: In the meantime I believe I will stay here for a very long time.
WF: What can you tell us about your WWE Try Out, back in 2018?
GK: It was a really big and fun experience and open a lot of doors to me. There is a huge difference between Georges Khoukaz before the tryout and Georges Khoukaz after the tryout, as a wrestler and as a person. The training was very hard and this is the purpose from it: it was to push you for your limit. Everybody did his very best and push himself to the very limit. And everybody get a lot of tips and feedback, depends about your character and your work.
WF: Do you have/ had any Wrestling idols, role models?
GK: When I grow up, it was very interesting to watch Eddie Guerrero and The Look of Kevin Nash. But if we're gonna talk about the European Wrestlers, i look up to Michael Kovac,  Ahmed Chaer and Crazy Sexy Mike.
WF: You are an about 6'6ft (~2m) tall phenomenon with long hair and a beard! The long hair you have for a while now but when did you decide to grow the beard this long, rather atypical for a hairdresser don´t you think?
GK: Since I was a little kid And I start to have a dream to become a Wrestler I always imagine myself in this look so the time I grow up I work very hard to make it even the time I was playing a Wrestling games on computer or Play stations I always create a character big guy with long beard and long hair which it is like I look today…
WF: What is wrestlings standing in your home country as sport as well as sports entertainment? And how did you get into doing wrestling?
GK: Back in the day the time I was there Wrestling was not popular that's much and it is not easy found it on TV ,you can just watch it on DVD and it's will be not new , it's going to be old shows…But now it's much more Popular there so the reason I come specially to Germany it is to start my wrestling career and I started here professionally.
WF: Do you have any previous experience with martial arts from before you became a wrestler or other sports you did?
GK: Because we don't have wrestling schools back in Syria i tried many sports but I've never felt in love with them….
But since I was 13 I hitting the gym every day….
And always try to train differently and get bigger and build more strength.
WF: Eventually you met with Ahmed and Crazy Sexy Mike and came to the GWF, right?
GK: Yes it is like this after i get recommended by many wrestlers to go to GWFschool
WF: Is it true that you had your debut match within your first year with GWF? How do you remember it, how was the match, what was the feedback and what experience did you take from it?
GK: I get debut after two weeks in Gwf as blue Nikita bodyguard /manager And it was the first time I am watching a live wrestling show and I was part of it…So it blow my mind…..
But the first match I get it in the battle royal rumble 2016 After training for six months five times in the week in gwf in Berlin …..
It was a big things to walk as a wrestler and enter the ring With huge superstars in the same match…and I learn a lot after that and I get some feedback but I was so Green to understand it that time but day I understand them and I understand what my training was trying to teach me that day.
WF: Correct me if I´m wrong, since 2017 you are an active pro wrestler. By now you worked for different promotions and companies. How do you like the traveling, are you someone who tries to have a closer look at the different cities?
GK: traveling it's a part of the job and I'm enjoying it and I try to see the cities If i get the time on my trip
WF: Permit the question: What are you doing when you are not in the ring nor acting?
GK: Well I tried to give my body a rest so I continue training in the gym and I do my regular job like every day….
WF: After the series ''4 Blocks'' ended with season 3 you will be playing again in the movie ''Gunpowder Milkshake" which will be in cinemas in 2020.
What can you tell us about the movie (story) and your role in it … again a villain?
GK: I was really happy and blessed to get to work in Gunpowder milkshake next to the Game of Thrones star the queen Lena Headey and The star from Jumanji Karen Gillan ….
It's going to be a really good entertaining movie action comedy and I'm playing the big guy The one it's not easy to defeat
WF: As a fan of ''4 Blocks'' I am especially happy to ask you some questions. You were a villain who caused a lot of trouble and in an emotional scene killed Latif (Massiv). How did you get that role?
GK: My trainer Ahmed share He's working on the project with the guys from the first season and you can see there wasn't many wrestlers from the GWF in the first two seasons and I was very interested to be part of it until the third season coming and I was fitting the character 100% so my trainer Ahmed suggest me to the directors and they choose me….
WF: You were seen with some kind of brand mark which of course was a make up job. Did it take very long to get ready for a shooting? How long did the make up take and how many days did the shooting take?
GK: You mean the birthmark in 4blocks it was make up and it was taking around 30 minutes to do it Buy professional make up artist and we film for 10 days …
WF: Are there fans who recognize you and just talk to you on the street, maybe even those who only see the character and not the person behind it? I can imagine that there was negative feedback after the kill off of Massiv…
GK: Yes there are many people recognize me in the street and everwere in person that really nice but after the episode go on TV and after I killed latif I get a lot of messages on my social media from a teenagers and they are angry and cursed me to kill latif, people was so into the Series and they believe the character was real so they get really angry the time Latif die
WF: Kida is often addressed and recognized as ''Tony Hamady''. How did ''4 Blocks'' help you to get other roles and would you call the series your first big step into more roles? Do you like acting maybe with more speaking parts?
GK:Yes of coarse it help and every step it's bigger then the one before I like to do the action part most the time and because my German still not that's good most the time they will be not too much speaking in Germans movies….
WF: Your killing off was quick and surprising. How many times did you have to shoot it and do you have an interesting story about the series or the final for the fans?
GK: We shoot a couple times and it was in the street in public street so we should do it fast because there was a lot of people in the street and on the balconies try to film it and that's going to be a huge spoiler so this is was a funny we have to stop the people to film it and we have to do it really fast in a public place…
WF: In our preliminary talk we spoke about your knowledge of the German language. While you are fluent in English there are problems with our language. Do you plan on further learning it and do you speak other languages?
GK: Well I would like to learn German and i still work on it but it is really hard for me…
And I speak English and Arabic and Turkish .
WF: What are your goals in wrestling and the movie industry?
GK: As I see myself I'm working in Entertaining business So whatever I do wrestling or movie I would like to make sure that people watch my work get entertain and they have a good time and for the future I would like to make a Wrestling and movie as a full job
WF: I wish you much success at your next GWF event and the ''MWA'' debut in Austria. Thank you for your time! Stay well! Stay safe!
GK: Thanks for having me and I wish for everybody a happy holiday and happy new year!