Kurzbeschreibung:
Seit zehn Jahren sorgt "Bad Bones" John Klinger für Zerstörung in den Ringen von Westside Xtreme Wrestling. John und wXw haben gemeinsam je einen Kampf pro Jahr ausgewählt, der die unglaubliche Entwicklung vom breit gebauten Rookie an die Spitze des europäischen Wrestlings dokumentiert.
Inhalt:
wXw Fight Club 2005
Burning – 13.11.2005
Bad Bones vs. Steve Allison
2006
Bad Bones vs. Steve Douglas
wXw True Colors 2007
wXw World Heavyweight Title Match
07.07.2007
Bad Bones vs. Ares
wXw 16 Carat Gold 2008
09.03.2008 – Finales Match
Bad Bones vs. Bryan Danielson
wXw Fight Club 2009
01.11.2009
Bad Bones vs. El Generico
wXw True Colors 2010
wXw World Tag Team Title Match
OTC vs. Kartell
Bad Bones & Carnage vs. Terry Frazier & Sha Samuels
wXw 16 Carat Gold 2011
wXw Unified World Wrestling Title Match
Bad Bones vs. Daisuke Sekimoto
wXw Fans Appreciation Weekend 2012
11.08.2012
Bad Bones vs. Big van Walter
wXw/CZW/BJW World Triangle League 2013
Tag 3, 05.10.2013
Bad Bones vs. Jonathan Gresham
wXw Back To The Roots XIII
18.01.2014
Bad Bones vs. Chris Hero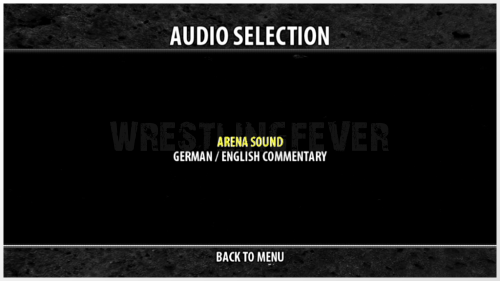 Technische Daten:
Releasedatum:2014
Regional Code: PAL
Laufzeit: 171 Minuten
Discs: 1 (DVD)
Sprache: Deutsch (Live Sound)
FSK: —
Label: wXw Germany

Fazit:
Wenn man eine DVD zu einem der wohl Besten Wrestler in Europe veröffentlicht, dann muss er schon etwas geleistet haben. 2014 veröffentlichte wXw diese DVD, die 10 ausgewählte Matches von John Klinger und der wXw zeigen. Man sieht nicht nur die ringerische und optische Entwicklung/ Veränderung vom "German Psycho" zum "Best in Europe" sondern hochklassige Matches mit atemberaubenden Gegnern. Dazwischen findet Bad Bones immer ein paar Worte zu eben diesen, wie "Big Daddy Walter" ohne die wXw und viele heutige Talente sicher nicht da wären, wo sie heute sind.
Die Bildqualität entwickelt sich natürlich auch mit den Jahren immer besser. Das Menü ist nicht mit irgendeiner "GEMA" freien Musik hinterlegt sondern mit seinem Theme "I walk alone", was dies für seine Fns sicherlich aufwerten wird.
Gegner sind unter anderem "Brian Danielson" oder auch "El Generico" welche man heutzutage aus dem WWE Fernsehen kennt. Matches aus "normalen" wXw Shows bis zu einem "16 Carat Finale" wurden hier bewusst ausgewählt. Auch gewinnt hier Bones nicht jedes Match, sondern man sieht Schlachten, die er auch mal verloren hat. https://www.muchmedia.de/de/wxw/2277-wxw-westside-xtreme-wrestling-best-in-europe-10-years-of-bad-bones-dvd.html?search_query=bad+bones&results=11
Er findet zu jedem Match eine Geschichte, ob es nun die Frage des Respekts ist oder auch eine Herausforderung, die ihn härter werden lies, bzw. verbesserte. Er gehört nicht umsonst zu den Besten, deutschsprachigen Wrestlern. Wohl keiner hat in den letzten Jahren mehr Matches bestritten wie eben "dieser" Bad Bones.
Er bedankt sich bei den Fans für die Unterstützung und verspricht, sich weiter an die Spitze zu arbeiten.
"Gut ist nicht gut genug!"
Bad Bones 2014
____________________
*****/*****
Diese DVD erhälst Du natürlich bei unserem Partner Much Media