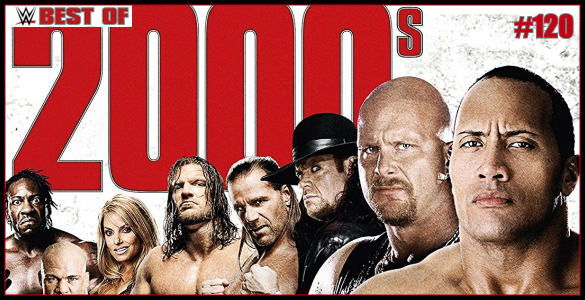 Kurzbeschreibung: The 2000s was an exciting time for WWE. The Attitude Era was reaching its conclusion, new Superstars were beginning to make their presence known, and for the first time in history, both Raw and SmackDown had their own unique rosters. Now you can relive this period of sports entertainment with WWE s Best of the 2000s. Featuring some of the most well known Superstars of all time such as , The Rock, Stone Cold Steve Austin, John Cena, Triple H, Batista, Chris Jericho, Shawn Michaels, Undertaker, Brock Lesnar and more!
Mit WWE's "Best Of The 2000's" könnt ihr jetzt eine ganze Epoche vom Sports Entertainment noch einmal hautnah miterleben. Mit dabei sind eure Stars John Cena, Triple H, Batista, Chris Jericho, Edge, Stone Cold Steve Austin, The Rock, Booker T, Shawn Michaels, The Undertaker u.v.m. Die 2000er gehörten mit zu der ereignisreichsten
Zeit für die WWE. The Attitude Era ist zu einem Ende gekommen und neue Superstars erblickten zum ersten Mal das Rampenlicht. Lasst mit WWE's "Best Of The 2000's" die 2000er noch einmal richtig aufleben!
Trailer:

Inhalt
_________________________________
DVD 1
The Countdown Begins
Mick and the Certified G's
Street Fight for the WWE Championship
Triple H vs. Cactus Jack
Royal Rumble • 23. Januar 2000
TLC Match for the WWE Tag Team Championship
The Dudley Boyz vs. Edge & Christian vs. The Hardy Boyz
SummerSlam • 27. August 2000
Three Stages of Hell Match
Triple H vs. Stone Cold Steve Austin
No Way Out • 25. Februar 2001
The Greatest WrestleMania of All Time
No Disqualification Match for the WWE Championship
The Rock vs. Stone Cold Steve Austin
WrestleMania X-Seven • 1. April 2001
WCW Championship Match
Booker T vs. The Rock
SummerSlam • 19. August 2001
DVD 2
Icon vs. Icon
Hollywood Hogan vs. The Rock
WrestleMania X-8 • 17. März 2002
Y2J Meets HBK
Shawn Michaels vs. Chris Jericho
WrestleMania XIX • 30. März 2003
Iron Man Match for the WWE Championship
Kurt Angle vs. Brock Lesnar
SmackDown! • 18. September 2003
The Hardcore Legend vs. The Legend Killer
No Holds Barred, Falls Count Anywhere Match for the WWE Intercontinental Championship
Randy Orton vs. Mick Foley
Backlash • 18. April 2004
DVD 3
Mick and The Queen
WWE Women's Championship Match
Trish Stratus vs. Lita
RAW • 6. Dezember 2004
Shawn Michaels vs. Kurt Angle
WrestleMania 21 • 03. April 2005
Entering Hell
Hell in a Cell Match for the World Heavyweight Championship
Batista vs. Triple H
Vengeance • 26. Juni 2005
World Heavyweight Championship Match
Kurt Angle vs. The Undertaker
No Way Out • 19. Februar 2006
TLC Match for the WWE Championship
Edge vs. John Cena
Unforgiven • 17. September 2006
DVD 4
Mick and The Hugger
John Cena vs. Shawn Michaels
RAW • 23. April 2007
Edge vs. Randy Orton
RAW • 30. April 2007
WWE Championship Match
Triple H vs. Jeff Hardy
No Mercy • 05. Oktober 2008
Greatest Of All Time
Shawn Michaels vs. The Undertaker
WrestleMania XXV • 05. April 2009
WWE Intercontinental Championship vs. Mask Match
Chris Jericho vs. Rey Mysterio
The Bash • 28. Juni 2009
And That's Final!
Technische Daten:
Releasedatum: 28.04.17
Regional Code: 2
Laufzeit: 11 Stunden 06 Minuten
Discs: 4 (DVD)
Sprache: Englisch (UK Import)
FSK: 18
Label: Edel Germany

Fazit:
Es gibt KEIN Wendecover und die FSK 16 Kennzeichnung ist nur aufgeklebt. Dieses DVD-Set wurde nachträglich leider mit der FSK 18 Kennzeichnung versehen.
Best of 2000s – Legendäre Wrestler, würdige Matches resultierend aus legendären Fehden. So in etwas kann man die Matches und Geschichten dieser DVD bezeichnen. Auch wenn es diese DVD nicht geschafft hat, mit dem deutschen Kommentar oder wenigstens Untertiteln versehen zu werden, so wird es dieses 4er Set schaffen, VIELE (vor allem Oldschool) Fanherzen höher schlagen zu lassen.
Die 2000er waren eine ereignisreiche Zeit. So lernte Triple H nach "Mankind" und "Dude Love" den dritten und wohl gefürchteten "Cactus Jack" kennen. Die Dudleyz gestalteten mit Edge & Christian sowie den Hardys die berühmtesten "TLC" Matches. Stone Cold Steve Austin bestritt in dieser Zeit seine letzten Matches und fehdete mit "The Rock" – dem großartigen, sowie dem "King of Kings" Triple H.
Hollywood Hulk Hogan bestritt sein Wrestlemania Match gegen Rock, wo die Fans überraschend die Seiten wechselten. Kurt Angle fehdete mit einem jungen Brock Lesnar. Shawn Michaels bestritt seine letzten Matches, Lita, gegen trish Stratus…. das wohl BESTE Taker Wrestlemania Match gegen HBK und und und und. Ihr seht schon, das "Who is Who" der "Neuzeit" gibt sich die Ehre und WWE hat sich wirklich große Mühe gegeben, alle Matches auf einen Release zu packen. Ich muss gestehen, jedes Match ist sein Geld wert UND es gibt neben Vorberichten auch promos etc. zu sehen.
Durch das Programm führt der ehem. WWE GM, die Hardcore-Legende und WWE "Hall of Famer" Mick Foley, der von einigen WWE Stars besucht wird. Garantierte Gänsehaut bei über 11 Stunden WWE Action. Genießt diese Zeitreise – Eine absolute Empfehlung von uns, wenn Ihr KEINE HD Bildqualität erwartet, denn die heutige Bildqualität gab es damals noch nicht. JETZT und HIER bestellen 🙂
____________________
*****/*****
Wir präsentieren Euch diese DVD Review in Kooperation mit EDEL! Diesen Artikel erhälst Du als DVD bei Amazon.