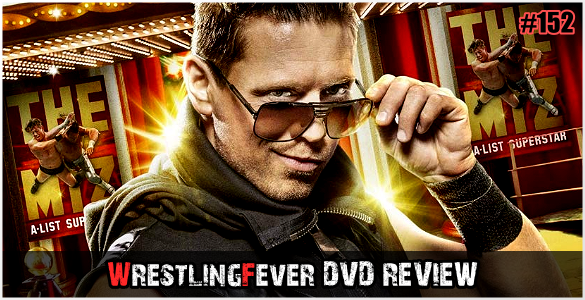 KURZBESCHREIBUNG:
LIGHTS. CAMERA. AWESOME!
Willkommen zu der wichtigsten DVD in der Geschichte der WWE… THE MIZ: A-LIST SUPERSTAR! Als Hauptstütze der WWE für mehr als ein Jahrzehnt, hat The Miz viele Rollen übernommen bis er der führende Mann der WWE wurde. Als Reality TV Star bekam er den ersten Geschmack von Ruhm und der A-Lister nutzte die Plattform um seinen Träumen zu folgen und schließlich WWE Superstar zu werden.
Auch wenn der Weg dahin mit Auf und Abs gepflastert war, The Miz gab nie auf, bot alle Kraft auf, um den respekt des WWE Universums zu gewinnen. Er errang zahlreiche Championships und wurde zum Headliner bei Wrestlemania. Holt Euch das Popcorn und werdet Zeuge des Blockbuster Real-Life Story von The Miz. Warum? Because he`s AWESOME!
Trailer:

Hier Bestellen!
________________________
Inhaltsangabe
DVD 1:
The Most Must-See Superstar in WWE History
Reality Stars are the Scum of the Earth
DSW Heavyweight Championship Match
The Miz vs. Mike Knox
DSW • 01. Dezember 2005
"They Absolutely Hated Me"
First Round Match in the OVW Championship Tournament
The Miz vs. Rene Dupree
OVW • 18. Februar 2006
The Ryan Seacrest of the WWE
The Miz & John Morrison vs. Rey Mysterio & Shawn Michaels
RAW • 17. November 2008
From the Dirt Sheet to Calling out John Cena
Money in the Bank Ladder Match
The Miz vs. Chris Jericho vs. Edge vs. Randy Orton vs. Mark Henry vs. John Morrison vs. Ted DiBiase Jr. vs. Evan Bourne
Money in the Bank • 18. Juli 2010
The Miz: A-List Mentor
United States Championship Match
The Miz vs. Daniel Bryan
Night of Champions • 19. September 2010
Mr. Money in the Bank
WWE Championship Match
Randy Orton vs. The Miz
RAW • 22. November 2010
The Main Event of WrestleMania
WWE Championship Match
The Miz vs. John Cena
WrestleMania XXVII • 03. April 2011
Pee Wee Herman
Intercontinental Championship Match
The Miz vs. Christian
RAW 1000 • 23. Juli 2012
The Origins of MizTV
Miz TV with Roman Reigns
SmackDown • 15. August 2014
____________________
DVD 2:
Elevating the Intercontinental Championship
Fatal 4-Way Match for the Intercontinental Championship
The Miz vs. Cesaro vs. Sami Zayn vs. Kevin Owens
Extreme Rules • 22. Mai 2016
An Ohio Friendship
Ladder Match for the Intercontinental Championship
The Miz vs. Dolph Ziggler
TLC • 04. Dezember 2016
Total Bellas Bullsh!t
Intercontinental Championship Match
The Miz vs. Roman Reigns
RAW • 22. Januar 2018
The Miz Makes a Surprise Appearance at the Manhattan Center
RAW • 22. Januar 2018
Mixed Match Challenge
Mixed Match Tournament Finals
The Miz & Asuka vs. Bobby Roode & Charlotte Flair
Mixed Match Challenge • 03. April 2018
Character Layers
The Miz vs. Daniel Bryan
SummerSlam • 18. August 2018
Becoming a Father
SmackDown Tag Team Championship Match
The Miz & Shane McMahon vs. The Bar
Royal Rumble • 27. Januar 2019
The "Miz Entrance"
Falls Count Anywhere Match
The Miz vs. Shane McMahon
WrestleMania 35 • 07. April 2019
The Future is Awesome
_________________________
Technische Daten:
Releasedatum: 19. Juli 2019
Regional Code: 2 & 5
Laufzeit: 5 Stunden 41 Minuten
Discs: 2 (DVD)
Sprachen: Englisch & Deutsch (Dokumentarfilm Segmente)
FSK: 16
Label: Freemantle
_________________________
Fazit:
"The Miz" ist seit über 10 Jahren bei WWE, Schauspieler, Wrestler und Vater einer Tochter. Dazu hat er einige Titel bei WWE halten können. Mike hat sich in den letzten Jahren wirklich hoch gearbeitet und deutlich verbessert. Aktuell gehört er zu den Top Stars der WWE. Ursprünglich kam er aus einem Reality TV-Format und bewarb sich bei "Tough Enough".
Viele zweifelten, das er es ernst meint, vermuteten, das er nur berühmt werden möchte. Er hat allen das Gegenteil bewiesen, auch wenn er "Tough Enough" nicht gewann. Er zog sogar um, um trainieren zu können. Seine Promos waren bei OVW schon gut, aber "The M" war noch ein ungeschliffener Diamant.
Paul Heyman war es übrigens, der mit "The Miz" arbeiten wollte und etwas ihn ihm sah! Die Fans nahmen ihn bei DSW / OVW nicht direkt an, also versuchte man ihn, zum Heel zu machen. Seine erste Heel-Promo am Mic änderte alles und fühlte sich sehr gut an.
The Miz selbst erzählt zwischen den Matches seine Geschichte so detailliert, das man förmlich an den Lippen hängt. Von den Anfängen bis zu Wrestlemania 35! Ein äußerst sympathischer und talentierter Wrestler. Sehr interessantes DVD Set und alle Interview Segmente sind mit deutschen Untertiteln versehen. Ich kann diesen Release nur empfehlen!
*****/*****
Artikel bei Amazon bestellen!