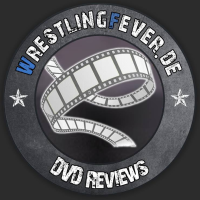 WWE – Hart & Soul: The Hart Family Anthology
Release: 25.06.2010
Regional Code: 0
Laufzeit: 473 Min.
Sprachen: Deutsch, Englisch, Französisch
FSK: FSK 16
Label: Clear Vision
Kurzbeschreibung
Die erste von 3 Discs wartet mit einer knapp 1 1/2 Std. langen Doku auf, die die Geschichte der einzelnen Familienmitglieder der Harts unter Kommentar eben dieser und einiger mit der legendären Wrestlingfamilie in Verbindung stehenden Wrestler wie dem kanadischen Landsmann Chris Jericho, wie es sie so ausführlich noch nie zuvor zu sehen gab. Die beiden anderen dazugehörigen Discs beschäftigen sich mit den großen Matches der Hart Family, in denen sie zusammen gegen die großen Stars der WWE zu sehen sind oder sich intensive Auseinandersetzungen untereinander bieten.
Inhalt:
Die erste Disc beschäftigt sich mit einer akribisch vorbereiteten Familiendokumentation, die zuerst den Werdegang des aus armen Verhältnissen stammenden Familienvaters & Ringers Stu Hart, der sich mit seiner eigenen Pro Wrestling Liga in Kanada später einen Namen machte. Natürlich wird auch der Werdegang der erfolgreichsten Harts ausführlich verarbeitet. Die Berichte um Bret, den verstorbenen Owen, Bruce & Keith Hart erstrecken sich von Kinderfotos, privaten Familienaufnahmen und frühen Wrestlingaufnahmen bis zu Kommentaren befreundeter Wrestler. Ebenfalls sind Elli Hart und ihr Ehemann Jim "The Anvil" Neidhart sowie deren Tochter Natalya Neidhart wie auch Diana Hart (heute Diana Smith) und ihr verstorbener Ehemann Davey Boy "British Bulldog" Smith und deren Sohn D.H. Smith und Tyson Kid immer wieder zu sehen. Die komplette Familiengeschichte inklusive weniger bekannten Teilen der Großfamilie um den legendären Vater, seiner Frau und ihren 12 Kindern und Schülern des Trainingszenters, dem berüchtigten Dungeon, wird detailiert aufgearbeitet und macht weder vor witzigen Begebenheiten längst vergangener Zeiten wie den Besitz eines zum Wrestling abgerichteten Bären als auch vor den vielen Unglücken des Klans halt. In den Matches sind natürlich ebenfalls ale Stars vertreten, von den Anfängen Brets bis hin zur Hart Dynasty.
Disc 1:
Stu Hart
Falling in Love
The Promoter
Hart House
Riches to Rags
All in the Family
Hart Foundation / British Bulldogs
Stampede Sold
Dean
International Spotlight
Family Feud
Canada's Family
Struggles Within
Family Tragedy
Third Generation
Reflections
Extras:
tu the Athlete
Helen's Car Accident
Terrible Ted the Wrestling Bear
A Letter from Dean
Stu vs. The Tiger
A Hart Family Thanksgiving – 1987
Helen Throws in the Towel
Owen the Prankster
Chris Jericho's Flight with Owen
The Uninvited Guest
Bret "Hit Man" Hart Returns to WWE
Post-Raw Celebration (Raw – January 4, 2010)
Disc 2:
6-Man Tag Team Match
Keith Hart, Bruce Hart & Bret Hart vs. The Kiwis & Dynamite Kid
Stampede Wrestling – May 1979
Stampede Arrives in WWE
World Tag Team Championship Match
Hart Foundation vs. British Bulldogs
Boston Garden – November 1, 1986
An Unforgettable Match
Intercontinental Championship Match
Bret "Hit Man" Hart vs. British Bulldog
SummerSlam – August 29, 1992
The Hart Family in a WWE Ring
Family Feud Match
Bret "Hit Man" Hart, Owen Hart, Bruce Hart & Keith Hart vs. Shawn Michaels & His Knights
Survivor Series – November 24, 1993
Brothers vs. Brothers
Bret "Hit Man" Hart & Owen Hart vs. Rick Steiner & Scott Steiner
Florence, SC – January 11, 1994
Ripped Apart at the Seams
World Tag Team Championship Match
Bret "Hit Man" Hart & Owen Hart vs. The Quebecers
Royal Rumble – January 22, 1994
Disc 3:
Sibling Rivalry
Steel Cage Match for the WWE Championship
Bret "Hit Man" Hart vs. Owen Hart
SummerSlam – August 29, 1994
The Hart Family Settles It in the Ring
Bret "Hit Man" Hart & British Bulldog vs. Owen Hart & Jim "The Anvil" Neidhart
Raw – November 7, 1994
Decorated in Gold
European Championship Match
Owen Hart vs. British Bulldog
Raw – March 3, 1997
Front and Center
10-Man Tag Team Match
Bret "Hit Man" Hart, Owen Hart, British Bulldog, Jim "The Anvil" Neidhart & Brian Pillman vs. Stone Cold Steve Austin, Ken
Shamrock, Goldust & Legion of Doom
In Your House: Canadian Stampede July 6, 1997
Border Wars
6-Man Tag Team Flag Match
Bret "Hit Man" Hart, Owen Hart & British Bulldog vs. Stone Cold Steve Austin, Undertaker & Dude Love
Raw – July 21, 1997
Passing the Torch
WWE Unified Tag Team Championship Match
The Hart Dynasty vs. D-Generation X
SmackDown – December 25, 2009
The Best is Yet to Come
Extras:
Unter den Extras finden sich die weitergeführten Interviews der einzelnen Familienmitglieder, die ausschweifender über ihr Verhältnis untereinander plaudern, wie man es so noch nie zu sehen bekam.
Fazit:
Die intensivste Dokumentation über alle Mitglieder der legendären Hart Family plus der besten Matches dieses beeindruckenden Klans vom Durchbruch des Hitman bis zum Push der Hart Dynastie soll allen Pro Wrestling Fans wärmstens ans Herz gelegt sein und vor allem jüngere Fans können hier viel über den Bereich "Sports Entertainment" lernen.
*****/*****
WWE Hart & Soul – The Hart Family Anthology kann hier bestellt werden: Amazon
(c) Powered by WrestlingFever.de & Sunbird