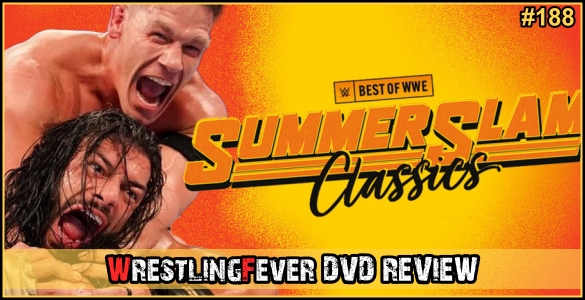 Inhaltsangabe:
Das größte Event des Sommers ist Schauplatz einiger der größten WWE-Matches aller Zeiten. Diese Sammlung der klassischen SummerSlam-Showdowns umfasst mehr als 30 Jahre, vom Tag-Team-Kampf der Mega Powers gegen die Mega Bucks bis zum epischen Kampf zwischen John Cena und Roman Reigns.
WWE Best of SummerSlam Matches:

________________________
DVD:
The Summer's Hottest Event
The Mega Powers (Macho Man Randy Savage & Hulk Hogan) vs. The Mega Bucks (Million Dollar Man Ted DiBiase & Andre the Giant)
Special Guest Referee: Jesse "The Body" Ventura
SummerSlam • 29. August 1988
Intercontinental Championship Match
Mr Perfect vs. Bret "Hitman" Hart
SummerSlam • 26. August 1991
Boiler Room Brawl
Mankind vs. The Undertaker
SummerSlam • 18. August 1996
Ladder Match for the custody of Dominik
Eddie Guerrero vs. Rey Mysterio
SummerSlam • 21. August 2005
WWE Championship Match
John Cena vs. Randy Orton
SummerSlam • 26. August 2007
WWE World Heavyweight Championship Match
John Cena vs. Brock Lesnar
SummerSlam • 17. August 2014
Undisputed WWE Universal Championship Match
Roman Reigns vs. John Cena
SummerSlam • 21. August 2021
_________________________
Technische Daten:
Releasedatum: 28. Juli 2023
Regional Code: 2 & 5
Laufzeit: 3 Stunden & 19 Minuten
Discs: 1 (DVD)
Sprachen: Englisch
FSK: 16
Label: tonpool Medien GmbH / Freemantle
_________________________
FAZIT:
Mit dieser kleinen Collection, welche so übrigens auch auf dem WWE Network zu finden ist, stellt WWE mit einem neuen DVD-Release, ganze 7 SummerSlam Highlights in den Vordergrund. Von 1988 bis 2021, um genau zu sein. Der Event gilt als die Wrestling "Party des Sommers" und natürlich dürfen Klassiker wie Bret Hart vs. Mr. Perfect aber auch Rey Mysterio vs. Eddie Guerrero nicht fehlen. Alles in allem (für meinen Geschmack) eine lieblose Veröffentlichung, fehlt nur das Bulldog vs. Bret Hart Match, welches selbst X-Mal veröffentlicht wurde.
Hier hätte man seit 1988 sicherlich weitere Matches hinzufügen können, evtl. auch eine Veröffentlichung eines DVD-Sets wäre eine Option gewesen, gerne auch mit deutscher Tonspur. Ohne den Matches ihre Qualität absprechen zu wollen, sehen wir vom Boiler Room Match zwischen dem Undertaker und Mankind ab, ist diese DVD (meines Erachtens nach) nur auf den Markt geworfen worden, um eben was released zu haben – kurz vor dem SummerSlam natürlich.
Schade. Dennoch sind die Matches sehenswert ABER eben auch genauso in dieser Zusammenstellung auf dem WWE Network zu finden. Hier in der Review haben wir einen Youtube Clip eingebaut, welcher von WWE selbst veröffentlicht wurde. Das Beste vom SummerSlam über 4 Stunden in bester Bildqualität. Kostenlos. Wer die Matches gerne im Regal stehen haben möchte, kann diese HIER bei Amazon bestellen. Highlights: Bret vs. Perfect / Eddie vs. Mysterio/ Orton vs. Cena sowie Cena gegen Reigns und Lesnar.
**/*****