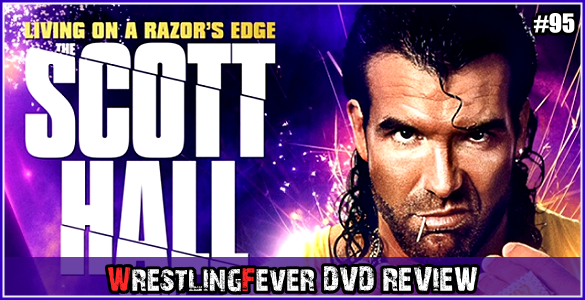 Kurzbeschreibung:
Say hello to 'The Bad Guy!' For the first time ever, WWE Home Video sits down with Scott Hall as he takes the WWE Universe on a very personal journey through his entire sports-entertainment career. From his meteoric rise in WWE as Razor Ramon, to being one of the founding members of the notorious group known as the nWo, to overcoming personal demons to become the man he is today, this story of redemption shows that 'it ain't how many times you go down, it's how many times you get up.'
Featuring matches with Shawn Michaels, Diesel, 1-2-3 Kid, Bret 'Hit Man' Hart, Rick 'The Model' Martel, Sting, Lex Luger, Chris Jericho, Goldberg, Stone Cold Steve Austin, and more!
Teaser:

Inhalt (Disc 1):
A Life-Changing Event
Back in Orlando
A Storybook Life
Moving to Florida
Second-Degree
Getting His Start
AWA Experience
It Ain't New York City
Razor Is Born
Another Level
Humble Superstar
A New Situation
Making Things Bigger
Falling Apart
A Dark Place
Fighting On A Daily Basis
Just What I Needed
One Place To Go
Bad Times Don't Last
Back in the Family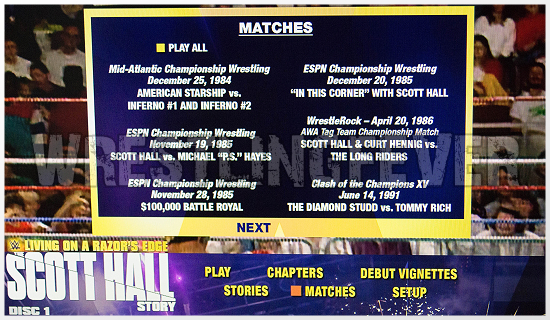 Debut Vignettes:
From The Gutter
El Jefe
Chicas Are For Fun
Taking What You Want
Cleaning The Table
Beach Bully
Making A Wish
Forget The Past
Razor Ramon Outtakes
Stories:
Just As Big As The Wrestlers
The Oz Mask
Scott Ramon
Let Them Be Kids
Don't Ever Leapfrog Again
Weekend in ECW
Wake Up Call
WrestleMania 31
American Starship vs. Inferno #1 and Inferno #2
Mid-Atlantic Championship Wrestling • December 25, 1984
Scott Hall vs. Michael 'P.S.' Hayes
AWA Championship Wrestling • November 19, 1985
$100,000 Battle Royal
AWA Championship Wrestling • November 28, 1985
"In This Corner" with Scott Hall
AWA Championship Wrestling • December 20, 1985
AWA Tag Team Championship Match
Scott Hall & Curt Hennig vs. The Long Riders
AWA WrestleRock • April 20, 1986
The Diamond Studd vs. Tommy Rich
WCW Clash of the Champions XV • June 14, 1991
The Diamond Exchange vs. Brian Lee & Chris Sullivan
World Championship Wrestling • December 7, 1991
Razor Ramon vs. Paul Van Dale
Superstars • August 8, 1992
WWE Championship Match
Bret "Hit Man" Hart vs. Razor Ramon
Royal Rumble • January 24, 1993
Razor Ramon vs. The Kid
RAW • May 17, 1993
Intercontinental Championship Match
Shawn Michaels vs. Razor Ramon
Saginaw, MI • September 1, 1993
Intercontinental Championship Match
Razor Ramon vs. Rick "The Model" Martel
RAW • October 11, 1993
Ladder Match for the Intercontinental Championship
Razor Ramon vs. Shawn Michaels
WrestleMania X • March 20, 1994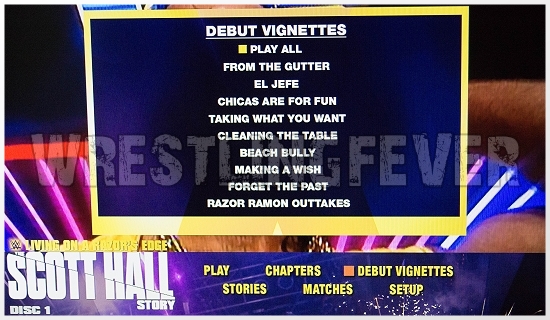 Inhalt (Disc 2):
Intercontinental Championship Match
Razor Ramon (w/ Walter Payton) vs. Diesel (w/ Shawn Michaels)
SummerSlam • August 29, 1994
Intercontinental Championship Match
Razor Ramon vs. Jeff Jarrett
Royal Rumble • January 22, 1995
Intercontinental Championship Match
Razor Ramon vs. Goldust
Royal Rumble • January 21, 1996
The Outsiders vs. Sting & Lex Luger
WCW Hog Wild • August 10, 1996
WCW World Tag Team Championship Match
The Outsiders vs. Harlem Heat
WCW Halloween Havoc • October 27, 1996
Scott Hall vs. Scott Steiner
WCW Monday Nitro • October 20, 1997
Scott Hall vs. Chris Jericho
WCW Monday Nitro • November 3, 1997
WCW World Heavyweight Championship Match
Scott Hall vs. Sting
WCW Uncensored • March 15, 1998
The Outsiders vs. Goldberg & Sid Vicious
WCW Monday Nitro • November 22, 1999
Scott Hall vs. The Rock
SmackDown! • March 7, 2002
Scott Hall vs. Stone Cold Steve Austin
WrestleMania X-8 • March 17, 2002
Blu Ray Exclusives:
The Diamond Studd & Oz vs. Z-Man & Big Josh
WCW Power Hour • September 28, 1991
Razor Ramon vs. Jim Powers
Cincinnati, OH • May 18, 1992
Razor Ramon vs. "Million Dollar Man" Ted DiBiase
SummerSlam • August 30, 1993
2-on-1 Handicap Match
Razor Ramon vs. Jeff Jarrett & The Roadie
In Your House • May 14, 1995
Ladder Match
Scott Hall vs. Bam Bam Bigelow
WCW Monday Nitro • January 25, 1999
Razor Ramon Hall of Fame Induction
Hall of Fame • April 5, 2014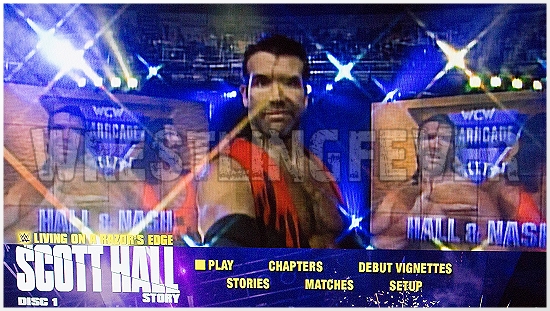 Technische Daten:
Releasedatum: 2016
Regional Code: 0
Laufzeit: 8 Stunden & 36 Minuten
Discs: 2 (Blu Ray)
Sprache: Englisch
FSK: 16
Label: FreemantleMedia Group

Fazit:
Sofort fällt auf, dass das Menü nicht mit der "Razor Ramon" Theme unterlegt ist dafür aber mit animierten Bildern seiner Karriere. Das Menü ist bunt und optisch sehr ansprechend.
Auch ein Scott Hall alias "Razor Ramon" hat einmal klein angefangen. Bevor er berühmt wurde, rief er mehrmals bei WWE bzw. Pat Patterson an, um sich nach einem möglichen Job zu erkundigen. Jedes Mal wurde er vertröstet oder abgewimmelt. Das "Klinken putzen" gehörte damals schon dazu. Wie in jedem Business sind Beziehungen die halbe Miete. Später klappte es dann und er wurde direkt durchgestellt.
Scott hat eine lange Karriere hinter sich und als er aus Notwehr einen Mann erschoss, änderte sich der Mensch drastisch. Man sieht ihn zu Beginn der Dokumentation am damaligen Tatort, der im übrigen zu den Dreharbeiten erneut von der Polizei abgesperrt wurde. Deutlich zu erkennen ist, dass er auch heute noch damit zu kämpfen hat. Für viele gilt es als Wunder, dass dieser Mann heute noch lebt. Vor allem der Alkohol prägte Jahrzehnte seines lebens und kostete ihn sicherlich viele Jahre und auch Geld. Viele glaubten nicht mehr an ihn, bis sich "Dally" alias "Diamond Dallas Page" telefonsich bei ihm meldete. Ihm ist es wohl zuzuschreiben, das Scott Hall heute noch lebt und trocken ist. DDP Yoga, viel Geduld und die Hilfe seines Teams inkl. Jake Roberts schafften es endlich, Hall zu bekehren. Zuvor schlugen eigene Versuche trocken zu werden fehl – auch hier half WWE Hall immer wieder unter die Arme.
Diese Dokumentation ist sehr offen, evtl. auch etwas zu ehrlich. Man blickt hinter den "Machismo", einen unglaublichen Wrestler der viele Fans hat, auch heute noch. Natürlich blickt man neben "Razor Ramon" auch auf die "nWo", dem wohl erfolgreichsten Stable aller Zeiten. Das "Wölfpack" wird auch beleuchtet und zahlreiche Matches bestätigen, welches Ausnahmetalent Hall doch war. Das er in die WWE "Hall of Fame" aufgenommen wurde dankt er seiner Disziplin, erst nachdem er (und Jake Roberts) ein Jahr trocken waren, sagte Triple H zu.
Auf diesem Blu Ray Set ist viel zu sehen, die Einspieler (Vignetten) vor seinem Debüt und sogar Outtakes aus der damaligen Zeit, die für einige Lacher sorgen dürften. Mir persönlich fehlen Promos, denn diese konnte er gut halten. Die Matches gegen Jarrett mit dem Roadie, gegen Goldust aber auch Goldberg fehlen nicht. Ich habe dies Blu Ray mit Genuß angesehen und bin mehr als zufrieden, auch wenn man hier noch 2 weitere Blu Rays dazu packen hätte können. Also eine Vol. 2 wäre eine gute Idee, meiner Meinung nach.
Egal ob ECW (ja, da war er auch), WCW & WWE – alles ist dabei. Für einen Razor Ramon, Scott Hall und "nWo" Fan ein absolutes MUST HAVE!
____________________
*****/*****
___________________________
Wir präsentieren Euch diese DVD Review in Kooperation mit EDEL! Diesen Artikel erhälst Du als DVD bei Amazon.