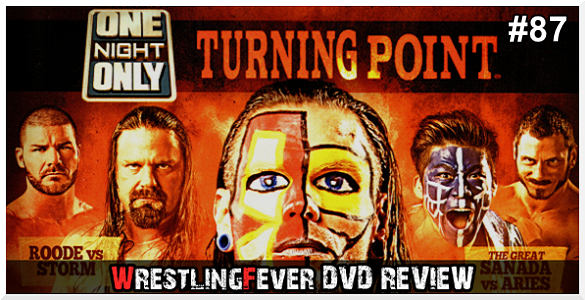 Kurzbeschreibung:
TNA Home Video presents Turning Point 2015, the nearly three-hour epic TNA Wrestling event.
Disc 1
Singles Match
Kenny King vs. Samoa Joe
Three Way Match
Angelina Love vs. Gail Kim vs. Madison Rayne
Singles Match
Austin Aries vs. The Great Sanada (w/James Storm)
Tag Team Match
Ethan Carter III & Rockstar Spud vs. Gunner & Mr. Anderson
Singles Match
Eric Young vs. Magnus
Monster's Ball Match
Abyss vs. Bram
Singles Match
Bobby Roode vs. James Storm
Singles Match
Jeff Hardy vs. MVP
Technische Daten:
Releasedatum: 2015
Regional Code: 2
Laufzeit: 2 Std. 40 Minuten
Discs: 1 (DVD)
Sprache: Englisch, Spanisch
FSK: –
Label: TNA Impact Wrestling
Fazit:
TNA "Turning Point" war bis zum Jahre 2012 ein normaler Live PPV, bis TNA sich entschloss Turning Point nicht mehr als klassischen Live PPV fortzuführen. Im Januar 2015 wurde TNA Turning Point als "One Night Only" PPV ausgestrahlt. Bei dem 3 Stündigen Event standen insgesamt 8 Matches auf der Card. Vor den jeweiligen Matches gab es jeweils ein kurzes Video Paket von den an dem jeweiligen Matches beteiligten Wrestlern, die den "Turning Point", also den Wendepunkt der jeweiligen Karrieren zeigten.
Die Video Pakete mit den "Turning Points" der jeweiligen Wrestler, waren sehr interessant, so wurde beispielsweise auf den World Title Gewinn von Samoa Joe gegen Kurt Angle im Jahre 2008 und auf dem World Title Gewinn von Jeff Hardy gegen Austin Aries im Jahre 2012 zurückgeblickt. Die Matches fanden bereits in dem 6 Seitigen Ring statt, der Ende 2014 sein Comeback bei TNA feierte. Unter anderem zu sehen gab es die Matches The Great Sanada gegen Austin Aries, Booby Roode gegen James Storm und im Main Event von Turning Point trafen die ehemaligen WWE Stars Jeff Hardy und MVP aufeinander.
Diese DVD wurde leider nicht in Deutschland veröffentlicht und ist dementsprechend leider nicht mit deutschem Kommentar verfügbar, sondern enthält nur die original US-Englischen und die Spanischen Kommentatoren. Die Bild- und Tonqualität entspricht der Standard DVD Qualität. Leider enthält diese DVD keine Special Features, nur der eigentliche PPV ist enthalten. Alles in allem ist TNA "One Night Only – Turning Point" ein gelungenes Special Event, mit einigen starken Matches und interessanten Video Paketen über die "Turning Points" der Karrieren der Wrestler. Diese DVD ist für alle TNA Fans zu empfehlen.
____________________
****/*****
Diese Review präsentieren wir in Kooperation mit Much Media. Die DVD könnt ihr in Deutschland sogar versandkostenfrei erstehen. Weitere TNA (Total Nonstop Action Wrestling) Artikel gibt es hier.