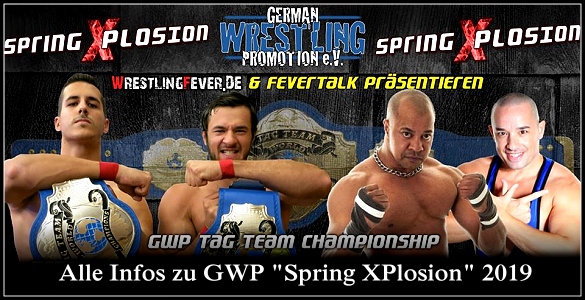 Die German Wrestling Promotion lädt wieder zur alljährlichen "Spring XPlosion ein. Hier findet ihr alle wichtigen Infos wie die aktuelle Matchcard, TicketInfos und vieles mehr!
WICHTIGE TICKET INFO (SHOP):
Reihe 1 – ausverkauft
Reihe 2 – ausverkauft
Reihe 3 – ausverkauft
Reihe 4 – noch verfügbar
Reihe 5 – noch verfügbar
Reihe 6 – noch verfügbar
Reihe 7 – 10 Plätze verfügbar
Reihe 8 – ausverkauft
Reihe 9 – 2 Plätze noch verfügbar
Bei Eventim bekommt Ihr noch für die Reihe 3 wenige Tickets. Wer noch gute Plätze in Reihe 4 oder Reihe 5 haben möchte, sollte nicht zu lange warten.
__________________________________
GWP "Spring Xplosion"
11.05.2019
Markgrafensaal / Schwabach
GWP World Championship
Cash Money Erkan (c) vs. Crater
Arial XPlosion Match
Angelico vs. Kris Jokic
GWP Women`s Championship
Keesa the Bambi vs. Tracy vs. Lana Austin vs. Xara Grace
GWP Tag Team Championship
Team Turbulence (c) vs. Jody Fleisch & Jonny Storm
GWP vs. "The Network" Tag Team Match
Invictus vs. Tristan Archer & Tarkan Aslan
Wrestlingcorner.de Championship Match
Aaron Insane vs. Hakeem Waqur vs. Georg "Schorschi" Gwärch vs. Aigle Blanc
GWP vs. "The Network" – Singles Match
Icarus vs. Mexx
Außerdem dabei:
Maxted, Bruder Chaos, Cash Crash, Rodeo Chase Jenkins, Dani Psych, Farmer Joe, Fast Time Moodo, Georges Khoukaz, Ivan Markov, Mason Miller, Rene Dupree, The Rotation, Toni Harting..
powered by WrestlingFever.de
Weitere Infos in Kürze!
Tickets kannst Du Dir direkt bei EVENTIM sichern oder über die beliebte GWP Ticket Hotline*: 09171 / 896 112 ODER direkt über den GWP-Shop!
Be there!