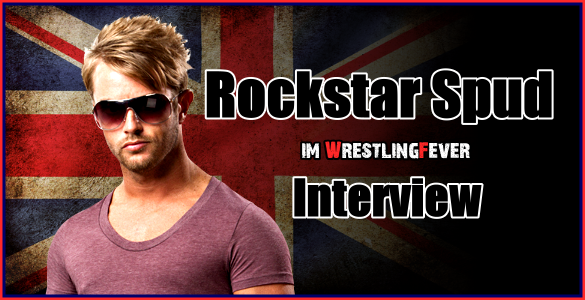 WF: You might lose your hair against EC3 this Saturday night at 11.15pm on DMAX. What can fans expect?
RS: You're going to see drama and you're going to see a fight. It's not going to be for the squeamish. All I can promise you it is that it will always be remembered and you'll never forget it.
WF: Where are your suits made?
RS: Loudmouth Golf & Opposuits and they are both AWESOME establishments
WF: Among other things you have worn a suit which had the Bavarian Flag on it. What is your connection to Germany?
RS: There's not connection at all sadly except I like BeerFest. That was just a design I liked so wore it out there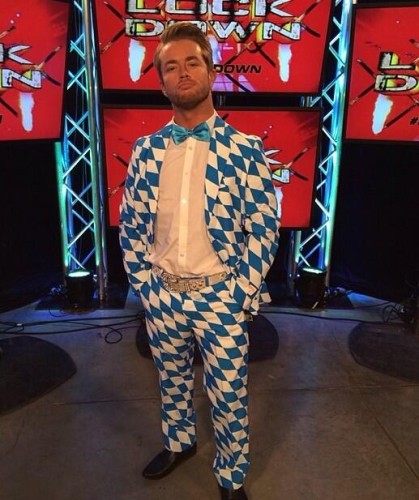 WF: What are your memories of British Boot camp and working with Marty Scurll and the Blossom Twins?
RS: Very fond. Happy to have been involved in the process with good people and glad to be in the right place the right time and be given the right opportunity to shine.
WF: Your character in TNA is very different to on the indies. Why did you stop being a Rockstar?
RS: as a personality but when the opportunity to be Madam Dixie's Chief Of Staff came about I jumped at the chance. I love that I'm versatile.
WF: Now you are on TV in 120 countries, can you still walk the streets without being noticed by fans?
RS: I can escape unnoticed in most places, except England. I get recognised a lot in England which, considering it's my home country, is pretty awesome.
WF: Would you like to wrestle full-time in TNA's X Division? Do you agree with critics that it's not as good as it used to be?
RS: The X-Division is what the company is built on. Maybe it needs someone like me to bring it back to the fans attention who knows but I pride myself on being a versatile performer so will put my own little stamp on it
WF: Impact Wrestling is currently on view on DMAX in Germany every Saturday. Can you speak some words in German?
RS: I really wouldn't want to try. Trust me your English is better than my German
WF: Would you like TNA to do a live event in Germany?
RS: I'd love that. It's a wonderful country with passionate fans it would be a no BRAINER for us not to consider it
WF: Thank you for your time. Do you have any final words for the TNA fans in Germany?
RS: Keep your eyes on IMPACT Wrestling every week. Thanks for all your continued support. Without you guys we are nothing and we do this for you #ImWithSpud